I find cooking rather tedious and time-consuming so if I can do it on mass less often then that is preferable! In this show: Turn 3 MASS COOK-UPS into 9 Different Meals.
Meal on mass two: VEGO CHILI MINCE 3 ways:
1). Nacho's: Use kale crisps instead of corn nacho's, add your chili mince and then fresh guacamole plus your extras of choice.
2). Cottage pie: Pop a couple of cups of your mince in an oven proof bowl, stir in a handful of something green like beans or spinach and cover with creamy cauli-mash.
3). Spicy Baked Eggs: Throw your mince in a frypan to heat. Make a couple of dips in the sauce, crack an egg into each and cook covered.
I used to say "I could NEVER be vegetarian."
Until I changed my mind completely. It was probably a slow build-up however it felt fairly instantaneous… from meat up to 3 times a day to vego for 20 plus years. The change had nothing to do with taste. Obviously, because meat is delicious.
It had nothing to do with health either. Or body composition. 
The thing that made it really super easy to give up meat for good was my mindset changed.
In this show 6 steps to create the most effective: Fat Loss Mindset For Vegetarians. 
Forget sit-ups & crunches!
In this show l explain how to sleep, drink & plan your belly fat right out of your life. 5 'exercises' to prioritize:
#1) Exercise the proper prior planning to ensure you eat 3-5 nutritious meals each day.
For ex: Poached eggs w avocado, tomato & spinach / Protein shake w coconut water & berries / Tuna salad w mixed leaves, broccoli & chick peas / Small red capsicum w some cashews / Steak, mushroom, onions & green veggies.
Reason One: There's no need to feel awkward or out of place.   
Most of the people on the weights floor fall in to one of two categories:
EITHER, they are so busy checking out themselves they won't even notice you struggling to adjust your bench.
OR, they are so intent on adjusting their own bench they won't notice you either.
An equipment free body weight routine I designed for a client to do at home.
This program is for the occasion when she can't get to the gym, perhaps her husband needs to be at work by 7am or something… the takeaway is that if YOUR normal routine isn't doable you need a work around.
Consistency is key.
This is pretty much the routine I would do if I had access to nothing equipment-wise…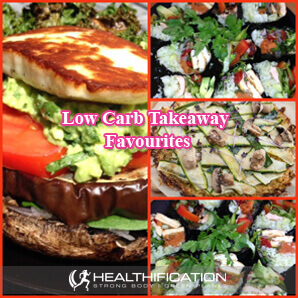 Convenience is the most common reason for resorting to refined food. In this show I'm transforming 3 favs: SUSHI, BURGERS and PIZZA… once you find your favs, you'll find they're as quick to grab as the refined alternative.
Here are some good whole food switches:
=> Switch a muesli bar for a handful of nuts.
=> Switch a burger bun for 2 portobello mushroom caps.
=> Switch potato chips for crispy brussels or kale chips.
=> Switch pasta for a bed of greens like: asparagus, snow peas, green beans.
=> Switch sugary drink mixers for sparkling mineral water and a wedge or 2 of real fruit.
AND Switch your mindset from refined-whatever-seems-quick-and-easy-mentality to "What can I eat instead, that going to provide my body with great fuel and taste great?"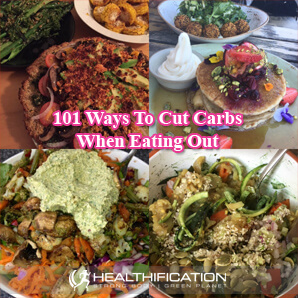 I hope you know me well enough by now to know I'm NOT a carb hater!
In fact I'm very much a carb LOVER. It's just that cutting refined carbs is the simplest way I've ever experienced to lose fat, gain energy AND still be able to enjoy lovely generous, delicious meals. 
It pretty much means you can do away with those pesky, restrictive measuring devices.