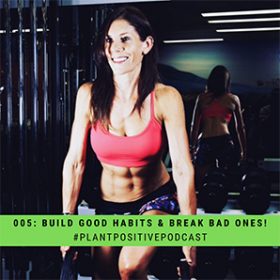 Podcast (plantpositivepodcast): Play in new window | Download
Subscribe: RSS
Hey plant friends,
In todays Plant Positive I'm mixing it up a little with an encore episode which is one of my favourite and certainly most actionable interviews to date first published on the Healthification podcast.
Although I'm of the belief that any time of year is the perfect time to build Good Habits & Break Bad Ones, the start of a new year – and the end of 2020 (!) is an especially perfect time.
I've cover "Atomic Habits" author James Clears impressive bio in the original introduction to our chat to come however I have a few thoughts up front first.
As I publish todays show I'm painfully aware that my good habits are the only thing keeping me somewhat sane right now. Wherever YOU are in the world, I hope you don't feel the same anxiety, fear and frustration that I manage daily however I strongly suspect you do.
Your good habits can help you cope with whatever you're facing right now. They can keep you sane in a seemingly insane time. 
Equally, ditching your bad habits can be just as impactful and James Clear is exactly the man to help us with both.
Recently a dear client shared with me what "a positive" person I am. It's absolutely my intention to be that person – especially at work, however it's also absolutely NOT my natural tendency. Here are 5 of the good habits I make happen to stay as sane and as positive as possible:
Prioritise 7-8 hour quality sleep. This helps me be more effective and efficient. I also see it as an absolute necessity to replenish your daily discipline quota. Just how great are your eating and exercising choices when you've short changed yourself on sleep?
Plan my day to come the night before. This helps me power into the most impactful / important tasks and steer clear of those things that belong on my Not To Do list.
I'm not exaggerating when I call this the most important 10 minutes in my day. The power of meditating is in the 23 hours and 50 minutes each day I'm not doing it and yet I still feel an increased sense of calm and an ability to pause before reacting.
Meal prep and #plantstrong food. This could be 99 shows on it's own, so I'll link to some of my most popular meal prepping posts below.
Daily exercise. 
532: How To Make Meal Prep More Fun.
435: 4 Ways To Make Meal Prep Easier.
464: How To Prepare Quick And Easy Yet Still Natural And Healthy Plant Based Meals.
I could continue on about powerful Keystone Habits such as these 5 that other good habits form around, however really we should get to James.
This time 2 years ago I purchased James Clears book Atomic Habits and I highly recommend it and also his super high value weekly "3 ideas, 2 quotes, 1 question" newsletter. His goal is to be: "The most wisdom per word of any newsletter on the web" and I think he's smashing it. It's the ONLY weekly email I'm excited to open. You can subscribe via jamesclear.com.
Ok, let's get our habits in order for an amazing 2021! Onwards with this encore show…
You can listen to the original interview, E592 Atomic Habits and Why True Behaviour Change Is Really Identity Change with James Clear here:
James Clear writes about habits and human potential. He's a regular speaker at Fortune 500 companies. His work is used by teams in the NFL, NBA, and MLB. His website jamesclear.com receives millions of visitors each month. Nearly 500,000 subscribe to his weekly e-mail newsletter (including me – I love it) and 1,000's have created better habits at work and home via his online Habits Academy.
Now those numbers are impressive and deservedly so. Who doesn't want to live a better life?
In his New York Times best selling book: Atomic Habits: An Easy & Proven Way to Build Good Habits & Break Bad Ones, James shares evidence-based self-improvement strategies. Atomic Habits will teach you how to make the small changes that will transform your habits and deliver remarkable results.
In this chat we cover:
The event that forced James to start small in rebuilding a lot of his behaviour from scratch.
The problem with goals. 
The importance of tribe in habit change. 
Effective habit feedback loops and the 4 Stages of Habits: 
4 Laws of Behaviour Change.
Gateway habits. 
Never miss twice.
Again, I strongly recommend you check out James articles via https://jamesclear.com and of course Atomic Habits the book via atomichabits.com.
To get actionable today, as you listened to today show did a habit or two jump out at you as something worth revisiting with the Atomic Habits blueprint?
That's it for this week and this year in Plant Positive!
HUGE Happy 2021! We're either very nearly there – or there! – as you're listening to this.
I've actually just hot-tailed it early outta Sydney for some gorgeous time out in Noosa with lots of family time, plenty of long walks, a few runs, more than a few beverages and of course MUCH vegan deliciousness. I have so much planned for 2021 however first, some serious chillaxing time is needed. I hope you get to enjoy some lovely chill time with those you love too, however I know travel restrictions are meaning so much disappointment and sadness right now.
If this is a tough time for you, I'm sending you love and hugs across the pod waves.
Actually I'm sending you love and hugs if you've gotten this far in this show regardless! Thank you. I'll be back next week with fresh plant positive content. I hope you can join me. Till then, huge thanks to YOU for sharing this week and this first month with me. I appreciate your support!
If you enjoyed this episode then please share the love with a friend or family member that needs to hear it. It's quick to share and it'll mean a lot to your loved one and so very much to me. Sending you so much love and wishes for a happy, healthy, successful and compassion filled end to 2020 and a 2021 full of only great surprises.
Finally, please stay tuned for a quick snippet from a super inspiring episode of the Healthification podcast – that's my interview style show where I have conversations with amazing athletes, activists, authors and generally passionate and compassionate individuals! Today my chat in E679 with: a beloved gent referred to as The Gandalf of plant based doctors!
Physician, Educator and Speaker Michael Klaper MD is on a mission to help empower the next generation of doctors to truly heal their patients using lifestyle measures such as a whole food plant based diet and regular exercise rather then pharmaceutical interventions. Check out E679: Michael Klaper MD and How To Stay Healthy and Lead With Compassion.
Michael Klaper MD and How To Stay Healthy and Lead With Compassion Through The Coronavirus Crisis.
Plant Positive was proudly bought to you by: BiOptimizers, a nutritional supplement company with the mission to help humans shift from a sick unhealthy condition into a peak biologically optimized state. You'll get a 10% discount for all BiOptimizers products by using the "Healthification10" code.
My personal fav is their Magnesium Breakthrough to help reduce your stress levels, feel relaxed and at peace PLUS sleep faster and deeper. Who doesn't need more peace and great sleep right now?
Check out: www.strongbodygreenplanet/deals to find all the sponsors of this show listed on one page. Again, that's www.strongbodygreenplanet/deals.
With love and compassion plant friends.
If you liked "How To Build Good Habits & Break Bad Ones with James Clear" you'll also like E591: '5′ 5 Minute Health Habits To Stop Fighting You!
If you liked "How To Build Good Habits & Break Bad Ones with James Clear" you'll also like 319: Monday Motivation, How To Master Your Habits.
If you liked "How To Build Good Habits & Break Bad Ones with James Clear" you'll also like E669: Dr Neal Barnard and Optimising Hormonal Health with Simple Diet Changes.
If you liked "How To Build Good Habits & Break Bad Ones with James Clear" you'll also like E664: Dr Michael Greger and How Not To Diet, The Ultimate Weight Loss Guide.