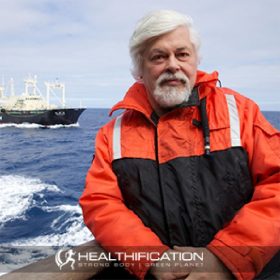 Podcast: Play in new window | Download
Subscribe: RSS
Today it is my huge pleasure to welcome Captain Paul Watson back to the podcast.
A lot has happened since I first got to chat with Captain Watson back in E739. Paul was ousted from the organization he founded, Sea Shepherd, and we discuss this "sordid mutinous affair" while also focusing on the Freedom the newly formed Captain Paul Watson Foundation now has to remain focused on their original objectives and strategies.
To, "sail boldly into dangerous and hostile waters in defense of life and the future."
Paul details many of his adventures and huge successes in his latest book, Hitman for the Kindness Club and as I flew through this fabulous book I discovered beyond the whales and the ocean itself Paul has channeled his passion and fearlessness to protect beavers, wolves, bison, foxes, rabbits, pigeons and trees to name just a few of the species we humans so readily slaughter and destroy for profit.
So far as those marine individuals that Paul is most known for protecting, the whales and the seals?
I'll quote from a recent newsletter:
It was Sea Shepherd under my command that drove the pirate whalers from the Atlantic, that sank half the Icelandic fleet, half the Spanish fleet and four Norwegian whalers. It was Sea Shepherd under my command that invaded Soviet Siberia to document illegal whaling and it was Sea Shepherd under my command that helped to take down the commercial market for Canadian seal products. It was Sea Shepherd under my command that drove the Japanese whaling fleet out of the Southern Ocean Whale Sanctuary.
Can you even imagine the anger you would feel at being ousted from an organisation you founded and commanded through decades of success?
I'm furious and yet Captain Watson is choosing to instead direct his energy into the Captain Paul Watson Foundation.
He and his team will NOT be changing course towards safer and calmer waters and for that I am grateful.
In this conversation we cover:
Captain Watson discusses the new name, new logo and his belief that: "pirates get things done"
This isn't the first time aggressive non-violent intervention has been too much for an organization Captain Watson helped found.
When Paul handcuffed himself to a pile of seal pup pelts and got dragged through the icy water and onto the sealing ship.
Captain Watson's first job on a ship. One day a ship from Australia that carried an awful stink docked nearby…
How does Captain Watson remain hopeful and maintain clarity of purpose despite the apathy and lack of action of so many governments, corporations and individuals.
How has his approach to activism has evolved over the decades? What advice would he give to young activists today.
Captain Watson's book: Hitman for the Kindness Club.
The time a whale saved his life.
Moving forward with: "What I now see is the freedom to move forward unencumbered by the bureaucrats and the naysayers, to once again risk all and to go where others refuse to go…"
Stopping whale killer, Kristjan Loftsson in Iceland.
Sea Shepherd France and Sea Shepherd Brazil are staying true to your original objectives. Sea Shepherd UK has changed its name to Captain Paul Watson Foundation.
How to help: Monthly support provides CPWF with security for to continue their vital operations.
If you read Hitman for the Kindness Club – and I recommend you do – you may well find yourself both incredibly inspired and yet also thinking: "I could never do that!"
That was my thought process as I imagined jumping a path through moving ice-caps, positioning your small inflatable between a whale and a harpoon and playing high sea chicken with both illegal whaling ships and the coastguard boats that invariably seemed to be on team profit not team ethics.
Each of us have our own skillset and our own way to effectively advocate for the animals and for the environment. 
Paul lives by the belief that the passion, courage and imagination of individuals is the ONLY thing that brings about change. I agree, and I hope this conversation encourages you to find, or to double down on your skillset and if possible to financially support the Captain Paul Watson Foundation.
I will have you all linked up to everything Captain Paul Watson in the show notes below.
Connect with the Captain Paul Watson Foundation across the socials: Facebook | Instagram | YouTube | Twitter
DONATE to keep the Captain Paul Watson Foundation in the fight:
Purchase Hitman for the Kindness Club: High Seas Escapades and Heroic Adventures of an Eco-Activist.
Connect with the Captain Paul Watson Foundation via the website: https://www.paulwatsonfoundation.org/
Listen to the Captain Paul Watson Foundation Podcast:
That's it for this week in Healthification.
However, have you checked out my Plant Positive Journal yet? 
I am so very proud of this stunning journal. There is now also a fillable PDF version available for immediate download so wherever you are in the world you can still get Plant Positive with me!
If you are plant-based curious. Or already vegan and need a healthier approach to the lifestyle.
In this daily journal you will learn how to consistently prioritise food, exercise and other healthy habits that build on each other to have a compounding and lasting effect.
To help you create a BODY and LIFE you LOVE by successfully managing your TIME and your MIND.
It makes a great gift to YOU!
Or, for the loved one who is plant-based curious or who has been a valuable vegan ally to you.
You can check out the printed version HERE: 
Plus, the fillable PDF HERE: 
Importantly, the journal follows a twelve month format however is not dated so it is perfect to use at ANY time of the year.
With love and gratitude plant friends.
If you liked "Pirates Get Things Done with Captain Paul Watson." you'll also like Artifishal, Director Josh Bones Murphy and The Devastating Reality Of Fish Farming.
If you liked "Pirates Get Things Done with Captain Paul Watson." you'll also like PETA's Aleesha Naxakis and Stopping The Victorian Kangaroo Processing Facility.
If you liked "Pirates Get Things Done with Captain Paul Watson." you'll also like Jonathan Balcombe, What A Fish Knows The Inner Lives of Our Underwater Cousins.
If you liked "Pirates Get Things Done with Captain Paul Watson." you'll also like Sea Shepherd's Captain Paul Watson and Protecting Marine Wildlife Worldwide with Aggressive Non-violence.