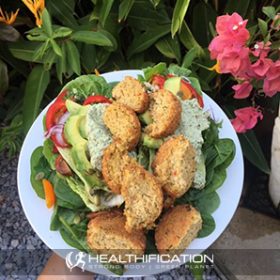 Podcast: Play in new window | Download
Subscribe: RSS
When I was a meat loving little tom-boy we had some dear family friends – a couple with 3 daughters. The wife and two oldest daughters were vegetarian. I remember my mum used to freak out when entertaining them.
Mum is a talented, generous cook and the thought of removing the main event (meat!) from a meal was anxiety inducing.
How times change.
Our friends still ate cheese and eggs and fish! And yet, that was unusual 35 years ago.
Today's show is for the non-vegans!
Perhaps dear vegan friends you might want to forward this to your non-vegan loved ones?!
Today I'm sharing 4 steps:
How To Cater For Vegans When You're Not Vegan. 
One: Brainstorm those meals or sides you currently make that are already vegan. 
Or almost vegan. Or easily vegan.
There's actually so much to work with here. At breakfast you've got oats with plant based milk, fruit salad with coconut yoghurt, smoothies and avocado on toast.
At lunch you've got hearty salads, wraps or sandwiches with hummus and falafel. Or dairy free pesto and roast veg. How about sushi or sushi bowls with tofu instead of fish?
I'll dig in with some dinner suggestions in tip two.
First, a couple of important considerations:
When veganising a meal don't just remove the animal product. You've also got to add the plant based deliciousness! Regarding protein, it's easy to meet protein requirements via a vegan lifestyle however it will come from multiple sources rather than from one hunk of flesh.
Easy #plantstrong protein includes: legumes, nuts, seeds, tofu and tempeh, whole grains and vegetables. 
In fact even if all you ate in a day was broccoli, you'd get enough protein.
Caloric density counts too. So swapping bacon for spinach would likely leave your loved one unsatisfied however bacon for refried beans would work. You'll also find that removing all animal products (and almost all saturated fat) joyously allows for a lot more delicious whole plant food fats like: avocado, nuts and seeds. 
Two: Consider the "easy win" options where meat, dairy, fish and eggs are not the main event. 
That might sound limiting until I get the ball rolling with a few suggestions that are amazing without animal products.
Curries.
Nachos.
Tacos.
Plant based burgers.
Pizza or pasta or risotto with vegan cheese.
Stir-fry's or satay kebabs with tofu.
Shepherds pie or Dahl with lentils.
Hearty salads with roasted veg and chickpeas.
Fake meats and vegan cheeses are useful transitional foods here however again I'd recommend not making them the main event.
For example: you could choose plant based bangers and mash however much more exciting is a generous bowl of chilli bean and guacamole nachos with olives and all the fresh veg plus vegan sour cream (or sheese) and vegan grated cheese.
The next step might be making your own cashew cheese and kale crisps (instead of processed nachos) however it's a 100% move at you own pace process!
Three: Get familiar with some essential vegan flavour enhancers, sauces, dips and easy protein pimps. 
Down the track you might want to make your own sauces and dips. However initially here are some of my favs:
Nutritional yeast. Think of nutritional yeast as a high B12 and protein pimped Parmesan substitute. Sprinkle it over pasta, nachos, baked veg… anything (!) or use it to make your own dairy free cheese or pesto.
Veganaise. Like mayonnaise yet so much better! Enjoy it as a salad dressing or sandwich spread or stir it through your stir-fry veg. My current fav use is to mash half an avocado with a heaped tablespoon of Veganaise plus a little salt and pepper and use it to (messily!) dress a bowl of kale-slaw which I top with 2 supermarket bought black bean and beetroot burgers.
Hemp, pumpkin and chia seeds. These are simple sprinkle on nutritional powerhouses to add to salads, stir-fries, curries or wherever really. They are also fab to blend / stir into your smoothies, baked goods and dips.
Four: Relax in the knowledge that intention is everything. 
The fact that you're open to trying. That you care about something your loved one cares so very much about. That you're getting out of your comfort zone. It all counts.
As much as there's so much food joy to be gotten from vegan food, most vegans I know deal with enough judgement and awkwardness that we're pretty damn grateful you made the effort whether it's amazing or not!
As lofty as my personal vision for a healthy, compassionate Vegan World is I find it takes so little for me to feel huge gratitude.
Here are some rapid fire short cuts for How To Cater For Vegans When You're Not Vegan: 
Put aside some of your hearty homemade veggie pasta sauce before you add meat to it.Serve it over pasta or for the carb conscious: zoodles (that's spiralised zucchini) or some of the amazing high protein low carb noodles now available (I just discovered edamame spaghetti) or even a bed of veg like asparagus, broccolini and snow peas. Top with a few of those essential vegan flavour enhancers like: nutritional yeast, hemp seeds and pumpkin seeds.
Use veggie stock instead of animal stock in your soups and master a minestrone.Extra points for dairy free pesto (most supermarkets have it) to top your soup and even better a side of brussel or kale crisps.
Use vegan mayonnaise (or avocado OR both!) and please skip the bacon in your potato salad.It goes well with a simple greek salad made with vegan feta which is one of the best vegan cheeses on the market.
If adding cheese to salads put aside some for your vegan loved ones first. Nothing ruins a good salad like cow excretions and many vegans won't be up for merely trying to dodge it. If that sounds extreme I have a 5-minute video linked up in the show notes on the Dairy Industry.
Roast veggies in olive oil instead of animal fat. It's hard to beat good roast veg.Make an easy mushroom gravy and your vegan will be in heaven!
Talking of vegan deliciousness later this week I have a super special guest on the podcast. In show 624 excitingly I'm sharing: My Mums Plant Based Journey. 
It's the perfect follow up to How To Cater For Vegans When You're Not Vegan as my mum first nailed how to cater for vegetarians and then vegans and then adopted a plant based lifestyle herself.
My mum is particularly brilliant at making her existing recipes with animal products vegan. Even baking which is well out of my wheel house.
We chat very openly about her pre plant based and current plant based experiences and the invigoration she's feeling for this new style of cooking juxtaposed with the balancing act she walks so well as the "peace at all costs" lady in the middle when non-vegan dad and very vegan me butt heads.
That show will go live in just a couple of days.
Till then that's it for today in Healthification. Thank you so very must for trusting me with your time and attention today. It means a lot.
The Healthification podcast is proudly bought to you by my FREE 'Easy Vegan' plan. It took me 25 years to transition from a meat eater to a happy, healthy Vegan! You can do it in just 3 days with my simplified 'easy vegan' plan!  Get the fit, strong, and healthy plant based body you deserve… while avoiding ALL the mistakes I made along the way!
Till next time, remember Creating a body and life you love is Freedom. (If this ex-carb queen, non genetically gifted, naturally uncoordinated vegan chick can do it – so can YOU!!!)
If you liked "How To Cater For Vegans When You're Not Vegan" you'll also like No Fuss Vegan / The Advice I'm Giving My Mum
If you're yet to share the Healthification love – just click here to zip over to iTunes and leave an honest rating and review. It'd help me out big time. With gratitude, Kate.