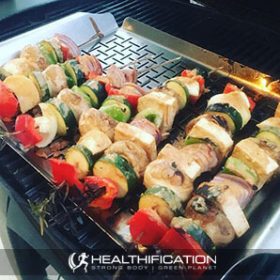 Podcast: Play in new window | Download
Subscribe: RSS
As I plan todays podcast I'm sitting at the airport sipping a little Shiraz and waiting for my flight back to Sydney after an amazing couple of weeks with my family in Noosa.
I have so much to say, I really don't know where to start however perhaps lets roll with who todays show is perfect for?
Today I'm speaking to you, if you'd like to try this whole vegan / plant based thing however you're hesitant to lock in.
Maybe you've recently watched a documentary like What The Health or Dominion and you're starting to think if you could just click your fingers and be eating delicious, no fuss vegan meals and enjoying the health benefits then that'd be amazing…. but WOW it feels really overwhelming.
For the person who consumes animal products at every meal I totally appreciate how daunting the idea of finding healthy, convenient, cost effective, NO FUSS alternatives might be.
Perhaps you have a partner who wants no part of this vegan stuff?
Maybe you're an amazing cook and you've built your skills using animal products. You show your love with your cooking expertise.
You LOVE food. And yet you're busy. You don't want to be investing crazy amounts of time and money doing food prep.
That's for body builders right?
Oh, and maybe for slightly obsessive little animal rights activist, vegan health coach daughters.
Today, on the last day of my holiday mum asked me if I would watch What The Health with her.
I'd suggested (ok, maybe attempted slight emotional black-mail) 2 years ago when I said all I wanted for my 40th birthday was for mum and dad to watch What The Health. Back then, mum was hesitant and dad was vehemently opposed. It didn't happen.
So what's changed?
The first seed was likely a Facebook live video I did from an Anonymous for the Voiceless cube of truth event that my mum saw while staying with her brother who (unlike mum) has Facebook. She was horrified at the conditions of animals in slaughter houses… as are most people who actually look.
The next seed was a podcast interview I did with vegan psychologist Dr Melanie Joy. Mum and dad stated they'd be "vegan allies."
Then there was the vegan feast I prepared this year for Christmas Day. And again on New Years Eve.
Mum asked my to play her one of my podcast interviews and I chose my chat with Allison Argo, director of The Last Pig.
Small seeds planted patiently though that's absolutely not my natural inclination. I want to take the people I love and smother them with vegan truth bombs, logic and tough love.
And yet, I'm learning that's not the most effective approach!
Anyway, that's a long intro to today's show on:
No Fuss Vegan / The Advice I'm Giving My Mum!
After watching What The Heath mum announced she'd like to try plant based eating for 2 weeks and see how she feels.
Yet it needs to be No Fuss.
So, here is the No Fuss Vegan advice I'm giving my mum!
One: Start with the meals you already eat that just need a small tweak to become vegan. 
Perhaps your smoothies are already animal product free. Maybe your oats and fruit is topped with almond instead of cows milk. Choose an unsweetened calcium fortified nut or soy milk brand.
=> Oats + fruit + nut milk = no fuss vegan deliciousness!
Two: Prioritise one ingredient whole foods and source some easy alternatives for the animal protein you used to rely on.
Mum and I went to the farmers market and bought a huge pack of the most amazing falafel that she can top her salads with this week.
=> Veg on mass + hummus + falafel = no fuss vegan deliciousness!
Three: One at a time makeover a meal you love – where meat isn't the star – to become animal product free. 
Mum loves stuffed baked potatoes. They'd be perfect with a big batch of chilli bean mix and a side of asparagus. Down the track a cashew cream would finish off the deliciousness however for now, let's keep this…
=> Spud + chilli beans + asparagus = no fuss vegan deliciousness!
By varying the veg you stuff (I love mushrooms and capsicum) and mixing up your side veg (try brussel crisps or baked broccoli steak with zataar and tahini) you have multiple go to meals.
Four: Invest in a few specialty condiments to pimp the flavour of your meals while you're finding your plant strong feet!
Some easy options are: Nutritional yeast. Sriracha hot sauce. Veganaise. Tofutti cream cheese. Tamari. Liquid smoke. 
Obviously the less processed the better however when you consider all the processed dairy and meat you cut out when you become vegan I think a few condiments used sparingly are just fine. I like Dr Michael Greger's red, yellow, green light foods approach.
In Dr Greger's book How Not To Die, Green means GO. Yellow means caution. Red means STOP (at least stop and think before consuming however the less red light foods the better). Here's the break down according to Dr Gregor:
GREEN light foods = Unprocessed Plant Foods.
YELLOW light foods = Processed Plant Foods and Unprocessed Animal Foods. (I strongly advocate ZERO animal foods, because it's not just about your health it's about the animals life)
RED light foods = Ultra-processed Plant Foods and Processed Animal Foods. (again ZERO room for those animal foods that kill the animals, the planet and you.)
To keep it simple let's go with the Drs description that, unprocessed = nothing bad added AND nothing good taken away.
The advice I give my clients (and mum!) is that yellow (or occasionally red) light food should be eaten to promote consumption of green light foods. Here are some examples:
At BREAKFAST: add almond milk or plant based protein powder to sweeten your oats if berries, nut butter and cacao aren't enough.
At LUNCH: top your cabbage leaf and tempeh mince tacos with indulgent coconut yoghurt.
At DINNER: add nutritional yeast, salsa or hot chilli sauce to help your HUGE serving of greens go down.
Five: Master meat free in meat starring meals as you feel ready.
I made my first nut roast and mushroom gravy 3 years in as a vegan. I still yet to master an amazing pancake or omelette… though my coconut bacon and tempeh mince are both fairly fab! It's a move at your own pace thing.
Some easy wins are: Raw vegan desserts and banana nice cream. Black bean and beetroot burgers. Tofu scramble. Satay tofu and veg skewers.
I guess my point is some things are going to take a little more work to master the vegan option so take your time in trying them, be forgiving (and persistent!) if you have a recipe flop AND consider maybe these are the options to try at specialty vegan restaurants right than trying to create on your own? They serve the most amazing vegan pancakes at my local cafe (Speedo's) here in Bondi.
Six: Decide on your eating out / at a friends house strategy before you need it. 
I'm taking off my animal rights activist / abolitionist hat right now and thinking of the greater good. Actually, I'm thinking of and will speak directly to my mum. I hope this advice is of value to you too, if you're not 100% vegan lifestyle committed yet certainly plant based eating curious…
Initially the meals you eat out / with friends will be the hardest. It might seem like you're missing out. Like you're paying more for a less enjoyable meal. Like you're being rude or annoying or ungrateful not wanting to eat the food someone else has prepared for you.
You might just want to go with the (no fuss!) choice and eat vegan at home and then be more flexible eating out. This will sound like a viable option if you're trying vegan for your health or for the environment. However if you're trying vegan for the animals, well I urge you to please ask yourself: "Is a just little bit of dead pig, lamb or chicken… or just one bobby calf slaughtered so we can have his mums milk worth avoiding that initial discomfort of telling someone you're not eating animal products?"
Do you value life more than taste and convenience?
Potentially eating at home and taking your own food to events might suit you. This isn't a strategy exclusive to vegans, anyone looking to make some serious upgrades to their eating habits has had to get a little more organized with meal prep and such to see dramatic health and body transforming results.
It's a short term strategy (till you find your Go2 vegan restaurants) that will save you money and allow you to see faster results.
Maybe taking the initiative in booking vegan friendly restaurants (and ringing to check at other establishments ahead of time) and making enough awesome vegan food for everyone (or catering at home) is more your style. The way I see this is, the more frequently we politely ask for healthy vegan options at out fav restaurants the more quickly they will naturally rise to meet that demand.
It's simple a matter of supple and demand. At every single meal your hard earned dollar is either perpetuating the vicious cycle of animal agriculture or it's propelling us towards a healthy, compassionate vegan world.
Here are another 6 rapid fire parting tips for the new No Fuss Vegan:
Recognise:
One: Everything counts.
Two: There's no such thing as failure or a "bad vegan." You can start again at the very next meal and it'll be an ongoing process of gradual improvement.
Acknowledge:
One: You've cooked and eaten plenty of bad meat meals in your life. Equally you'll have some wins and some not so wins with vegan food too!
Two: You have the right (and responsibility) to choose what food you fuel your body.
Seek out:
One: The people YOU can relate to that lead a healthy vegan lifestyle.
Two: The emotional fuel that will fortify your resolve – when you're ready to deal with it.
=> For environmental fuel I recommend: Cowspiracy.
=> For your health: What The Health / How Not To Die and nutritionfacts.org
=> For the animals: Earthlings / Dominion / Land of Hope and Glory / Earthling Eds 30 Days 30 Excuses series.
In closing I'd like to recommend show 527: 6 Keys To Escape The Junk Food Vegan Epidemic. Show 527 also re-shares 10 rapid fire tips that have helped me create and maintain a fit, healthy #plantstrong body.
That's it for today in Healthification.
I truely hope 2019 has started well for you. If you powered into this new year with me on the 7 Day Plant Strong Jumpstart for a Lean, Fit, Healthy Body, thank you! How did you find it? I'd love to hear any feedback via the show notes or via strongbodygreenplanet on Insta and Facebook. Ideally, the no fuss vegan advice I shared in todays show will help you stick with #plantstrong long term.
Huge across the pod-waves thanks to YOU for sharing today with me. I appreciate it with all my heart.
If you've enjoyed this show and gotten value out of it I'd super appreciate it if you pop over to iTunes or wherever you listen to the show and leave me a review.
Till next time, remember Creating a body and life you love is Freedom. (If this ex-carb queen, NON-genetically gifted, naturally uncoordinated VEGAN-chick can do it – so can YOU!!!)
If you liked "No Fuss Vegan / The Advice I'm Giving My Mum!" you'll also like: Becoming Vegan / Vego: 3 Tips To Make It Easier On Yourself And Those Around You.
If you're yet to share the Healthification love – just click here to zip over to iTunes and leave an honest rating and review. It'd help me out big time. With gratitude, Kate.