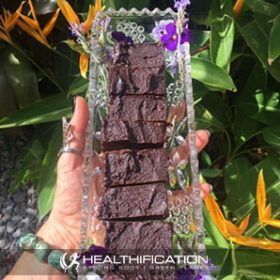 Podcast: Play in new window | Download
Subscribe: RSS
I'm cautiously optimistic I'm going to have a lot more vegan deliciousness to share with you in 2019.
If you're a regular listener to the Healthifcation podcast you'll know I'm a bit of a lazy cook. I love food however I get a lot more pleasure eating it than I do preparing it. My dear mum, in contrast is an amazing cook and she gets a lot of joy from creating and sharing delicious meals with friends, family and well, at the in the past the builders, the architect – the other nurses / doctors at work.
Basically whoever she thinks will appreciate it… and her cooking expertise has been very much appreciated over the years. That is one of the many reasons why I'm so super excited that mum is currently 12 days strong into "trying" plant based eating and sounding like she's intending to stick with it long term. 13 days ago I would not have thought such a significant and swiftly acted on change of heart in my mum was possible.
So, my message to YOU if you have loved ones who seems utterly uninterested in making the switch to a 100% vegan lifestyle or trying plant based eating is: Hang on in there! Have faith in them. Support and nurture them. Answer their questions patiently and gently introduce the facts you think will most appeal to their personal experience. Shower them in abundant, delicious vegan food!
Talking of which, in todays show I'm sharing my latest:
Vegan Recipe Wins PLUS 5 Exercises For A Flab Free Belly.
It's also a Month In Review show. So I'll also share what's been rockin this past month and what's been a tad more struggle street. Above all, my intention is to make this content applicable to YOU and creating and keeping a fit, healthy plant strong body.
On the matter of FOOD: I tried 6 new recipes to share with my 100% NON-vegan family on Christmas day. I'm happy to report they were ALL a huge success. In fact, I got multiple recipes requests and, although one cheeky client asked "Do you think they were just being polite?" NO, I do not think they were just being polite!!
The main event, was a nut roast with mushroom gravy. The only disappointment here was that there was only leftovers for the next day not the next week! Both recipes came from a book I was gifted last Christmas. It was merely "eye candy" for a whole year. I'm referring to, Jessica Prescott's Vegan Goodness: Delicious Plant-Based Recipes That Can be Enjoyed Every Day. You'll find a lot of Jessica's vegan goodness (!) via her blog: Wholy Goodness.com. She shares the complete nut roast recipe and with 5 types of seeds, 3 types of nuts + plenty of veg and herbs it truely is chocka full of goodness.
I was so impressed I just ordered Jessica's latest book, Vegan Goodness: Feasts Plant-Based Meals For Big And Little Gatherings for my mum. Yes, there could be a slight ulterior motive there!
The mushroom gravy, grilled stone fruit and wild herb salad with balsamic glaze and loaded corn are not on the Wholy Goodness website however I have some implementable advice for each of them.
One: Try a new / previously un-appreciated ingredient either at home in your own cooking or when eating out.  
I'm sold on dried mushrooms! They were the base of the gravy and so easy to use. I'm excited to experiment on different uses for these little powerhouses of flavour that I just grabbed in a convenient 20gm pack from the supermarket. So far as previously un-appreciated I tried green papaya in a delicious salad out and was impressed. Green papaya have less sugar than the ripened fruit and plenty of vitamins and minerals especially potassium.
The note to self (and to you) is that our taste buds change as we age and as we evolve our eating habits. I strongly recommend trying a previously disliked (or new) food.
Two: Presentation counts! 
For my non-vegan family the loaded corn was possibly the star of the show. It was actually super simple – just some BBQ'd corn brushed in avocado oil to cook and served with spring onion, coriander, chilli, lime, salt, pepper and store bought cashew cream.
The WOW factor came from copying the picture in Jessica's book where I pulled back rather than removed the corn husks (I did remove the stringy bits on her advice) and piled the corn once cooked into one big glorious mess of vegan goodness.
Still talking veggies on the BBQ, I made veg and tofu satay skewers using rosemary stalks for skewers and they were awesome. The rosemary permeates through the skewered veg and tofu and then there's the smokey'ness of the BBQ. They look pretty too! I used a tofu satay recipe from onegreenplanet.com and substituted in cashew butter instead of peanut butter because, cashews!
I guess the take-away is, although I'll happily chug back a murky brown smoothie each morning as long as it tastes great and is high value for my body it's not something I'd serve to the non-vegan I was trying to impress!
Three: Experiment with cooking methods especially BBQ'ing / grilling, charring and roasting. 
Case in point – grilled stone fruit. This utilizes the 5th taste Umami. In show E558: Veganising Umami The 5th Taste, I share my epiphany moment when I learnt the cravings we often associate with cheese might very well be cravings for a sort of taste / experience / essence in foods imparted by high levels of the amino acid glutamate. Discovered and coined 'umami' over 100 years ago by a Japanese researcher this fifth taste is a welcome (super welcome!) addition to: sweet, sour, bitter and salty.
I was not the least bit surprised to hear that nutritional yeast is chocka with umami. Whether you make your own vegan cheese using nuts and nutritional yeast or whether you just do the lazy (easy!) sprinkle on approach to enhance pasta, salad, beans, kale crisps, tofu (anything really) nutritional yeast (nooch!) rocks.
There's so much more vegan umami to enjoy though. For example:
Fermented foods such as wine (woohoo!), tempeh, tamari, and miso.
Sea vegetables like kelp.
Ripe tomatoes and concentrated tomato products like ketchup, tomato paste, and sun-dried tomatoes.
Vegemite, mushrooms, olives, balsamic vinegar, dried mushrooms, and sauerkraut. And wait for it…
Roasting, caramelizing, browning, and grilling are cooking techniques that impart umami flavours.
Before we move onto the exercise component of this Month In Review show let's talk dessert.
It's not usually my thing however I was trying to impress non-vegans so I made the BOSH.TV sweet potato brownies. They ere super good and actually jammed full of nutrients (I couldn't help myself!) with roasted sweet potatoes, oats, ground almonds, nut butter, medjool dates, cocoa, dark chocolate and a tad of coconut oil and maple syrup! For the recipe just google "Bosh sweet potato brownies" or cruise to the show notes.
But wait there's more. The easiest and most surprisingly brilliant recipe was Vegan Bailey's!
Everyone who tried this loved it and (almost to my disappointment) had seconds. Of course I can't claim the healthy card on this recipe though it's certainly less UN-healthy than the original and does not require enslaved dairy cows and murdered bobby calves. The recipe is from Protest Kitchen which I discuss in E559: Virginia Messina and how to Fight Injustice, Save the Planet, and Fuel Your Resistance with Protest Kitchen and it's readily available online so I think it's cool to share it with you here too.
You'll need:
1/2 cup cashew milk (I used almond)
1 cup of Irish Whisky
3/4 cup granulated sugar (I used 1/2 cup maple syrup instead) 
1 can full fat coconut milk
1 1/2 teaspoon cocoa
3/4 teaspoon pure vanilla
1/4 teaspoon instant coffee 
All you need to do: blend all ingredients in a blender on high speed to smooth and creamy. Refrigerate overnight. Shake before serving over plenty of ice.
Ok, let's move onto EXERCISE and those 5 Exercises For A Flab Free Belly. It's perhaps not what you think.
1) Exercise the proper prior planning to ensure you eat 3 nutritious meals a per day. (and snacks if your activity level demands them)
Exactly the type of meals I share in my 3 Day Easy Vegan Plan.
Why? As chronic dieters already know eating infrequently leads to a snail-like metabolism.
It triggers your bodies starvation response where even if you have excess fat stores your metabolism will slow down and conserve energy as it doesn't know when you're going to feed it again. Eating frequent meals will train your body to burn through the fuel you regularly feed it and will help build and maintain metabolically active muscle. As such it has as much impact on increasing your metabolism as exercising regularly.
If your meals are planned you will also be able to utilize the thermic effect of food. That's how much energy your body uses just to metabolize the food – PROTEIN IS THE HIGHEST AT UP TO 30% – rather than getting irrationally over-hungry and grabbing something that takes little energy to metabolize and is easily stored as fat.
2) Exorcise fake, processed, nutrition-less food from your home and work.
For example: Fake and processed = pretty much anywhere there is an ingredient listed that you don't know. Especially in all those 'diet' and 'low fat' options that are promoted as being the 'healthy choice'.
Why? Aside from the aforementioned LOW THERMIC EFFECT and Zero Nutritional Value that leaves your mind screaming at your stomach to eat more (read cravings and hunger) after it's left unsatisfied by food that's been assembly line injected with man made chemicals and preservatives.
Beyond that nastiness, a couple of these additives interfere with the hormone leptin which is responsible for sending a signal from your stomach to your brain to tell you you're full. Ever know that you should be full but keep eating and eating anyway? Further fake food additives boost fat-storing hormone insulin levels while cunningly simultaneously blocking fat-burning hormone glucagon. Not cool for flab cutting!
It is no co-incident that ALL of the people you see sporting a chiseled middle consume clean, natural, unprocessed food – especially One Ingredient Wonder Foods like vegetables, nuts, seeds and fruit. The stuff that our hunter gatherer predecessors would recognize. Rather than the crap-o-la that's bad already but could probably have been stored since prehistoric times without 'going off'!
3) When exercising your bicep via a repetitive curl of glass to mouth make the low carb choice and only consume low fat, high protein food.
For example: Low carb over full carb beer / vodka soda or mineral with fresh lime over lemonade and any syrupy mixers or juicy/creamy cocktails. Veggies and plant based protein instead of wedges or pasta.
Why? As you may know by now – my approach to health is about Lifestyle not silver bullet and it's important to pick your treats and incorporate them into a sustainable routine.
If you choose to include alcohol then there's a way to do it without sacrificing your results. As alcohol is a toxin your body will look to metabolize it as a priority over anything else you're consuming – SO THIS IS ABOUT THE WORST TIME TO CONSUME CARBS & FAT – as it is prime time for them to get converted to fat rather than used as energy.
It's also important to consider the high'ish calorie count of alcohol – at 7 calories per gram… it does have a significant Thermic Effect too at around 20%, however given how easy it can be to consume it there is definitely no need for added 'nutrition-less' calories in the form of mixers.
4) In your weights routine choose unsupported big compound movements which involve multiple joints and multiple muscles and require strong support from your deeper abdominal muscles during the entire movement.
For example: Lunges, Squats, Deadlifts are the lower bod hard hitters…. even for the smaller muscle group exercises (if fat loss is your primary goal) you'll get more bang for your buck by choosing a standing Dumbbell shoulder press or good old push up over you're overly supported, range-of-motion guided machine versions.
Why?  The harder your body has to work during your work-out the more calories you're going to burn, both during the session – AND ALSO AFTER THE SESSION.
Training at a High Intensity, be it via the weight, the type of movement or the lack of rest is going to have the greatest value by way of EPOC (Excess Post exercise Oxygen Consumption)… that's the after burn where you continue to burn calories after you stop training. For UP TO 36 HOURS!
5) Make adequate sleep (6.5 – 9 hours) and de-stressing an integral part of your exercise regime.
As without both the stress hormone cortisol can get out of whack and it's main job is to rob your belly of it's flat desires and reinstall those unsightly tires.
Why?  Cortisol is a fat storing hormone, specifically it's game is to direct fat straight to your abdominal area for storage.
Cortisol can become a problem when your mind is out of balance as a result of mental, physical and emotional stress such as when you're not getting enough sleep, over-training or you're burning the candle both ends with work and home commitments. Since stress is an inescapable component of life, the key is to actively plan and choose your positive stress eroding strategies and to employ these tactics at the first hint of stress showing up.
My struggle-street this past month was all in my mind. There's a lesson in that. I was judging the outcome of Christmas lunch based on previous un-pleasant experiences. To be clear, pre Christmas lunch I got stressed about what I'll term: "Meat creep".
I'd already made the arrangement with mum that I'd mastermind a vegan feast for Christmas day. That's where it started. Then a stuffed turkey breast made the creep. Then to my utter disappointment, ham made the creep. And prawns. I'd over-juiced too early.
Thankfully, as you already heard at the top of the show Christmas lunch with my non-vegan family went better than I could ever expect.
On analysis there are a couple of learnings:
Compromise was met with compromise.I'd told mum in advance how disappointed I was in the "meat creep" situation and then committed to not mentioning it again. I didn't. And they were super discreet where in every year gone by slaughtered animal bodies took centre stage.
I really truly went to a lot of effort and mum really truly appreciated it. I guess when it comes to Veganism in the eyes of a non-vegan, the food part, specifically taste and convenience is HUGE. As an ethical vegan my focus is on the extreme animal cruelty I'm passionate about eradicating. I have to remind myself most non-vegans are more focused on the assumed loss of food joy and assumed hassle / expense / cost of planning, shopping, cooking a vastly different type of meal.
Let's talk Inspiration. This one is easy. Regardless of what happens over the next few days, months and years: My mum is inspiring me with her plant based journey.
It makes my heart so happy to see a little picture of mum's dinner pop up most evenings accompanied by a text like: "So what did you have for dinner tonight? These are my corn and zucchini frittered, pretty good! Still going strong, probably a little heavy handed with the veganaise, spoilt the photo, will try harder next time! XX 
My recommendation this month relates to a habit that has been hugely valuable to me that I've decided I want to progress with this year. Meditation and specifically the: Sam Harris, Waking Up Meditation app. 
I'm a big fan of neuroscientist, philosopher, and best-selling author Sam Harris and especially his Waking Up podcast where he explores some of the most important questions about the human mind, society, and current events.
Sam's Waking Up Meditation app gives you a free trial and then is available on a monthly or yearly basis. He has a good special on till the end of the month and I'm impressed enough to commit to a year up front. Beyond daily meditations there are also daily lessons on subject such as:  Gratitude, The Social Self and Lose the Monkey (plus so much more) that I've found to be super insightful.
Side note: Sam is so intelligent listening to his conversations with other intellectuals threats to break my brain (!) however I love them!
That's it for today in Healthification. Joyfully I'll be back mid week with: Effective animal rights direct actions and advocacy with Isy Veira. 
A super huge thanks to you for your support and for sharing this week with me.
If you've enjoyed this show and gotten value out of it would you consider sharing it with someone close to you? I've been doing some work to improve distribution / visibility of the show so it's now available across iTunes, Stitcher, Spotify and hopefully other platforms too. However a recommendation from you to someone who you think would find value in the show would truly be most awesome!
The Healthification podcast is proudly bought to you by my FREE 'Easy Vegan' plan. It took me 25 years to transition from a meat eater to a happy, healthy Vegan! You can do it in just 3 days with  my simplified 'easy vegan' plan!  Get the fit, strong, and healthy plant based body you deserve… while avoiding ALL the mistakes I made along the way!
Till next time, remember Creating a body and life you love is Freedom. (If this ex-carb queen, non genetically gifted, naturally uncoordinated vegan chick can do it – so can YOU!!!)
If you liked "Vegan Recipe Wins PLUS 5 Exercises For A Flab Free Belly" you'll also like: 5 Exercises For A Flab Free Belly.
If you're yet to share the Healthification love – just click here to zip over to iTunes and leave an honest rating and review. It'd help me out big time. With gratitude, Kate.