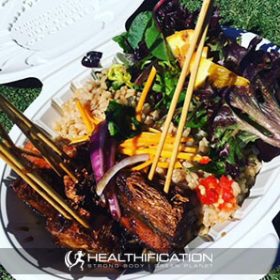 Podcast: Play in new window | Download
Subscribe: RSS
"I could be vegan – except for cheese – I could not live without cheese!"
This is a statement most vegans hear frustratingly often. Perhaps you even feel the same way? I know a toasted cheese sandwich used to be one of my go to comfort foods. My mum's cauli-cheese is tough to beat. Top of my short list of things I actually first missed when I adopted a vegan lifestyle was barbecued haloumi cheese.
So what is it with cheese? Is it really that addictive? Is it just the perfect mix of fat and salt? Or could it simply be a gloriously cruel example of 'Umami' the 5th taste? I hadn't heard of the Japanese term Umami meaning deliciousness until I read Protest Kitchen the latest book co-authored by Ginny Messina and Carol J. Adams. In show #559 I'll share my chat with Ginny Messina and dig in with her deeply insightful and hopeful new book Protest Kitchen however for now let's indulge in some deliciousness with todays show on:
Veganising Umami The 5th Taste, PLUS Month In Review.
I'll also chat a little exercise and I'll share what's been rockin this past month and what's been a tad more struggle street. Above all, my intention is to make this content applicable to YOU and creating and keeping a fit, healthy plant strong body.
FOOD, and Veganising Umami The 5th Taste. The cravings we often associate with cheese might very well be cravings for a sort of taste / experience / essence in foods imparted by high levels of the amino acid glutamate. Discovered and coined 'umami' over 100 years ago by a Japanese researcher this fifth taste is a welcome (super welcome!) addition to: sweet, sour, bitter and salty.
A compelling theory regarding the strong appeal of umami is that, since breast milk is high in glutamate, humans might develop a desire for this taste that lasts a lifetime and begin just hours after birth. Thankfully cheese is not the only source of umami. I was not the least bit surprised to hear that nutritional yeast is chocka with umami. Affectionally referred to as 'Nooch' nutritional yeast is one of those foods adored by most vegans not just because of it's delicious cheesy flavour and versatility (nooch just makes everything better!) yet perhaps also because of it's umami. Whether you make your own vegan cheese using nuts and nooch or whether you just do the lazy (easy!) sprinkle on approach to enhance pasta, salad, beans, kale crisps, tofu (anything really) nooch rocks.
There's so much more vegan umami to enjoy though. For example:
Fermented foods such as wine (woohoo!), tempeh, tamari, and miso. (This explains sooo much!)
Sea vegetables like kelp are rich in umami.
Ripe tomatoes are loaded with umami and so are concentrated tomato products like ketchup, tomato paste, and sun-dried tomatoes.
Vegemite, mushrooms, olives, balsamic vinegar, dried mushrooms, and sauerkraut are also rich in umami. And wait for it…
Roasting, caramelizing, browning, and grilling are cooking techniques that impart umami flavours.
This honestly feels like an epiphany moment to me! I now understand why I LOVE my meals so much when they may not sound utterly indulgent. Most of my meals are full of umami deliciousness. Here are just a few suggestions to help you get your umami on!
At Breakfast: Add sea vegetables like spirulina to your smoothies or try scrambled tofu mixed with mushrooms, sun-dried tomatoes and olives.
At Lunch: Roast or grill veg to add to your leafy salad and top with edamame before dressing with balsamic. Enjoy tofu / tempeh burgers and caramelized onions served between grilled portobello caps dressed with ketchup or sauerkraut.
At Dinner: Cook tempeh mince on mass (I'll link to my recipe) which includes mushrooms, sun-dried tomatoes and canned tomatoes and serve with BBQ'd / grilled veg like zucchini, capsicum and eggplant washed down with a cheeky glass of red wine!
Let's talk EXERCISE and this month the question "Do I need to do cardio?" has been on my mind.
Almost 3 years ago, when I made the switch to a 100% vegan lifestyle I gave up my hateful cardio intervals. For years the other trainers at the gym had laughed at "Cardio Kate" who would endure a mere 5 minutes of tabata style intervals on the treadmill once a week. "What's the point?!" they'd ask? I stubbornly (thought) I knew what worked for my body and I thought forcing myself through these intervals was part of the equation.
I'd gleefully lift weights 5 days a week. I'd non-negotiably walk to and from work 6 days a week and throw in an extra 90 minute walk once or twice a week too. Meal prep was a given and primarily one ingredient #plantstrong meals were easy to prioritize however 5 minutes sprinting up a steep incline on the tready? That was a massive discipline eat!!!
So, I ditched the hateful cardio. And nothing changed. I didn't gain fat or lose fitness. I test this whenever I visit the family in Noosa and go for a 60 minute run no probs.
To make this applicable to YOU so far as "Do I need to do cardio?" here are 3 considerations:
One: How much TIME do you have to play with? 
To get to that number it's worth asking: How important is achieving your ideal health to you? If you only have 3 hours per week total then I'd say cardio is not a priority. Let's take that 3 hours and commit half to weights – so '2' 45 minute weights sessions and half to meal planning.  
If you have more time and enjoy cardio then for sure work it in. The important thing is that cardio needs to be on top of lifting weights and without over compensating for all that activity with excess carb gobbling. I'm not even going to insert caveats here: I'm a HUGE fan of lifting weights for anyone and everyone.
Two: How much INCIDENTAL EXERCISE do you do daily?
If you lead a very sedentary lifestyle then you're not going to 'get away' with my zero cardio allocation. I recommend working more walking into your daily routine. Humans were built to move. Not just to stay fit and strong and lean, also to stay alert and positive and for optimal brain function.
Ideally find a way to get 30-60 minutes of incidental exercise into each day. If this sounds daunting it's worth reframing the way you view incidental exercise. How about seeing it as 30-60 minutes a day precious you time, a chance to calm your mind or maybe a chance to educate and inspire via your favourite podcasts or audio-books.
Three: What's the state of your NUTRITION?
Yes, food IS it… Cardio queen or weights worshipper a focus on one ingredient whole foods is the most sustainable, reliable, enjoyable approach. I'm sure you've met that cardio queen who "eats a tonne of sugar and then just runs it all off." If this approach makes you happy – then go for it – it really is hard to maintain long term though. You've seen the athletes who stack on the kilo's once they quit training right?
Your alternative is to build your meals around a heap of fibrous and multi-coloured veg, add plant based protein and some good fat. The goal is to gradually eradicate processed food from your regular eating routine. And to enjoy treat / cheat foods on scheduled, planned days.
In summary, there's no one size or one plan fits all. If you want to be fit, strong and lean and you hate cardio you can easily avoid it by prioritizing weights, incidental walking and primarily one ingredient plant based food.
Equally if you love cardio please embrace it because even more than most effective when it comes to exercise is what you'll consistently do.If you love something you'll be much more likely to stick to it. Though in my super strong opinion, if you have a body composition goal, weights and one ingredient food is going to be much more impactful than your gleeful cardio action.
Let's move on to the struggle-street part of this past month. It's a re-occurring theme I'm going to frame in the context of, Judgement.
Specifically the judgement of non-vegans reflected back at me whether in the form of:
"Each to their own! You eat your grass – I'll never give up steak!"
"I never watch those slaughter house videos you share – they're too graphic."
"So what work do your new activist / van-life friends do?"
"Dogs are carnivores. It's cruel to have a vegan dog."
I mentioned "reflected back at me" as back in show 208 I discuss judgement and share how the more judgement you send out into the world – the more will come shooting right back at you. It's really not a fun way to live.
When you are judging someone else you do so without all the facts. You are guessing what motivates them to take certain actions based on your personal *MAP of the world…
*MAP, is a Neural Linguistic Programming term to describe an individuals perception of the world. Your perception of the world will be formed by your experiences, beliefs and values. It guides your feelings and behaviours. You can imagine certain upbringings could restrict the choices people have available to them – both literally and via the beliefs and value systems that have been formed to survive.
(back to what I was saying) …you are guessing what motivates them to take certain actions based on your personal map of the world and then judging them on that.
Equally how often do you judge YOUR life and success (warts and all) based on the high-light reel of someone else's life?
There isn't a quick fix so far as the judgement of non-vegans reflected back at me. If you can relate to experiencing more judgement in your life than you'd like, it's going to take a series of conscious efforts (for both of us!) starting with:
First: An Awareness of when YOU'RE being judge'y.
Next: An Understanding of what a wasted emotion judgement is.
Finally: A Commitment to replacing that judgement with a more useful emotion. Perhaps curiosity?
Instead of getting judge'y (and getting judged!) I could get curious about:
Why someone thinks my delicious umami packed meals are like "grass"? Or what "steak" really means to that someone beyond a 15 minute taste sensation?
My recommendation this month is a particular Rich Roll Podcast episode. Now The Rich Roll Podcast is one of my fav shows and show 401 released on October 29th is one of my favs of the fav! It's called: James Clear On Why Habits Are The Compound Interest of Self-Improvement.
I genuinely can not recommend this show highly enough. I feel like habits are something I do well and something I've read a lot about and yet, I learnt so much! It's definitely a show I'll be re-listening too and I will also buy James latest book: Atomic Habits. Here are just three of the many take aways I loved…
Focus on identity rather than goals. So for example when you create the identity belief: "I'm a person who always makes time for meal prep and exercise" you get to feel good the moment you make time for meal prep and exercise and that's a huge incentive to do it. Rather than focusing on that distant goal you're yet to achieve. James recommends using a goal to set the direction and then focusing on daily habits and how they are tied to your identity. 
Rather than optimizing for the finish line focus on getting to the starting line. Specifically James recommends starting with the first 2 minutes of starting any new habit and making it easy.
The importance of tribe in helping your habits stick. So potentially asking someone to change their habits is asking them to change their tribe. This resonates so much with me. It's why I find myself spending more and more time with my new vegan tribe where my habits are supported,  encouraged and are the norm… rather than in social situations where my habits are abnormal or shunned.
Finally, this month I'm inspired by a concept rather than a person. It's the notion of being at cause. This is another way to express accepting personal responsibility. However I had it explained to me at a more thorough level by my new business coach this week.
You might be familiar with the value of being at cause for your actions and your beliefs. It's empowering to accept this personal responsibility as it means you also have the power to change what's not working. Rather than living at effect, or as a victim of what is happening TO you.
At another level there's also power (Freedom) in being at cause for that which you choose to take on and make mean something that then has negatively affected you. This is not meant to diminish any of the horrific things that happen to utterly innocent people / children. However I see it as a useful tool / or reframe to help let go of something beyond your control at the time that you've taken on and carried with you for too long now that has been affecting you to your detriment. 
To get actionable today, let's return to the notion of deliciousness aka: umami!
Is there a meal in your regular routine that could do with a little extra deliciousness?
To recap, here are some of your #plantstrong umami sources:
Nutritional yeast. Fermented foods. Sea vegetables. Ripe tomatoes and concentrated tomato products including sun-dried tomatoes.
Mushrooms, olives, balsamic vinegar, sauerkraut and cooking techniques such as roasting, caramelizing, browning and grilling.
So much food inspiration there! In fact I'm going to make #plantstrong umami sources the theme for this months LIVE 3 Day Easy Vegan Plan.
If you're new to this podcast I run my 3 Day Easy Vegan Plan LIVE with a different theme on the 1st, 2nd, 3rd of each month. Although you can of course opt-in and get all the recipes and workouts any day of any month.
That's it for today in Healthification. Joyfully I'll be back mid week with Virginia Messina and how to Fight Injustice, Save the Planet, and Fuel Your Resistance with Protest Kitchen. A super huge thanks to you for your support and for sharing this week with me.
If you've enjoyed this show and gotten value out of it I'd super appreciate it if you pop over to iTunes and leave me a review. It helps other people find Healthification and it really does inspire me to power on with the weekly and sometimes twice weekly episodes.
The Healthification podcast is proudly bought to you by my FREE 'Easy Vegan' plan. This month the theme is: "Veganising Umami The 5th Taste" It took me 25 years to transition from a meat eater to a happy, healthy Vegan! You can do it in just 3 days with  my simplified 'easy vegan' plan!  Get the fit, strong, and healthy plant based body you deserve… while avoiding ALL the mistakes I made along the way!
Till next time, remember Creating a body and life you love is Freedom. (If this ex-carb queen, non genetically gifted, naturally uncoordinated vegan chick can do it – so can YOU!!!)
If you liked "Veganising Umami The 5th Taste" you'll also like: 6 Step System To SILENCE SELF SABOTAGE
If you're yet to share the Healthification love – just click here to zip over to iTunes and leave an honest rating and review. It'd help me out big time. With gratitude, Kate.