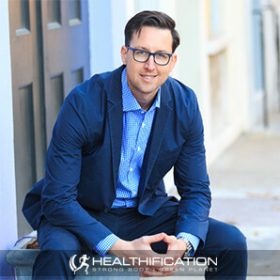 Podcast: Play in new window | Download
Subscribe: RSS
Todays conversation with TheGutHealthMD Dr. Will Bulsiewicz is one I've been excited about for a long time.
In his new book, Fiber Fueled, Dr. B will teach you how to train your gut to thrive on healthy foods even if you currently struggle with them. We're chatting about delicious, abundant plant based diversity. Restriction free eating that is science backed, sustainable, and transforms your health by optimising your gut microbiome.
I was lucky enough to get an advance copy of Fiber Fueled (US spelling!) and it is both a fascinating yet also accessible and deeply implementable read.
As Dr B explains, your body is designed to heal itself. If you currently have a damaged gut, you will likely have to "start low and go slow" as you reintroduce fiber fueled foods, however for long term health (and I would say long term extreme food joy!) elimination diets are not the solution and in fact are hazardous to our health.
For a little official bio: Dr. Will Bulsiewicz, MD, MSCI (Master of Science in Clinical Investigation), is a board-certified, award-winning gastroenterologist.
Dr. Will Bulsiewicz is a graduate of Georgetown University School of Medicine and was chief medical resident at Northwestern Memorial Hospital and chief gastroenterology fellow at the University at North Carolina Hospital. He won the highest award given in both his residency and fellowship.
Dr. Bulsiewicz personally lost 50 pounds and radically transformed his health by discovering the healing power of fiber and transitioning to a plant-based diet. He then brought these methods to his clinic and witnessed his patients have amazing results.
Talking amazing results, I should share up front – although Fiber Fueled comes with a delicious 4 week plan of plant based recipes organised into a twenty-eight-day calendar complete with: Shopping lists, Sunday meal prep, Quick-fix recipes and ways to "Supercharge" your meals we're not talking quick fix or diet. To quote the doc this is: a lifestyle trajectory that heals.
Ok, let's learn
How To Become Gut Healthy Through A Plant Based, Fiber Rich Diet with Dr. Will Bulsiewicz. 
In this chat we cover:
Dr B share's a little of how he used to eat and what prompted him to choose this lifestyle transformation.
Dr B gives us some definitions that will be helpful throughout this conversation into exciting yet perhaps new territory: Gut microbiota, Microbiome, Prebiotics, Probiotics, Postbiotics and Short-chain fatty acids (SCFAs).
We cover a couple of Myths. Myth #1: All fiber is the same, and all you have to do is count grams and Myth #2: That fiber just passes through us.
Microbiota is intertwined with all five essential elements of human health. Dr B shares the five essential elements: immunity, metabolism, hormonal balance, cognition, gene expression and discuss's how important our gut microbiota is in helping things run smoothly.
Dr B shines a light on the vital role fiber plays in weight loss and maintaining a healthy weight.
We discuss how the gut microbiome can impact anxiety and depression.
Dr B covers the ground-breaking study by Drs. Lawrence David and Peter Turnbaugh, where a group of people cycled between a completely "plant-based diet," which was rich in grains, legumes, fruits, and vegetables, and an"animal-based diet," which was composed of meats, eggs, and cheeses. We discuss what happened?
We talk about F GOALS – Dr B's favourite fiber fueled foods. It's an acronym! I LOVE a good acronym.
F: Fruit & Fermented
G: Greens & Grains
O: Omega-3 Super Seeds
A: Aromatics (onions, garlic)
L: Legumes
S: Sulforaphane (broccoli sprouts and other cruciferous veggies) '
Finally, the plant foods we need the most to get our gut stronger are also the same foods that cause digestive distress in people with a damaged gut. It's important to start low and go slow.
So much goodness there right?
I can see why gut health is a subject Dr B is so passionate about. We really only scratched the surface so again, I hugely recommend you check out Dr B online – he's TheGutHealthMD – also of course also get, Fiber Fueled.
I always come away from these conversations with #plantstrong docs so hopeful. The evidence to support a whole food plant based lifestyle is abundant. It has been for years… even decades.  It should be a non-negotiable, no brainer and yet confusing and conflicting advice hyping fad flesh focused diets still manage to push their profit driven agenda's.
It's vital each of us as individuals do all we can to spread the #plantstrong #fiberfueled love.
I'll continue to drop the vegan #truthbombs too.
Connect with Dr B across the socials via TheGutHealthMD on both Facebook and Instagram.
Check out Dr B's main website: https://theplantfedgut.com
Order Fiber Fueled from a local book store:
Order Fiber Fueled from Barnes and Noble:
Order Fiber Fueled kindle version (Aus):
Finally Dr B's online course is launching soon. Summer in the Northern Hemisphere and winter in the Southern Hemisphere – keep an eye out for it!
The single greatest predictor of a healthy gut microbiome is the diversity of plants in one's diet. Dr. Will Bulsiewicz #diversityofplants #wfpb #WillBulsiewicz
Click To Tweet
That's it for this week in Healthification. Huge thanks to YOU for sharing this week with me. If you've enjoyed this show and gotten value out of it I'd super appreciate it if you pop over to iTunes or wherever you listen to the show and leave me a review.
Just as awesomely, if you know someone who would find value in this show – please share it with them. That'd rock.
The Healthification podcast is proudly bought to you by my FREE 'Easy Vegan' plan. It took me 25 years to transition from a meat eater to a happy, healthy Vegan! You can do it in just 3 days with my simplified 'easy vegan' plan!  Get the fit, strong, and healthy plant based body you deserve… while avoiding ALL the mistakes I made along the way!
Till next time, remember Creating a body and life you love is Freedom. (If this ex-carb queen, non genetically gifted, naturally uncoordinated vegan chick can do it – so can YOU!!!)
If you liked "Dr. Will Bulsiewicz and How To Become Gut Healthy Through A Plant Based, Fiber Rich Diet" you'll also like: E664: Dr Michael Greger and How Not To Diet, The Ultimate Weight Loss Guide.
If you liked "Dr. Will Bulsiewicz and How To Become Gut Healthy Through A Plant Based, Fiber Rich Diet" you'll also like: E669: Dr Neal Barnard and Optimising Hormonal Health with Simple Diet Changes.
If you liked "Dr. Will Bulsiewicz and How To Become Gut Healthy Through A Plant Based, Fiber Rich Diet" you'll also like: Michael Klaper MD and How To Stay Healthy and Lead With Compassion Through The Coronavirus Crisis.