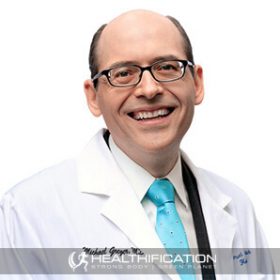 Podcast: Play in new window | Download
Subscribe: RSS
You may know my guest today as a result of his New York Times best selling books How Not To Die and How Not To Diet. Or perhaps you're familiar with the amazing online resource NutritionFacts.org?
Yet before Dr Michael Greger started NutritionFacts.org and switched to working on chronic disease, he had a career as Public Health Director at the Humane Society US in Washington, DC specialising in emerging infectious disease. 
In that role Dr Greger was invited as an expert witness to defend Oprah Winfrey in the infamous "meat defamation trial", appeared on the Colbert Report, lectured at the National Institute of Health and the Conference on World Affairs, and got to testify before Congress.
A graduate of the Cornell University School of Agriculture and the Tufts University School of Medicine, as well as a founding member and Fellow of the American College of Lifestyle Medicine Dr Greger is an absolute gift to those of us committed to making the correct dietary choices for ourselves and our families. The internet is awash with confusing, conflicting, deeply agenda'ed and profit driven nutritional advice. Dr Greger has committed his life's work to presenting us with the results of the latest in peer-reviewed nutrition and health research, presented in a way that is easy to understand.
Of course he has an entire team of researchers to help him make that happen. Importantly, perhaps in slight contrast to myself – my agenda (Yep, I'll own it) is a healthy, compassionate vegan world – Dr Greger's loyalty is ONLY to the science.
His latest book How to Survive a Pandemic: Overcoming COVID-19 and Preventing the Next Deadly Outbreak,
reveals how infectious diseases share a common origin story: human interaction with animals.
This is a vital and timely chat that I'm so grateful to have had.
We discuss, how did these diseases come about? What can we do to stop them? And is there a silver lining to be found in this undeniably horrific and deeply saddening time?
In this chat we cover:
The source of the virus. We need to understand and acknowledge this to treat the cause and prevent future animal-to-human disease outbreaks. 
What about the conditions in factory farms?
How Covid-19 is just a dress rehearsal.
Bird flu viruses have existed harmlessly for millions of years – what's different now?
What is the best thing we can do to keep ourselves and our families safe from the coronavirus?
COVID-19's severity varies widely based on pre-existing conditions. 
What about bio security in industrial scale animal agriculture? 
A potential silver lining / wake up call.
That chat was a whirlwind – I might still be spinning – and yet, one of my huge takeaways was the doctor seems hopeful right?
I must admit, I fight frustration daily and I have so much respect for professionals like Dr Greger that appear to stay so solution focused.
I wonder, what will it take for humans to take their stubborn, selfish and apathetic blinders off and stop exploiting animals?
Will this global pandemic be enough? For those that don't care about the animals or the environment, will it be enough human death? Enough financial loss? Enough loss of those simple day to day activities so many of us took for granted like hugging our friends and going to the gym, to make substantial change or will we just slip back into our complacent old routines as soon as we're able?
To drag myself back to positive – and potential overshare – I've been living with a non vegan, non vegan ally for 9 weeks now and it's certainly impacting my ability to stay positive… the positive, is that for those of us committed to a vegan lifestyle for the animals, surely it's only a good thing when the mass's become more receptive to the massage irrespective of the Why behind their increased receptiveness?
It's long been apparent that compassion, morality and ethics will not propel humanity to a vegan world. Potentially the fear of human induced climate change will move the needle. This global pandemic and the reality it's just the tip of the iceberg will likely sow a few more of those plant based seeds.
As Dr Greger touched on, a market driven solution is also going to be hugely impactful. Plant based products that are cheap, healthy and delicious. Companies are already providing consumers with better #plantstrong products. Better for the animals, the environment and Yes, most compelling: better for individual taste, convenience and health.
It's all coming together right? Our food choices don't just affect our personal health but also our global health. Not just in terms of climate change, land use, water use, pollution, species and habitat loss but ALSO in terms of pandemic risk.
To deep dive into the work of Dr Greger and his team please check out NutritionFacts.org. I genuinely cannot recommend it enough.
Order / preorder How to Survive a Pandemic:
Check out the website nutritionfacts.org:
Connect with Dr Greger and nutritionfacts.org across the socials: Instagram | Facebook | Twitter
Check out Dr Greger's podcast:
Here are the takeaways from Dr Greger's recent webinar on Covid-19:
Here's the nutritionfacts.org Covid resource page:
You can of course grab a digital or audio version of How to Survive a Pandemic now and physical versions will be available from August 18th.
Like all of Dr Greger's books and speaking engagements the proceeds go to charity.
That's it for this week in Healthification. Huge thanks to YOU for sharing this week with me. If you've enjoyed this show and gotten value out of it I'd super appreciate it if you pop over to iTunes or wherever you listen to the show and leave me a review. It really counts in helping this little show achieve some visibility in the HUGE world of 1,000,000+ podcasts and it really counts in making my week! Thank you.
The Healthification podcast is proudly bought to you by my FREE 'Easy Vegan' plan. It took me 25 years to transition from a meat eater to a happy, healthy Vegan! You can do it in just 3 days with my simplified 'easy vegan' plan!  Get the fit, strong, and healthy plant based body you deserve… while avoiding ALL the mistakes I made along the way!
Till next time, remember Creating a body and life you love is Freedom. (If this ex-carb queen, non genetically gifted, naturally uncoordinated vegan chick can do it – so can YOU!!!)
If you liked "How to Survive a Pandemic: Overcoming COVID-19 and Preventing the Next Deadly Outbreak" you'll also like: Dr Sailesh Rao, Healing The Earth's Climate and Creating A Vegan World 2026.
If you liked "How to Survive a Pandemic: Overcoming COVID-19 and Preventing the Next Deadly Outbreak" you'll also like: Michael Klaper MD and How To Stay Healthy and Lead With Compassion Through The Coronavirus Crisis.
If you liked "How to Survive a Pandemic: Overcoming COVID-19 and Preventing the Next Deadly Outbreak" you'll also like: E664: Dr Michael Greger and How Not To Diet, The Ultimate Weight Loss Guide.