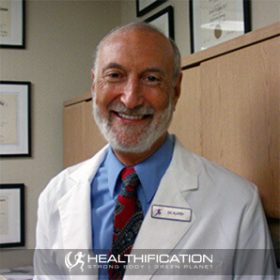 Podcast: Play in new window | Download
Subscribe: RSS
My guest today is deservedly beloved in the vegan world and I've even heard him referred to as The Gandalf of plant based doctors.
That's pretty cool right? This conversation was such a huge pleasure. Physician, Educator and Speaker Michael Klaper MD is on a mission to help empower the next generation of doctors to truly heal their patients using lifestyle measures such as a whole food plant based diet and regular exercise rather then pharmaceutical interventions.
For the past four decades (!) of his distinguished medical career, Dr Klaper has been practicing plant based medicine. This gentle, compassionate leader does not hold back when discussing both the reluctance of many in his profession to embrace the power of nutrition in medicine and also the need for each of us as individuals to "Get off your but's" and make the changes needed to prevent and even reverse our most feared chronic diseases.
We'll discuss some of those "but's" today. I also ask the doctor about his experience growing up on his uncles dairy farm and of course we get into the link between eating animals and infectious disease epidemics like Coronavirus.
For a little official bio: Dr. Michael Klaper graduated from the University of Illinois College of Medicine in 1972.
As his medical career progressed, Dr. Klaper began to realise that many of the diseases his patients presented – clogged arteries (atherosclerosis), high blood pressure (hypertension), obesity, adult-onset diabetes and even some forms of arthritis, asthma, and other significant illnesses – were made worse or actually caused by the high sugar, high fat, high salt, overly processed, animal product-based, Standard American Diet (S.A.D.).
Dr. Klaper served as Director of the Institute of Nutrition Education and Research from 1992 through 2015, where he conducted a study that focused on people who ate a completely plant based or vegan diet.
From 2009 to 2018 he served on staff at the TrueNorth Health Center, North America's premier nutritionally based medical clinic that specialises in therapeutic water fasting and health improvement through a whole food, plant based diet.
A member of the American College of Lifestyle Medicine, Dr. Klaper was also a member of the American Medical Student Association's Nutrition Task Force and currently serves on the Advisory Board for the Plantrician Project and the "International Journal of Disease Reversal and Prevention."
Dr. Klaper teaches that "Health Comes From Healthy Living" and he certainly walks that talk as a vital 72 year old committed to cycling, yoga and of course abundant whole food plant based deliciousness especially his four S's: Soups, Salads, Steamed veg and Starches.
I'm so very grateful to have spent an hour with this amazing gent and excited to share with you, how to stay healthy and lead with compassion through the Coronavirus crisis and of course well beyond into a world where we no longer enslave and eat animals. Yes that happy, healthy, compassionate vegan world that I trust conversations like the one you're about to hear bring us that much closer to!
In this chat we cover:
Dr Klaper's personal journey to veganism and to helping others take control of their health.
Insights from Dr Klaper's time spent at his uncles dairy farm growing up.
How to stay healthy amidst the coronavirus crisis.
How patient zero in Wuhan came to be and is this different to other animal agriculture? HINT: It's not different at all!
How our general lack of health / obesity as a society impacts: our chances of beating coronavirus / our immune system.
Dr Klaper, explains some of people's "buts" in relation to adopting a whole food plant based diet.
We cover how Doctors have some "but's" too and how some see nutrition, as a sissy science.
Dr K's mission to "(a) help awaken young health professionals to the key role of their patient's diet as a cause — and potential cure — of chronic disease and (b) to promote the teaching of applied plant-based nutrition as part of the medical school curriculum for all physicians, nurses, dieticians, pharmacists and other health professionals." Which has now transitioned to online based training and how you can get involved with the launch of Moving Medicine Forward in June 2020. 
And so much more!
I kept checking my recording set up during that chat because I knew Dr Klaper was bringing such value!
What a gift to the community. To those of us already onboard with the vegan ethic and a whole food plant based lifestyle and also to those still clinging to the sinking ship that is Carnism and animal agriculture. 
It's a unique ability to be able to convey urgency and dire need for change both forcefully and unapologetically yet also with zero judgement and abundant compassion. Especially when discussing something we humans defend with such passion as the food we choose to fuel our bodies with.
I'm going to have all the resources Dr K mentioned today linked up below. Of course you can also head directly to https://www.doctorklaper.com and that leads you easily to the amazing new Plant Based Nutrition initiative launching in June Moving Medicine Forward.
Dr Klaper also mentioned the work of Dr Richard Oppenlander.
Check out his book and website: Comfortably Unaware.
Also the work of Dr Sailesh Rao.
Check out the website: Climate Healers.
Also check out: plantbaseddoctors.org
It's conversations like these that allow me to hang on to some hope and optimism for our future.
My days can be pretty up and down right now. Do YOU feel the same? Our world is feeling scary and uncertain… and on one hand, there's a sense of "we're all in this together" and yet also I feel a deep, nagging, frustration at the refusal of many (most?) to admit (or even consider the possibility) that our current global crisis is a result of our own actions and as such, if we don't change those animal eating actions we'll be facing similar devastating epidemics again and again.
I'm so incredibly grateful to have Dr K dedicated to the healing and flourishing of ALL living beings and our planet.
We can make it as complicated as we like however the simple truth is what's good for your health, is good for your communities health, for the animals and also for the planet.
There is absolutely no nutrient, no protein, no vitamin, no mineral that can't be obtained from plant-based foods. Dr Michael Klaper. #thehealthificationpodcast #healthyvegan
Click To Tweet
That's it for this week in Healthification. Huge thanks to YOU for sharing this week with me. If you've enjoyed this show and gotten value out of it I'd super appreciate it if you pop over to iTunes or wherever you listen to the show and leave me a review.
The Healthification podcast is proudly bought to you by my FREE 'Easy Vegan' plan. It took me 25 years to transition from a meat eater to a happy, healthy Vegan! You can do it in just 3 days with my simplified 'easy vegan' plan!  Get the fit, strong, and healthy plant based body you deserve… while avoiding ALL the mistakes I made along the way!
Till next time, remember Creating a body and life you love is Freedom. (If this ex-carb queen, non genetically gifted, naturally uncoordinated vegan chick can do it – so can YOU!!!)
If you liked "Michael Klaper MD and How To Stay Healthy" you'll also like Dr Michael Greger and How Not To Diet, The Ultimate Weight Loss Guide.
If you liked "Michael Klaper MD and How To Stay Healthy" you'll also like E669: Dr Neal Barnard and Optimising Hormonal Health with Simple Diet Changes.
If you liked "Michael Klaper MD and How To Stay Healthy" you'll also like E674: Food Over Medicine and The Need For Informed Medical Decision Making with Dr Pam Popper.
If you liked "Michael Klaper MD and How To Stay Healthy" you'll also like E598: Reversing Rheumatoid Arthritis Using A Whole Foods Plant Based Diet with Clint Paddison.