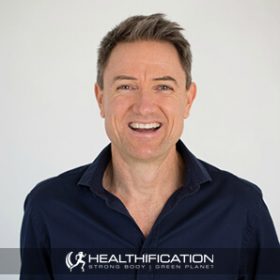 Podcast: Play in new window | Download
Subscribe: RSS
My guest today was a meat and dairy loving country boy, an award winning scientist and a successful stand up comedian when what was to become an incredible personal health struggle first reared it's ugly head. Life had been going to plan, until that morning Clint Paddison woke up while interstate for comedy gigs with sore feet.
However maybe getting then Reversing Rheumatoid Arthritis Using A Whole Foods Plant Based Diet always was the plan as by sharing the strategies that worked for himself Clint along with his wife Melissa have become "restorers of hope." By creating The Paddison Program and giving thousands of individuals around the world struck by RA and other auto immune diseases the tools to become pain free, drug free and get back to maximum energy.
To cut in with a tad of professional bio: In 2006 Clint Paddison was diagnosed with Rheumatoid Arthritis and within two years could barely walk with pain crippling 80% of his body. After surgery and medications failed him, Clint went back to his science roots which in 2000 saw him gain 1st Class honours, The Macquarie Foundation Science Prize, Australian Institute of Physics prize (NSW Branch) and Semi-Finalist for Young Australian of the Year. With bulldog determination, persistence and scientific experimentation Clint turned his health around and now leads a life drug free and pain free. 
I'm so genuinely excited and honoured to be able to have this conversation today. Clint has such a unique skill set which he brings to bear in all of the content he makes available both freely online, via his own podcast The Paddison Podcast and via his bestselling online program The Paddison Program For Rheumatoid Arthritis. As I know you'll soon hear Clint is also such a beautiful soul bursting with positivity, motivation, empathy and gratitude.
There were certainly dark times in Clint's journey to the life he now enjoys with the RA drugs behind him, as a proud father of daughters Angelina and Arielle and loving husband to gorgeous Melissa.
In todays chat we'll paint the picture of the desperation that caused Clint to turn to a whole foods plant based diet plus implement the other tools in The Paddison Program toolkit. To be honest there is so much involved beyond just cleaning up your food. With a subject and a disease that could absolutely be overwhelming, isolating and terrifying Clint is the perfect guide in discussing both the complicated causes and treatments for RA while cultivating an attitude of hope and backing it up with daily actions to create measurable results.
Let's chat
Reversing Rheumatoid Arthritis Using A Whole Foods Plant Based Diet with Clint Paddison.
In this interview we cover:
Clint's eating habits like growing up and had he heard of a plant based diet or a vegan?
Clint's Personal Journey with RA:
He wasn't taken with either the idea of a lifetime of drugs or a plant based diet. What else did he try first?
To explain RA to those such as myself lucky enough not to have personal experience:
What is RA and why is inflammation the enemy not rheumatoid arthritis medications.
The connection between our digestive system and autoimmune diseases.
Talking solutions:
The 5 tools in The Paddison Program toolkit: medications, diet, exercise, stress reduction and supplements.
Clint's 6 moving parts to the solution: B.L.A.A.M.E.
What are a couple of initial steps that might help convince the sceptical AR sufferer– especially I'm thinking of the person who cannot imagine giving up animal products – who's waiting for the next miracle drug, to try WFPB instead?
The importance of hope, dreaming big and how to back it up with daily actions to create measurable results.
Why isn't this advice well known?
There are a lot of conflicting health advice online. Clint speaks to Auto Immune Protocol and improving "despite of the meat" (by eating enough plants).
How does life look now and what sort of results does Clint see with his thousands of clients.
Where does Clint recommend someone start with the resources he offers?
I can genuinely say this interview was such a pleasure to prep for. Not because it's enjoyable to learn about such a terrifying condition as RA however rather because the attitude Clint brings to his work is so uplifting and inspiring.
Clint speaks of his RA as the "Greatest science experiment I could have asked for!" His positivity coupled with his science background and patient, strategic approach to first reversing his own rheumatoid arthritis and then sharing his findings with thousands of others struggling with RA and other auto immune diseases is truely hope restoring.
To my listeners who want to connect with Clint and his work via the Paddison Program online I have everything linked up in the show notes below.
I especially recommend Clint's TEDx Talk on 'How To Reverse Rheumatoid Arthritis Naturally' and also The Paddison Podcast for numerous case studies of his students and other helpful episodes such as one of my favs: How To Be Happy.
Of course one other huge aspect of Clint's life – put on the back burner when RA struck – is his career as a stand up comedian. In fact that was how I first came to know Clint. I was a member of an internet marketing meet up I used to attend each month here in Sydney.
One night several years ago I heard there was a "vegan comedian" attending. I was a little star stuck to meet Clint then and I'm absolutely so very grateful to have been able to enjoy this chat with him today and share it with you!
Connect with Clint online via:
Twitter | Facebook | Instagram
Clint's home site Paddisonprogram.com: 
Listen to The Paddison Podcast: 
=> I especially recommend this episode on How To Be Happy:
Clint's TEDx Talk on 'How To Reverse Rheumatoid Arthritis Naturally'
That's it for this week in Healthification. Huge thanks to YOU for sharing this week with me. You rock and I appreciate your support!
The Healthification podcast is proudly bought to you by my FREE 'Easy Vegan' plan. It took me 25 years to transition from a meat eater to a happy, healthy Vegan! You can do it in just 3 days with  my simplified 'easy vegan' plan!  Get the fit, strong, and healthy plant based body you deserve… while avoiding ALL the mistakes I made along the way!
Till next time, remember Creating a body and life you love is Freedom. (If this ex-carb queen, non genetically gifted, naturally uncoordinated vegan chick can do it – so can YOU!!!)
If you liked "Reversing Rheumatoid Arthritis Using A Whole Foods Plant Based Diet with Clint Paddison" you'll also like: 5 Food Upgrades / Lessons From How Not To Die
If you're yet to share the Healthification love – just click here to zip over to iTunes and leave an honest rating and review. It'd help me out big time. With gratitude, Kate.