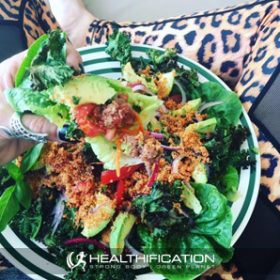 Podcast: Play in new window | Download
Subscribe: RSS
In todays show I'm sharing some of my recent food upgrades, implemented in response to Dr Michael Gregor's awesome book, How Not To Die.
Don't be put off by the sensationalist title. This book is an amazing science based resource. A client gifted it to me a year or so ago when he adopted a plant based diet after reading the book. I was already vegan, however so far as my nutrition I'm always open to improvements.
Equally it's invaluable to get the facts behind: "The only diet that can prevent and reverse many of the causes of premature death and disability."
(to quote from Dr Gregor's website NutritionFacts.org)
There are obviously plenty more lessons and upgrades to be gleamed from How Not To Die however let's start with my top 5 in no particular order of importance.
Food Upgrade One: Beans. Beans. Beans!
Dr Gregor LOVES beans. As a previous proponent of a higher protein, lower carb approach to staying fit, healthy and lean I've never made beans / legumes a part of my weekly routine. It's something I've very much changed my mind on. Like tempeh (and to a lessor extent tofu) I'm now actively looking to consume more beans. Their super high value out weighs their carb count.
Considered both a protein and a carb: beans / legumes are not only loaded with protein, iron and zinc like you might expect from animal flesh they also contain nutrients concentrated in the plant world such as fibre, folate and potassium. Without the cruelty or the saturated fat, sodium and cholesterol.
In fact, in the most comprehensive study of diet and cancer ever performed (published in 2007 by the American Institute for Cancer Research) which involved 9 independent research teams from around the globe sifting through half a million studies one of their summary cancer prevention recommendations is "to eat wholegrain and/or legumes (beans, split peas, chickpeas, or lentils) with every meal."
The food lesson? Be open to changing your mind when you happen across better information. 
My previous aversion to carbs came from a narrow minded focus on just the macronutrient value of foods. The carb, protein and fat count of each food. It's one step up from focusing purely on calories however it's not enough. Now I rank a food according to the value it provides my body so far as micronutrients and even health creating and disease fighting ability. 
Of course it has to taste fab as well and I'll share some tasty ways to include more beans in your eating routine soon. Dr Gregor advocates 3 SERVES of beans a day! As with anything that might sound a bit daunting I recommend starting with what is achievable. So I'm aiming for 1 serve a day and when you consider that along with: black beans, kidney beans, chickpeas, lentils and ALL the other beans – soy beans in the form of edamame, tofu and tempeh also count it's actually pretty easy.
At BREAKFAST: try spiced up black beans with sides like baby, spinach, mushroom and tomato.
Or scrambled tofu or scrambled chickpeas.
Even chickpea laden hummus and avocado on grainy bread.
At LUNCH: try adding some hummus and/or a can of four bean mix to your salad.
Or tempeh mince nachos or tacos, which are fab with coconut yoghurt.
Even a sushi bowl with tofu and edamame and of course plenty of veg.
At DINNER: add your fav beans to curry made on mass.
Or sprinkle roasted and crispy chickpeas / edamame over your stir-fry.
Make (or buy) bean / chickpea burgers and serve them between portobello caps.
Food Upgrade Two: Cruciferous Veg.
I'm already a devoted member of team cruciferous aiming to include these super veg (like: kale, cauliflower, broccoli, brussels and cabbage) at each meal. Dr Gregor advocates a super achievable 1 serve of cruciferous veg daily. Broccoli is mentioned more than any other food in his book (even more than beans!) and it's thought the compound responsible for the huge benefits to be harvested from cruciferous veg like broccoli is sulforaphane.
Found almost exclusively in cruciferous veg, Dr Gregor calls sulforaphane a "promising anticancer agent" as it can "potentially prevent DNA damage and metastatic cancer spread" (where cancer cells spread to new areas of the body), "activate defences against pathogens and pollutants, help to prevent lymphoma, boost your liver detox enzymes and target breast cancer cells and reduce risk of prostate cancer progression."
That's all a direct quote from the chapter on Cruciferous veg in part 2 of the book however Dr Gregor goes into extensive detail on each risk in part one of the book which is divided into chapters such as: How not to die from Heart Disease and How not to die from Brain Diseases. There's so much more though! Dr Gregor goes on to promote the potential sulforaphane may also have to "protect your brain, your eyesight, reduce nasal allergy inflammation, manage type 2 diabetes and successfully treat autism."
However I learnt that preparation counts. The formation of sulforaphane can be inactivated by cooking. There's a work around though! You can either enjoy your veg raw like I do with my cauli-kale tabouli or more practically for those of us who love our roast veg and crispy kale / brussel chips you can simply borrow Dr Gegors "Hack and Hold" technique!
Chop your cruciferous veg 40 minutes before cooking and you can cook it to your hearts desire. This is because the sulforaphane has already been created in a chemical reaction stimulated by the chopping that is likely better left to the Dr to detail! For my fellow lazy cooks this is a high five for those bags of pre chopped / shredded crucifers. For my fellow food prep'ers and fans of meals on mass it's an additional incentive to pre chop your crucifers ready for the meals / week to come.
The food lesson? The healthiest cruciferous veg is the one you'll eat.
Of course this is within reason however for example if I told mum her breakfast smoothies MUST have kale she'd likely stop having breakfast smoothies. She hates kale. However she has smoothies 4 breakfasts a week chocka block full of other high value veg and if she were open to listening to her lovely daughter (for some strange reason my dear mum thinks I'm a little to extreme to take advice from!) she'd still be able to easily get her serve a day of cruciferous veg by adding broccoli stem to her smoothie or any of these other delicious options.
At BREAKFAST: add kale / broccoli stem to your smoothie or try a breakie bowl with sauerkraut.
At LUNCH: make a crucifer-slaw with shredded kale / broccoli stem, cabbage, brussels and also beetroot and carrot. I dress this with coconut yoghurt and top it with falafel or black bean burgers.
At DINNER: serve your meal with cauli-rice or brussel / kale crisps (remember blend the raw cauli / chop the raw brussels / kale and let it sit for 40 mins before cooking).
Food Upgrade Three: Turmeric. 
I've been hearing about turmeric for a while now and including it in my weekly curries made on mass. Over 5,000 articles have been published in medical literature about 'curcumin' the pigment in turmeric that gives it that bright yellow colour.
Dr Gregor advocates a 1/4 teaspoon of turmeric daily. I'll share my super easy (beyond curry!) way to achieve this soon however here's the Why… and again I'll quote the Dr: "curcumin may play a role in preventing or treating lung disease, brain disease and a variety of cancers including multiple myeloma (Kate here: I had to look that up – it's a cancer of the plasma cells), colon cancer and prostate cancer…curcumin has also been shown to help speed recovery after surgery and effectively treat rheumatoid arthritis better than the lading drug of choice. It may also be effective in treating osteoarthritis and other inflammatory conditions such as lupus and inflammatory bowel disease."
How to incorporate 1/4 teaspoon of turmeric daily? Beyond adding it to your smoothies, curries, lentil soups and baked cauli my current go to is my home made turmeric latte. Your options are limitless here however I use: 1/2 cup unsweetened almond milk (heated), 1/2 teaspoon (could be 1/4) of turmeric, 1/8 teaspoon of cinnamon, 1/2 sachet of Natvia and 1/2 cup boiling water. Some other additions I've seen are: ginger, cloves, nut butter and coconut or soy instead of almond milk.
The food lesson? Hunt for a double WIN. Where you replace something you'd like to eat less of with something you'd like to eat more of.
I'm a bit of a coffee addict and from time to time I look to cut my intake a tad. As a side note Dr Gregor (thankfully!) IS a fan of coffee and talks about the benefits of 4 cups a day! I'll let you read his book for further info however I'm not sure that he's working on the premise that those coffees are large (3 shot) long blacks as a couple of mine are. I've replaced a coffee and also a hot plant based protein powder drink (protein powder and almond milk – yummy yet not necessary!) with this home made turmeric latte. 
Is there a food or drink you could replace / upgrade for the double WIN? Perhaps a low value snack gets swapped for turmeric spiced baked chickpeas? I'm trying that soon – it's a both a bean and a turmeric upgrade!
This is Dr Gregors traffic light system. Green means GO. Yellow means caution. Red means STOP (at least stop and think before consuming however the less red light foods the better). Here's the break down according to Dr Gregor:
GREEN light foods = Unprocessed Plant Foods.
YELLOW light foods = Processed Plant Foods and Unprocessed Animal Foods. (I strongly advocate ZERO animal foods, because it's not just about your health it's about the animals life)
RED light foods = Ultra-processed Plant Foods and Processed Animal Foods. (again ZERO room for those animal foods that kill the animals, the planet and you.)
To keep it simple let's go with the Drs description that, unprocessed = nothing bad added AND nothing good taken away.
The upgrade I'm implementing here is more so in the advice I give my clients. That yellow (or occasionally red) light food should be eaten to promote consumption of green light foods. Here are some examples:
At BREAKFAST: add almond milk or plant based protein powder to sweeten your oats if berries, nut butter and cacao aren't enough.
At LUNCH: top your cabbage leaf and tempeh mince tacos with indulgent coconut yoghurt.
At DINNER: add nutritional yeast, salsa or hot chili sauce to help your HUGE serving of greens go down.
The food lesson? Pick your battles and don't fall victim to the Perfect or Nothing / Not Trying trap.
Like my mum and her aversion to Kale, I might not have a healthy 6 day a week green smoothie habit if I couldn't add a delicious serve of himalayan salted caramel plant based protein powder to it. That addition of a processed plant food lets me devour 4 veg and 2-3 fruit at breakfast while easily upping the protein anti.
Food Upgrade Five: Colour and Diversity Counts. 
Although dark leafy greens are the healthiest foods on the planet and as whole foods go provide you with the most nutrients per calorie it's not only about the greens. Dr Gregor advocates 3 serves of greens daily. As we've covered that's in addition to 1 serve of cruciferous veg daily. PLUS another 2 serves of other veg daily. We've long been told to eat the rainbow and as obvious as it now seems I really had not made the connection that as individual types of fruit or veg go, the brighter the better. Nutrient dense bang for your buck a veg I used to ignore tops Dr Gregors list. Can you guess what I'm now adding to my salads and slaws? Red cabbage!
Similarly, the Dr advocates red over white onion. Pink over standard grapefruit. Purple potato or red sweet potato over white potatoes.
Although "eat more fruit and veg" is perhaps one of the least controversial bits of nutritional advice it seems we need to get A LOT more diverse as the different phytonutrient profiles of fruits and veg have vastly differing benefits to offer. I was shocked to learn that in American (and I'll quote) "most vegetable servings are from tinned tomatoes, potatoes and iceberg lettuce." That's ridiculous. Such a waste of veggie deliciousness!
One of the many benefits to adopting a vegan lifestyle I've noticed is that I've been tempted to try a much more diverse range of fruits, veggies and food in general. Here are some of my recent upgrades: Jackfruit tacos. Steamed Bok choy in a sushi bowl. Kiwi fruit (skin included) in my smoothie.
I've found when you remove all the high caloric density animal products it's really easy to power through:
4 veg + 3 fruits in your breakfast smoothie. 20+ veg in your lunch time salad. 6-8+ veg in a curry or stir fry at dinner.
The thing is there's an opportunity cost for everything you consume. I'm now missing out on processed bread and cereal several times a day. The only thing it's costing me is extra treadmill trudging time! To be fair Dr Gregor does advocate whole grains and I do happily demolish 4 cape-seed rolls each weekend however I LOVE them and although counting as a yellow light processed plant food they do have plenty of value for my body AND MY MIND.
The food lesson? "Healthy or not" swaps to "Compared to what?"
This is a phase Dr Gregor uses regularly which I'm going to take and run with… initially when asking "Is an egg healthy?" well compared to a bacon and egg Mc muffin, I guess it (sort of / begrudgingly) is. Compared to a bowl of oatmeal with berries, nuts and seeds, No Way!
I also see the value in asking "Compared to what?" when accessing your (and MY!) vices / indulgences / addictions. 
Shiraz healthy? Well a shiraz or few (in line with my personal weekly quota) compared to beer. Or compared to demolishing a tub of ice cream. Or compared to feeling ultra restricted / miserable… for me for now it's healthy enough.
Roasted salted cashews healthy? Again, compared to a huge 150gm Vego chocolate bar or extra bread rolls or even counting out a miserly 10 raw almonds and then mindlessly binging later in the day… for me for now it's healthy enough.
To get actionable today ideally I hope you check out either the book: How Not To Die or the website: NutritionFacts.org.
Beyond that, I'd love you to try one of these food upgrades this week. To recap:
Food Upgrade One: Beans. Beans. Beans!
Food Upgrade Two: Cruciferous Veg.
Food Upgrade Three: Turmeric.
Food Upgrade Four: Red, Yellow, Green Light Foods.  
Food Upgrade Five: Colour and Diversity Counts.
That's it for this week in Healthification. Huge gratitude to YOU for sharing this week with me. Honestly, thank you!
The Healthification podcast is proudly bought to you by my FREE 'Easy Vegan' plan. It took me 25 years to transition from a meat eater to a happy, healthy Vegan! You can do it in just 3 days with  my simplified 'easy vegan' plan!  Get the fit, strong, and healthy plant based body you deserve… while avoiding ALL the mistakes I made along the way!
To learn more check out: strongbodygreenplanet.com
Till next time, remember Creating a body and life you love is Freedom. (If this ex-carb queen, NON-genetically gifted, naturally uncoordinated VEGAN-chick can do it – so can YOU!!!)
If you liked 'Food Upgrades / Lessons From How Not To Die' you'll also like: Stop Looking For The Quick Fix
If you're yet to share the Healthification love – just click here to zip over to iTunes and leave an honest rating and review. It'd help me out big time. With gratitude, Kate.