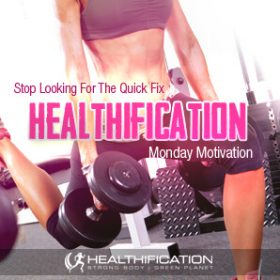 Podcast: Play in new window | Download
Subscribe: RSS
This morning a dear client asked me: "What would you do if you wanted to lose 2 kilos fast?"
Now, to set the scene this is a client who is in fantastic shape. She's very consistent with her exercise and food and has the results to show for her commitment and focus. However, she'd still like to lose a couple of kilos.
My answer?
Refine everything you're already doing.
Not so mind blowing right? I will make today a little more actionable than that however my main point is: There Is No Holy Grail.    
One of the most valuable lessons I ever learnt so far as fat loss or as I prefer, Body Gain was to:
Stop looking for the quick fix.
Beyond that to acknowledge that hard work is involved.
Also, to admit that it's necessary on an ongoing basis.
I hope that doesn't sound all doom and gloom disheartening!
Here's what's really good about acknowledging that hard work is necessary on an ongoing basis. It gives you a really effective filter through which to evaluate your eating and exercising options. I also hope it brings home the vast importance of the MINDSET component of body gain.
Let's tackle each component separately. So by order of least important first you have:
One: Exercise.
So, if we're talking ongoing basis your filter might let through only those exercising actions that:
A) You love or even like OR could learn to like even a little. There's zero value forcing yourself through something completely hateful if you know it'll always be completely hateful for you.
I genuinely believe there is a non-hateful, even likeable, often loveable form of physical activity for everyone.
B) Can fit into your / your families routine sustainably. For example 3 P.T. sessions a week might yield amazing results for a 3 month pre summer period… however if you are the person who doesn't get to the gym on your own while you're on your summer vacation. Or if you drop your trainer each winter (and don't get to the gym on your own) then your amazing results will disappear faster than I can say: What's-The-Point-Of-Putting-Your-Body-Through-That-Every-Year???
Side-note: I don't train stop:start clients anymore. It's disheartening seeing someone give up their hard fought for results!
Two: Eating.
Again, since we're talking ongoing basis your filter might let through only those eating habits that:
A) Allow you to enjoy every single meal while also experiencing reliable, consistent energy. We can all inflict extreme restriction on ourselves and stick to it for a week or 4. However that's about the limit. If you hate your meals. If they leave you moody. Low energy. Feeling deprived. Then it's time to find a better approach to eating.
B) Can fit into your / your families routine sustainably. Now there's a need for honesty here.
I'll often hear: "I don't have time for meal prep" or "I don't have time to make 2 separate meals – one for me and one for the rest of the family." Generally it's a matter of prioritizing how you spend your time rather than opting out of even trying.
The brutal yet true reality: Less time for meal planning and prep = more time for you and fat!
Three: Mindset.
Mindset is the component of the body gain game that can make previously hard decisions and actions seem natural and almost effortless.
Alternatively, if your mind is stuck you're fighting a losing battle. The way you think is a habit as much as the way you eat and the way you exercise. For sustainability here are two factors to cultivate your best body gain mindset:
A) Focus on what you love (or at least like!) about the actions that will help you achieve your goal. I love how I feel after my interval sessions. I love that I feel energized and also a little proud of myself for not letting myself down. If love or like is still a stretch for you, focus instead on what you're grateful for. I'm supremely grateful that I can run even if I don't find every single step joyful!
B) Cultivate the habit of making decisions based on how you'll feel after the action. Does the action bring you a step closer to achieving your goal? Is it aligned with your values and beliefs?
Or perhaps is it a short-term-quick-UN-fix-indulgence??
To return to my original advice: Refine everything you're already doing.
Here are 3 upgrades I'd recommend if YOU would like to lose 2 kilos fast:
First up: Sneaky Extras and Portion Control. 
If you've just got a pesky couple of kilos you'd like to budge it's unlikely you've been doing anything drastic to allow it to creep on. Equally your response doesn't need to be drastic. Perhaps your ordering has been a little more relaxed when you eat out?
Maybe your tablespoon measurements of stuff like pesto have become huge heaped tablespoons? Possibly you're regularly devouring 75 grams of nuts instead of 50?
Nothing restrictive or unsustainable just a slight course correct of your best practice eating habits.
The idea is that this is sustainable – as opposed to more extreme options like: zero alcohol for a month / or ditching your weekly cheat meal / or living off green juice for a week.
In the same way that most of us can get a little complacent with our food the same can happen with our exercise. If I had a trainer put me through my intervals I know they'd have me running faster and steeper. What I do now used to be really tough. However I've gotten fitter and to be honest I could be coasting a tad!
If you've been training for a while and don't yet push yourself out of your comfort zone with interval training it's a great addition. It doesn't need to dominate your training week. Too much is daunting. Rather, it's the perfect short, sharp, intense way to finish a heavy weights session or squeeze in some exercise on a day when you've only got 5-15 minutes to spare.
Finally: Enjoy A Long Weekly Walk Preferably In Nature.
I'm a huge fan of walking as part of your regular weekly routine. To make it happen it's often just going to be shorter distances to and from work or the local shops. You'll likely be on a schedule and the scenery might not be stunning… hopefully you're listening to a fab podcast or audio book though!
The awesome thing about a longer walk, in nature, without a deadline is that it's chill time for your mind and zero stress on your body. Too often the approach to fat loss is a battle. Cutting food and inflicting exercise. Your bodies response when pushed too hard is to go into lock down. I regularly have this conversation with my clients that burn the candle with work, play and exercise… you can't beat your body into submission.
If it's feeling under attack it's not likely to easily let go of fat. Fat is security for your body. 
It doesn't want to be getting around with zero excess fat to fall back on. Your body is focused on survival not aesthetics. Unfortunately a lifestyle of long work hours, restrictive or poor quality nutrient lacking food and inadequate sleep reinforces to your body that the name of the game is survival.
That's why my fav approach to body gain is always going to be based around gradual, continual refining and upgrading rather than drastic unsustainable measures.
To get actionable today let's roll with part B of the MINDSET component of todays show. It's the habit (the only thing!) that got me sitting in front of the computer today…
B) Cultivate the habit of making decisions based on how you'll feel after the action.
What is ONE decision today you can apply this to?
Thanks so much for hanging with me today. I appreciate it. I'll be back on Wednesday with the weigh-in show and: Ethical Eating.
If you liked this you'll also like: Eat Better Not Less: Why you can't continue with the band-aide fix.
If you're yet to share the Healthification love – just click here to zip over to iTunes and leave an honest rating and review. It'd help me out big time. With gratitude, Kate.