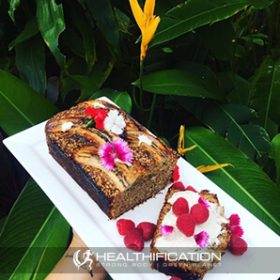 Podcast: Play in new window | Download
Subscribe: RSS
Although todays show on "The best advice I wish I knew prior to adopting a vegan lifestyle" really is the most valuable information I have to share with you, it's also just a primer for show #600 next week. I don't think I've ever done a celebration type anniversary show. However 600 is a pretty fab number so it felt like the right time.
I asked all my previous guests their best advice they wish they knew prior to adopting a vegan lifestyle and WOW am I getting back some awesome responses! So stay tuned for an abundance of goodness from a diverse group of individuals I have so much respect for.
I'm limiting myself to my top 3 things today. I wish I knew:
One: That adopting a vegan lifestyle would have ZERO negative impact on my body composition or the HUGE amount of joy I get from food.
To paint the picture of where I was coming from almost 3 and a half years ago, I'd been an ethical vegetarian for 23 years. I didn't know what an oxymoron that was because like the super-vast-majority of us the cruelty in all animal agriculture (Yes, even free range eggs and dairy) had been hidden from me. Equally to take full responsibility, I hadn't sought it out.
I'd worked in health and fitness for around a decade and after much trial and error had my body looking and functioning how I wanted it to look and function.
I was an emotional eater who derived much pleasure from food.
Once I knew the truth behind animal agriculture I had no choice but to become vegan. However I was terrified that I'd lose muscle and gain fat. I was anxious that my food choices would be severely limited and that I'd finding eating out even more socially ostracising.  
If a negative impact on your body composition or diminished food joy is something you fear then please let me annihilate that fear.
I might have lost a little puffiness (inflammation) and maybe a tad of fat. However I certainly have not lost any lean muscle or strength or energy. I feel vain that I even cared however I'm sharing this because I know I'm not alone. Because I'm a sample size of one if you're curious just jump on Insta and #veganmuscle #veganbodybuilder to be swamped by much #plantstrong proof!
To get to food, because I know it's such a sticking point for many people, I'm actually yet to meet a vegan who finds the food to be a tough part of the lifestyle. The general pattern is: "I thought it'd be tough, boring, restrictive and yet actually I eat a much greater variety now than I ever ate as a meat eater." It might have been more challenging 20+ years ago however now, everything and anything can be vegan.
On a recent week in Noosa staying with my family my only challenge (especially given my amazing cook mum is coming up to 4 months plant based) was deciding what to choose out of the abundance!
I devoured vegan Anzac biscuits, chocolates and banana bread. Mum's homemade mixed bean and caramelised onion burgers and her corn fritters. I had my own recipe wins with cauliflower buffalo wings and homemade coconut yoghurt. That doesn't even include the delicious meal out, the copious amounts of felafel, homemade olive bread and focaccia bread or the minestrone, vegan Bolognese and vegan Magnums I simply didn't have room or time for! Are you hungry yet? Let's move on to "The best advice I wish I knew prior to adopting a vegan lifestyle" number…
Two: Eating healthy, balanced, DELICIOUS #plantstrong meals takes no more time, money or organisation than ANY approach to healthy, sustainable eating. 
The key here is you've got to compare apples to apples. It's disingenuous to compare the time it takes to prep for a weeks' worth of whole food plant based meals to the time it takes scooting through a Macca's drive-through. When I was a vegan health coach going out with a meat eater into body building I saw the time he committed to food prep. His prep took AT LEAST as long as mine.
Prepping primarily whole food based meals in advance takes a little time prioritised up front and saves A LOT of time in the future.
I see my mum going through this right now. With her years of cooking success she actually makes it look really easy. Whatever she's cooking she makes on mass and hence the fridge and freezer were over-flowing with amazing options for my last visit home. Conveniently you also won't find yourself rushing home from the supermarket because you're afraid the meat or dairy will sit in the sun too long.
It's simply a matter of:
FIRST, finding a few Go2Meals you love to make on mass.
Perhaps: a smoothie, an over-night oats and a tofu-scramble as your breakfast options?
Maybe: a falafel and hummus wrap, a burger bowl and a refried bean stuffed spud as your lunch options?
Possibly: a satay tofu or tempeh, a stuffed mushroom and a minestrone soup as your dinner options?
NEXT, finding the condiments or sauces to jazz up your meals.
I keep these simple and make my own hummus, pesto and cashew cheese.
Mum does that and also buys: Veganaise, Sheese (it's like a cream cheese), vegan pizza cheese and vegan feta (highly recommended!).
I've heard whispers of a vegan halloumi that I'm super keen to hunt down and demolish straight off the BBQ!
FINALLY, deciding on the simple nutrient pimps and additional fibrous veg to power up your meals. 
Top of my list are hemp seeds, pumpkin seeds and chia seeds. Obviously nutritional yeast makes anything better and tahini is an easy dressing. Baked edamame go with most things. I also like to sneak spirulina and dulse flakes into most days and of course plenty of calcium fortified plant milk.
I also recommend a generous side of green veg and / or leaves with any meal that is not already chocka block full of fibrous love.
Financially, a vegan lifestyle can be as cheap or as expensive as you like. Happily shoes and face creams appear to be much cheaper however, keeping to the topic of food… generally vegan whole foods are cheaper than animal products and the fake meats and dairy products are still a little more expensive however not by much. If we were to take into account massive detrimental environmental impact of our food choices those "cheaper" animal products would skyrocket.
Three: The only challenging thing about adopting a vegan lifestyle is the attitudes of some non-vegans.
This actually came as such a surprise to me. I genuinely had no idea how much energy it would take to manage my relationships with loved ones. The people you don't know who judge your lifestyle choices are of less consequence. I've found it's when friends, family and colleagues are defensive and dismissive that it can get really hurtful and frustrating.
In the same way that you need a strategic approach to eating and exercise if you want great, sustainable results I've admitted managing relationships with loved ones takes the same level of planning and intention. I'm still very much learning and I have a feeling my guests will have gold to share in show #600 however here are a few of the strategies I endeavour to follow.
Prioritise time spent with others who have aligned values and beliefs.It's vital to have a "tribe" you belong to where you can freely express your beliefs without feeling challenged constantly.
Super prioritise the stuff that re-energises you and replenishes you. Such as exercise, time in nature and meditation. This "self care" has become increasingly important to me the more I've become involved in activism.
Actively take time out from the stuff that gets you down. This is often social media based. It's so easy to get caught up in constantly sharing slaughter house footage and other such horrific abuse humans inflict on animals and it feels so urgent – because it IS so urgent. However I'm learning if we want to be effective for the animals, for the planet and for our personal health and happiness long term then we must manage the inputs we allow into our mind.
Finally so far as "The best advice I wish I knew prior to adopting a vegan lifestyle" is along with getting clear on your WHY (I had that deeply locked and loaded) also get clear on the vegan you want to be and the most effective way to BE that person.
I've only recently gotten clear on this last point. I've struggled with the line between following my "animal rights activist" heart and following the often more effective, more patient, more compassionate approach.
Perhaps selfishly I've come to realise the approach that is often better received by non-vegans is also more sustainable for me.
I'm doing my very best to lead with Hope, Positivity and Compassion. It doesn't mean I won't still have the odd dummy spit where I freak out and share some slaughter house footage and urge my non-vegan friends to #listentoyourheart or unfriend me.
However ideally I'll be sharing more of the uplifting, supportive and actionable content. The type of content and advice that my amazing previous podcast guests will be sharing with us next week.
To get actionable today do you have a "best advice I wish I knew prior to adopting a vegan lifestyle"? 
It'd be really amazing to also put together a listener show! The advice will be relevant and helpful regardless of where you fit on the plant based / vegan / vegetarian spectrum. I'd love to hear from you.
You can contact me via the socials – I'm @strongbodygreenplanet on Insta, @strongbodygreen on Twitter and /strongbodygreenplanet on Facebook. Or via email kate@strongbodygreenplanet.com.
That's it for this week in Healthification. Huge thanks to YOU for sharing this week with me. I respect your time and I appreciate your support!
The Healthification podcast is proudly bought to you by my FREE 'Easy Vegan' plan. It took me 25 years to transition from a meat eater to a happy, healthy Vegan! You can do it in just 3 days with  my simplified 'easy vegan' plan!  Get the fit, strong, and healthy plant based body you deserve… while avoiding ALL the mistakes I made along the way!
Till next time, remember Creating a body and life you love is Freedom. (If this ex-carb queen, non genetically gifted, naturally uncoordinated vegan chick can do it – so can YOU!!!)
If you liked "The Best Advice I Wish I Knew Prior To Adopting A Vegan Lifestyle" you'll also like: The Ultimate Vegan Food Pyramid For Getting and Staying Lean.
And: How To Become Vegan By Utilizing The Be, Do, Have Model
If you're yet to share the Healthification love – just click here to zip over to iTunes and leave an honest rating and review. It'd help me out big time. With gratitude, Kate.