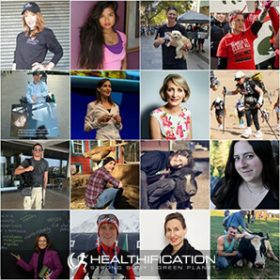 Podcast: Play in new window | Download
Subscribe: RSS
It is my HUGE pleasure to bring todays show to you.
For episode #600 of The Healthification podcast what better way to celebrate than to share:
"The best advice I wish I knew prior to adopting a vegan lifestyle"
from so many of my amazing podcast guests.
You'll hear from 14 guests today. Their advice spans a few themes from effective communication to purpose to health and food and I've done my best to structure the show accordingly. Here's how todays show will roll:
I'll introduce (re-introduce) each guest to you, share a snippet from our original conversation (which is linked up in the show notes if you're intrigued to check out the full interview) and then share each #veganlegends contribution so far as "The best advice I wish I knew prior to adopting a vegan lifestyle."
If you're looking to get a little actionable today then right at the end we'll get very thorough with some optimal eating guidelines curtesy of Registered Dietician Brenda Davis.
If you find todays show valuable then it would mean so very much to me (and I'm sure my guests!) if you could share the love by either forwarding it to someone near and dear to you or sharing it via social media.
My first guest today was actually my first ever guest on the show!
Let's look back to 533: Interview with Keith Burgeson from PETA's Vegan Mentor Program. iTunes link:
If I were a new vegan feeling a little isolated, overwhelmed or confused by everything involved in creating a healthy vegan lifestyle, Keith has exactly the perspective and attitude that is both welcoming and inclusive that I would love to encounter. Equally as an established vegan there's plenty in the way Keith conducts himself that some existing vegans (myself included) could take inspiration from too.
I was especially stuck by Keith's attitude towards his relationship with his dad who hunts. My dad had a meat selling business for a number of years and I struggle with his willingness to perpetuate the cycle of cruelty both in his food choices AND in his business choices. Keith's advice to focus on everything we have in common rather than the few things we don't agree on is applicable to so many personal relationships and indeed aspects of life.
Ever compassionate, this is what Keith has to share with you today…
"Rather than focusing exclusively on the end goal of a vegan lifestyle, consider the impact and meaning of each new choice that you make. Acknowledge and appreciate those decisions, celebrate every achievement, and strive to keep improving. Allow your accomplishments to start adding up. The number one thing that vegans—new or existing—do wrong is placing purity over pragmatism. It's important to start by setting lower, achievable goals rather than less-realistic, lofty ones. You'll fine-tune your new habits over time, but every marathon requires training and comes with hiccups. That's totally fine!
This is a powerful lifestyle shift rooted in compassion—for yourself, animals, and the environment. Don't beat yourself up over having to retie your laces every once in a while. There is no rush with this—just do what feels comfortable."
Next up we hear from my mum's fav guest so far! She wants me to take his advice and I'm certainly trying.
E595: John Oberg and Effectively Harnessing The Power Of Social Media To Make The World A Kinder Place For Animals. iTunes link:
John is a social media expert in the animal rights community, first running the social media for Vegan Outreach and most recently for The Humane League.
He believes we should: "Look at everything we post on social media as an opportunity to either help animals or hurt animals. It's about winning hearts and minds not arguments and debates."
My conversation with John focuses on creating change by meeting people where they are rather than where we want them to be. It really was the advice I needed to hear!
Always positive and undeniably effective, this is what John has to share with you today…
"If I can transport myself back to almost 10 years ago when I first went vegan, I'd like to tell myself to not focus my animal advocacy on my close friends and family. Let them come to me when they're ready to talk about veganism, plant-based eating, or animal agriculture. Just because I'm passionate about this doesn't mean that they are. Therefore, to avoid creating tension or feelings of judgment with those who matter most to you, focus your advocacy on the outside world.
There, you'll not only not risk your important relationships, you'll also exponentially have a larger reach with hundreds or even thousands of others rather than a few dozen friends and family members."
Now let's hear from a lady I was beyond excited to chat with! A legit hero of mine.
E552: Dr Melanie Joy, Carnism and Creating Effective Communication Between Vegans and Non-vegans. iTunes link:
If by chance this is your first introduction to this persuasive voice for veganism I strongly recommend you check out the amazing Dr Joy further as her thoughtful and unique insights have given me such a sense of relief, hope and understanding despite the unavoidable, horrific truth and scale of animal exploitation globally.
Dr Melanie Joy is a Harvard educated social psychologist and vegan activist, perhaps best known for coining the term carnism. Carnism is the invisible belief system that conditions us to eat certain animals.
Dr Joy also talks about "vegan allies" and I really recommend our chat if you're a vegan with seemingly unsupportive, closed minded non-vegan loved ones. It's been my experience the people closest to me don't always want to hear my extremely passionate and heart felt reasons for adopting a vegan lifestyle. A cool, calm and Harvard educated NON-FAMILY member has not surprisingly been much more effective at imparting the same message…
Ever articulate, this is what Melanie has to share with you today…
"I wish I'd had an understanding of how to communicate effectively, especially about veganism and why I chose to become vegan. This would have helped prevent some of the difficult and frustrating conversations I had with certain people in my life.
Realising that such conflicts could often be avoided was one of the reasons I ended up writing both "Why We Love Dogs, Eat Pigs, and Wear Cows" and "Beyond Beliefs." I wanted to help vegans prevent some of the same problems I'd had to deal with and empower them to understand and articulate their choices effectively."
Next up and still along the broad theme of effective COMMUNICATION is a true legend of Sydney's animal rights activism scene.
E556: The Progression of Sydney's Animal Rights Activism Scene with Michael McNally. iTunes link:
Michael is the Vice President of Vegan NSW and an inspiring mentor to the current generation of young animal rights street activists. Actually strike "young" (!) we're all stoked to have Michael on team: End ALL Animal Exploitation Globally.
Michael truely is such a calming and wise force of influence within the animal rights movement here in Sydney. His patience and positivity is so very evident every time I see him. I found it fascinating to learn that at least in part that admirable patience comes from Michael's awareness that he – like the super vast majority of us – was not born vegan and did not embrace the lifestyle the second he learned of the cruelty associated with animal agriculture.
In this considered contribution Michael shares the one thing he wished he knew that inspires people to explore veganism…
"Prior to becoming vegan, I wish I'd known just how difficult it would be to inspire others to care enough about what animals endure, that they too would feel compelled to adopt a vegan lifestyle. Like most new vegans, I made the mistake of thinking that all I needed to do was share what I had learnt, and others would come on board.
How wrong I was. This led to frustration and regularly alienating people I'd been close to. And for a period, I withdrew and wasn't outspoken.
Then I started following AR activists online, almost with envy that they felt so free to discuss veganism. And I began to find my voice again.
Eventually I was able to connect with others and we took to the streets to engage and educate the public. It was doing vegan outreach that helped me realise my most valuable lesson in all these years, the one thing I wish I'd known prior to becoming vegan: on the topic of veganism, winning debates or arguments is easy. The real challenge is to make yourself vulnerable and connect emotionally with people – sometimes complete strangers. That's how you win hearts and minds. That's how you inspire people to explore veganism."
I often wish I could channel the exquisite communication skills of our next guest.
E538: Vegan Psychologist Clare Mann and Vystopia: the anguish of being vegan in a non-vegan world. iTunes link:
Clare is an Australian based psychologist, existential psycho-therapist, best-selling author, speaker, and communications trainer. She consults with people worldwide to help address the personal and social challenges of being vegan and living in a non-vegan world.
I learnt so much from my chat with Clare. Particularly regarding negotiating relationships with loved ones who are not vegan and how to navigate the line between either biting my tongue completely or blurting out the truth which is then interpreted as judgemental / preachy. Clare shares her guidelines that help you decide when to talk about animal exploitation and when to let it go.
Hint: neither biting your tongue nor blurting out brutal truths are effective!! I knew that however now I know what to do instead!
In todays contribution Clare speaks to my heart with these powerful truths I wish I knew decades ago…
"The best advice I wish I knew prior to adopting a vegan lifestyle was that it is utterly meaningless to be vegetarian for ethical reasons and yet continue to eat dairy and eggs. Telling me that being vegetarian saves the animals but vegan saves the babies as well would have been enough for me to be vegan on the spot. I also wish i knew the extent to which being an ethical vegan creates a sole purpose in your life that is bigger and more visionary than anything else I have done in my life i.e. be part of creating a vegan world. 
The other thing is the hidden gem that your health improves dramatically on a whole food plant-based diet – an an ethical vegan, even if it was the worse diet on earth, I would still be vegan but the fact that it's the best is a huge hidden extra."
Now we move a little away from communication and more to the matter of PURPOSE and the only interview I've done face to face so far and certainly a fun ride full of laughs and wisdom with a gent I have so much respect for.
E566: Andy Faulkner on Perspective, Purpose and Why Animals Need You The Most. iTunes link:
Andy is a beloved legend of the Sydney animal rights street activism scene and I'm sure you'll understand why once you get to hear him speak. His relentless focus, genuine passion and infectious positivity is unequalled. Andy Faulkner is exactly the man I'd want fighting for me if I was one of the billions of animals suffering needlessly in a man made HELL. 
Andy's heartfelt and genuine advice today is spoken directly to himself as a young child…
"Be kind to all beings, especially the most vulnerable and innocent beings sharing this world with you. No matter what your family or anybody else should do, never follow those who bully and hurt your animal friends. Never follow those who eat your animal friends, wear your animal friends, or take the milk, eggs or lives of your animal friends. Never join in on family events that see suffering being celebrated on a table in front of me. Defend their innocent lives from the moment I'm able to walk and talk.
Follow my heart always no matter what flack comes from oppressors. Don't waste time following the wrong people, drowning self in booze and drugs, searching for happiness through a partner. Give to the animals instead, self caring so I'm able to grow and mature very rapidly from an early age."
The courage, dedication, resilience and incredible work ethic of my next guest is unequalled.
E568: Vegan Athlete Fiona Oakes Is Running For Good. iTunes link:
Fiona is the most genuine, unassuming, humble yet fiercely focused and relentless vegan warrior for the animals. She is the fastest woman in the world to run a marathon on all 7 continents and the north pole. Both in cumulative and elapsed time. The documentary Running For Good follows her attempts to set a new world record in endurance racing and also compete in the "toughest footrace on earth" the Marathon Des Sables, a 250km race through the Sahara Desert. 
She does this all to raise awareness for the plight of animals and to help fund her sanctuary 'Tower Hill Stables' where she cares for 450+ animals. 
There's so much more though. Fiona has a deep understanding of suffering and a burning desire to prevent unnecessary suffering for any living being.
At 14 years old she was told she'd never walk properly again. Let alone run. She had more than 17 radical knee surgeries which ultimately led to having her entire right kneecap removed.
So how does she do it? Check out the Running For Good film to get inside the mind of this powerful voice for the animals who is breaking the stereotype that veganism holds you back from anything.
Fiona followed her heart and saw animals as friends not food at such a young age. I'd love all young children to hear her advice…
"I adopted a vegan lifestyle age 6 with no family influence whatsoever so, in the beginning of my vegan journey, any advice would have been 'best advice'. I guess if I had been told anything it is what I would tell anyone who is considering adopting a vegan lifestyle today – that being to 'go for it' – embrace veganism for the beautiful and humbling world it creates and generates for you. 
I would say that, from my perspective, it is important to always remember why you are vegan and for me, that has always been, and always will be, for the animals. However, having said that, over the years I am learning so much more about life and the impact each and every one of us and our actions has on this planet and those who inhabit it.
Always know that you are making a difference and stand firm by your knowledge and beliefs, even though you may feel alone you are right and have patience with others who are not so fortunate as us as to have found their way to veganism yet. Anger and frustration just breeds negativity so remaining positive in a world which has so many negatives is my very best advice to others."
I loved my next guests short film and was blown away by how much I also enjoyed my chat (about a potentially delicate subject matter) with this genuine and compassionate gent.
E564: Miguel Endara's Short Film "Norm" Is Not About What You Think It's About. iTunes link:
"Norm" is a short film about two roommates debating over the morality of rape, in a society where raping women is legal and socially accepted.
The film is in my mind a unique, bold and brilliant example of how we can effectively challenge socially accepted norms. As much as every single line in Norm resonated with me and my experience as a vegan living in a non-vegan world, while watching it I was thinking: "Wow, you're brave – you're going to get push back." 
However I believe with all my heart that so long as your intention is genuine there are messages that need to be shared. I'm so very grateful there are filmmakers such as Miguel who are willing to step up and share the messages that can be both hard to hear and hard to share.
Miguels film 'Norm' speaks powerfully to both vegans and non-vegans as do his wise words today…
"Don't choose to be ignorant about something you know you're not comfortable with.
I really did wish I was told this when I was a lot younger. I think for many of those not yet vegan, they know the animal agriculture industry is inherently cruel to animals, but they choose to ignore it because of the fear that they might have to change their diet / lifestyle, or worse, lose their friends. And I'll be the first to admit, that's not an easy thing to live with. No one likes change.
But when you purposefully choose not to look into your actions and the consequences of your actions because of this fear, then you're not doing anyone a favour, especially the animals."
Up next, a fiercely articulate and uncompromising force for animals rights.
E590: Being Unapologetically Vegan with Pat from That Vegan Lawyer (previously Vegan Asylum). iTunes link:
Pat is not just a qualified lawyer and powerful advocate for total animal liberation. Via her YouTube channel: 'That Vegan Lawyer' she address's even the most controversial subjects including a subject I'm highly uneducated in, Womens rights and Islam.
Although I may not yet be able to articulate it well I really do agree with Pat's reasoning and wholeheartedly believe that no atrocities should be too taboo to discuss.
Pat is suitably fierce and resolute in her advice today…
"I WISH I KNEW ABOUT THE ANIMAL HOLOCAUST, THE MOST INSANE, UNFAIR, VILE INJUSTICE THE WORLD HAS SEEN. I WISH I REALISED SOONER THAT FARMED ANIMALS WERE TREATED AS NOTHING, WORSE THAN SLAVES, EXPLOITED AND KILLED FOR HUMAN PROFIT AND GREED. I WISH I KNEW SO I COULD BE AS FEARLESS AS I AM TODAY"
It's fair to say I've admired my next guests unwavering yet measured leadership from a distance and wondered at the calm force she brings to situations of such intensity, emotion and volatility.
E580: Effective Animal Rights Direct Actions and Advocacy with Isy Veira. iTunes link:
Isy V is co-founder of Legion DX Sydney a dedicated group of activists committed to non-violent, assertive direct action with the sole intent of abolishing the exploitation and killing of ALL Animals.
A impressively relentless activist, strong leader and voice of reason, I have nothing but huge respect for this powerful woman.
Talking respect, Isy gives a shout out to The Activist I most admire in her advice…
"The best advice I wish I knew prior to adopting a vegan lifestyle came from Earthling Ed in his speech at the official animal rights March UK 2017.
That being vegan isn't enough. Veganism is non participation which is a great start but it doesn't actively stop what's happening to animals. Becoming an activist means you not only stop participating in an unjust system you actively intervene and attempt to stop that system. 
This can come in many ways. EVERYONE can do SOMETHING and doing SOMETHING is better than doing NOTHING. 
With the numbers of vegans growing we should be seeing the number of activists growing and yet it continues to be a small core group of people especially when it comes to direct action. I'm by no means saying that everyone needs to be chaining themselves inside a slaughterhouse (although imagine how amazing an action that would be) but there is always a way to participate and be involved in the Activist community.
Consider the skills you have and what you can offer to organisations out there that are often in need of volunteers and people to take on varied roles. If you'd like to organise events but don't know where to start reach out to organisations that you follow and ask for advice. Step out of your comfort zone and remember no matter how shy or embarrassed or scared you may feel to speak out its nothing compared to what the animals endure everyday day of their lives."
Isy has an extra ask and I second it passionately: "Please watch the Earthling Ed speech and I hope it motivates you as much as it did me."
As I shared with Isy recently this Ed speech in so insanely uplifting when I first heard it I actually used it to lift weights too (instead of Eminem or The Prodigy). Now that might have been somewhat excitable of me however I guarantee it'll give you chills.
You know when you meet someone so true and open-hearted who you just feel good being around them? In this next chat we go deep, we go dark and we come out the other side with hope, passion and possibility.
E548: Liberation Through Meditation with Lucy Verde Roze. iTunes link:
Lucy Verde Roze is a full time vegan activist, animal rights artist, meditation devotee and genuinely beautiful soul inside and out. 
I have so much respect for this lovely lady. I knew I enjoyed spending time with her however I had no idea so far as the extent of trauma she has experienced, worked through and committed to channel into being such a positive, inspiring, relentless force fighting for animal liberation and a more compassionate world for all living beings.
With Lucy's advice today we transition more to the FOOD and HEALTH aspects of adopting a vegan lifestyle…
"One of the things holding me back from veganism, aside from not truly understanding the seriousness of the animal cruelty that plagues our planet (and my dislike of being told what to do!) was fear of lack of nutrients. I was already very sick so needed to recover several of my body's systems, and I wish I'd known it would actually give me so much new life and vitality! I had no problem getting every nutrient I need, especially after I went gluten free as that helps my body absorb all the good stuff. 
Cutting out animal products from my diet meant I was actually able to rebuild my gut flora and become more alkaline. It completely reset my system to be rejuvenated, fresh and more mentally healthy than I had EVER been before! I owe my life and my whole future reality to veganism and I will never even look back."
My next guest skilfully makes animal rights advocacy accessible to anyone and everyone with a realistic "start where you are" approach.
E554 Stephanie Feldstein and The Animal Lover's Guide to Changing the World. iTunes link:
Stephanie Feldstein is the Director of the Population and Sustainability program at the Centre for Biological Diversity, where she leads the Centre's work to highlight and address threats to endangered species and wild places from human population growth and overconsumption.
Her latest book The Animal Lover's Guide to Changing the World shares how one person truly can make a difference in leading a more animal friendly life. I love that while the title of Stephanie's book is HUGELY optimistic (I can relate to this!) it's actually amazingly accessible, actionable and empowering. 
Stephanie's advice to you today is also relatable and implementable…
"I wish I'd known how many of the foods I already loved were easy, delicious, complete vegan meals. It's not as hard as people think to eat more plant-based foods. There's this misconception out there that "vegan food" is some kind of specialty diet when really it's just food."
It's my huge pleasure to now introduce the work of 6 time Emmy award winning director and genuinely beautiful soul, Allison Argo.
E561: The Last Pig Film with Allison Argo. iTunes link:
The Last Pig is a deeply intimate journey into the life of pig farmer Bob Comis as he grapples with death, searches for compassion, and finally finds the courage to change.
The Last Pig exemplifies Argo's mission to provide "a voice for those who cannot speak for themselves" and to deepen understanding and respect for all beings.
I truly found this film to be so very impactful. The trailer gave me shivers down my spine and the full length film grabbed and held me engrossed from start to finish. Before we hear an excerpt from my interview with Allison I'd also like to share the trailer with you.
In her advice today Allison also shares how much easier than expected in every way her transition to a vegan lifestyle has been…
"I wish I'd known how easy it would be to become fully vegan! Honestly, there is nothing I miss. I was fearful that it would be difficult to fit in with friends and loved ones, but there has been little kerfuffle. And when there is, I'm always happy for the opportunity to quietly let people know why I consume only plant-based food and why it's so important to me. I can tell that with every mention, it becomes a little more mainstream.
The greatest benefit to me from shifting to a vegan diet has been the mindfulness that comes with it. I've become more thoughtful about the act of eating, and as a result, I feel closer to nature. Don't know why that is, but it's true!."
Finally let's hear from a professional who certainly walks the talk with her own food and exercise for that matter.
E563: Using Plant Foods To Protect Against Chronic Diseases with Brenda Davis. iTunes link:
Registered dietitian, Brenda Davis is a leader in her field and an internationally acclaimed speaker however what really stuck me is the amazingly abundant quality and quantity of food Brenda eats! It's rare that I read about food that I'd both love to eat each day and (this is the maybe never before happened it's so rare part!) food that I'd also love the results for eating.
Extreme deliciousness PLUS super high value for your body? You'll hear more details when we get to Brenda's contribution to: "The best advice I wish I knew prior to adopting a vegan lifestyle."
Brenda is co-author of nine award-winning, best-selling books including Becoming Vegan.
As hinted at the beginning of todays show Brenda's advice is deliciously actionable starting with…
Optimal Eating Guidelines:
An optimal diet is one that: Minimises risk of disease. Treats existing disease. Meets all nutritional requirements
The following guidelines are meant to help you achieve optimal health. Be sure to include variety in your choices to maximise nutrients and other protective dietary components, and also to minimise potential contaminants.
✓7+ servings non-starchy vegetables
✓3+ servings fruits
✓3+ servings legumes/legume alternatives
✓3+ servings grains and/or starchy vegetables
✓1+ serving nuts and seeds
Unprocessed or lightly processed foods*
*Gentle processing such as blending, grating or other simple methods of food processing are acceptable. Heavily processed foods with added fat, sugar and salt are to be avoided.
Minimal refined carbohydrates
Minimal concentrated sweeteners**
** Concentrated sweeteners are minimised, and, if used, are used sparingly for culinary purposes (e.g. 5 ml/1 tsp maple syrup in a sauce or dressing)
Minimal ground grains such as flour (intact or cut whole grains are preferred)
High fibre (35-60+ grams per day), including rich sources of viscous fibre
Moderate fat from healthful sources; mainly from whole plant foods (15-25% of calories from fat)
Minimal added fats or oils***
***Fats and oils are minimised, and, if used, are used sparingly for culinary purposes (e.g. 5 ml/1 tsp sprayed to prevent sticking; a few drops of sesame oil as a flavouring)
Low saturated fat (<5-6% of calories)
Zero trans fatty acids
Sufficient omega-3 fatty acids
Generous inclusion of colourful, anti-inflammatory, phytochemical and antioxidant-rich foods
Low dietary oxidants
Low environmental contaminants
Low glycemic load
Moderate sodium (< 2300 mg/day; <1500 for sodium sensitive individuals)
Organic, where possible
Nutritionally adequate
Brenda also shares…
Food Group Superstars:
Vegetables: dark leafy greens.
Fruits: berries.
Legumes: red or black beans.
Grains: red or black quinoa.
Nuts: walnuts.
Seeds: Flaxseeds.
Finally, a scrumptiously versatile…
Sweet Breakfast Bowl:
Breakfast is often rushed and nutritionally lacking. This meal has the potential to kick-start your day, reducing stress hormones, boosting brain power and performance, and helping to fight food addiction. Be sure you choose wisely!
You don't need to include everything on this list – mix it up and be creative.
Cooked, intact whole grain (e.g. barley, buckwheat, kamut, oat groats, quinoa, spelt)
Fresh fruit (e.g apples, apricots, bananas, berries, kiwi, mango, oranges, peaches, pears)
Sprouted whole grain (e.g. kamut or spelt berries) or lentil sprouts
Non-dairy, unsweetened yogurt, chia pudding or pear cream
Cooked or frozen fruit (e.g. blueberries, cranberries or Italian prune plums)
Granola (homemade, sugar and oil-free)
Seeds or seed mix (chia, hemp, ground flaxseed, pumpkin seeds)
Brazil nut, chopped
Walnuts, chopped
Unsweetened soy, almond or other non-dairy milk (if not using soy, boost protein and nutrients by blending 80-125 ml (1/3-1/2 cup) of hemp seeds per litre of milk
Mix the whole grains, fresh fruit, yogurt, chia pudding or pear cream. Top with cooked fruit, nuts, seeds, granola and sprouts. Enjoy with non-dairy milk, if desired. Alternatively, layer the ingredients as desired (if taking out, layer in a mason jar). Lentils or other beans can be added for a protein boost, if desired.
That's it! Do you know compiling todays show was such a joy. I'm so grateful for the opportunity to chat with and build relationships with such an amazing group of individuals each passionately and compassionately committed to one vision.
That's actually my biggest take away today.
Yes there's been so much valuable information shared and I hope that's been your experience too however beyond the supportive, hopeful and actionable advice is the rare situation in which a group of relentlessly focused and incredibly driven professionals are working together – united – for the greater good. The greater good of the animals, the environment and also our individual and collective health and sanity. 
I know that sounds grandiose! However it sort of IS right?
When I think of the things we humans can waste our time, energy and money on today. The hate. The pettiness. The ego's. The competition. The comparisons. The worshiping of the dollar over personal congruency and compassion for all.
When I think of all that I feel so genuinely privileged to have these conversations and to be able to freely share them with YOU.  
So thank you. Thank you for listening today and thank you for sharing The Healthification Podcast with anyone who you believe would find value in it. That's it for today in Helathification however I'll be back soon with more awesome guests. Happily I keep getting "Yes's" to my interview invitations that really excite me! To help make the show even more attractive to even more guests I have a final ask for you.
If you're yet to review the show on iTunes it would truly mean so much to me. It takes a couple of minutes of your time and legitimately makes my day. So far as visibility it's also one of the only ways a little show like this gets the chance to be seen within the iTunes algorithm. So it really helps big time. With huge thanks across the pod-waves.
The Healthification podcast is proudly bought to you by my FREE 'Easy Vegan' plan. It took me 25 years to transition from a meat eater to a happy, healthy Vegan! You can do it in just 3 days with my simplified 'easy vegan' plan!  Get the fit, strong, and healthy plant based body you deserve… while avoiding ALL the mistakes I made along the way!
Till next time, remember Creating a body and life you love is Freedom. (If this ex-carb queen, non genetically gifted, naturally uncoordinated vegan chick can do it – so can YOU!!!)
If you liked "The best advice I wish I knew prior to adopting a vegan lifestyle" you'll also like: How To Become Vegan By Utilizing The Be, Do, Have Model and 391: Low Carb High Protein Vegan Meal Plan (Part 1)