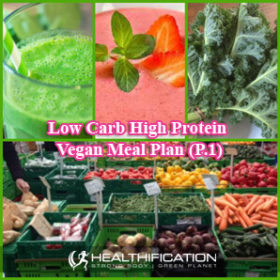 Podcast: Play in new window | Download
Subscribe: RSS
Today's show is for my Vegan friends. Also for the Vego's. Even for you if you feel like you'd like to see how your body responds to an eating strategy that might include however does not rely on animal products. Whether that's for health reasons, for ethical reasons or potentially for sustainability and environmental reasons.
Basically, delicious, nutritious Vegan eating that is sustainable for you and the planet.
Most of all today's show is a chance for me to prove that Low Carb High Protein Vegan can be done.
Also that it can be done with primarily one ingredient foods. Without a reliance on processed rubbish like meat substitutes or estrogen mimicking soy. Especially without basing your every meal around carbie pasta, rice and beans.
Today let's cover a:
Low Carb High Protein Vegan Meal Plan (Part 1)
This show will cover Breakfast. In fact '6' breakies because once a week it's nice to enjoy a breakie out.
Before we getting going with the actual meals lets cover a few core principals that will be applicable to Part 2: Lunches and Part 3: Dinners.
One: One Ingredient Guidelines Apply.
So start your meals with plenty of fibrous veg. Add lean Protein. Finish with good fat.
Two: Size Matters!
Due to the lessor caloric density in one ingredient based vegan meals you're going to need to get substantial with serving sizes to feel satisfied.
Three: Meals On Mass Rock.
There's only so much time any of us can commit to washing, chopping, slicing and dicing veg right?
Ok, core principals covers let's get going with 6 Low Carb High Protein Vegan Breakfasts:
Slight disclaimer: breakfast #one is a repeat from show #389: 5 Ways To Eat Less Dairy Without Sacrificing Protein however the rest are new. Personally I enjoy a green smoothie like breakfast #1 '6′ days a week. I've given you a lot more variety:
A). Incase you like variety and
B). So that you can try the variety and then if you choose repeat your favs more frequently.
One: The Green Supreme.
handful of Kale
a large'ish Broccoli Stem
1/4 Cucumber
1/4 Avocado
1/2 Green Apple
200 mils Coconut Water
1 scoop Vegan Vanilla Protein Powder
Optional: 1/2 teaspoon Spirulina and 1 tablespoon Chia Seeds.
Two:  Vegan Big Breakie Bowl.
The first part of this recipe is courtesy of The Raw Chef Russell James who also has a great sauerkraut recipe:
1 cup sauerkraut
1/4 – 1/2 avocado
1 tablespoon of nutritional yeast
1/4 teaspoon onion powder 
1/4 teaspoon of cumin 
First step is to mix these ingredients together for part one of the big breakie.
Next prepare,
1/2 cup of button mushrooms or one sliced Portobello mushroom + half a tomato sautéed with a dash of coconut oil and seasoned to taste.
a large handful of baby spinach or kale leaves lightly steamed / sautéed with a dash of coconut oil and seasoned to taste.
Finally for extra protein and texture top with,
1 tablespoon of hemp seeds.
Three: Funky Monkey.
handful ofSpinach
1/2 a small Zucchini
1 tablespoon Hemp Seeds
30 grams Raw Cashews
1/4 Mango
200 mils Unsweetened Almond Milk
1 scoop Vegan Chocolate Protein Powder
Optional: 1-2 Dates to sweeten.
Four: Blueberry Almond Chia Pudding.
1 cup almond milk 
1/2 cup frozen or fresh blueberries
2tablespoon chia seeds
1 scoop Vegan Protein Powder (or other sweetener like 1 sachet of Natvia)
10 raw or roasted almonds, roughly chopped
Optional: unsweetened coconut flakes, pepita seeds, thinly sliced pear / apple, a drizzle of almond butter.
Mix all ingredients except nuts in a jar or other container with a lid. Cover and refrigerate for a few hours or overnight.
Add nuts (and any optional extras) just before eating.
Five: Pink Minx. 
1/2 a Beetroot
1/4 Cucumber
100gm Watermelon
100gm Raspberries / Strawberries
8 cubes Coconut Water frozen
1 scoop Vegan Vanilla Protein Powder
1/2 cm Ginger grated
Optional: 1 tablespoon nuts / seeds + fruit / edible flowers to garnish!
Six: Toast and Avo.
2 pieces of Vegan bread of choice.My absolutely fav here is Aus is a Bakers Delight cape-seed roll (well actually 2 – that is aligned with my maintenance goal – if your goal is more fat loss then one roll which equates to 2 pieces of toast is enough) each roll cut in half, toasted and spread with…
1/4 avocado smashed + sea salt.
Optional: any combo of fresh or roasted tomato, hummus, vegan pesto, a sprinkle of nutritional yeast, a drizzle of tahini or perhaps some sliced olives.
Regarding protein each cape-seed roll is around 88 grams and has 12.3 grams of protein. So 2 rolls has a fair hit of protein.
For one roll (equivalent to 2 pieces of toast) I'd up the protein anti with either the tahini, the nutritional yeast or even as I often do with an under-proteined meal a protein powder hot chocolate. That's as simple as heating 50 mils of almond milk and stirring in a scoop of Vegan chocolate protein powder + 1/2 sachet of Natvia and then topping with boiling water.
As you'll see I'm a chick of simple taste so far as my fav breakie of the week toast and avo. However in my online travels I found a particularly stunning post from ohsheglows.com titled: An Ode To Toast 4 Easy But Drool Worthy Vegan Combos.
If you're more culinary inclined than I and like the idea of preparing some breaks on mass I also found a super delish looking recipe on the same site for: Crispy Quinoa Cakes. With lotsa veg, seeds, herbs and even sun-dried tomatoes and tahini It falls into the large category of "I'd LOVE to eat it… if someone would kindly make it for me!" 
In closing I recognize I have a high reliance on Vegan Protein Powder in these recipes. I love the stuff and find it ensures I hit my personal goal of around 90 grams of protein a day even though I currently eat an almost exclusively vegan diet.
You could 100% leave out the protein powder or perhaps replace it with either:
For protein: An extra tablespoon of hemp or chia seeds or nut butter (you'll still lose around 10-12 grams of protein each time you do that and gain a fair bit of good fat)
For sweetness: A sachet of Natvia. Or additional fresh / frozen fruit / date paste / coconut nectar / maple syrup.
All bar the Natvia will amp up the carb quota.
It's really a balancing act that you'll need to align with your goal and also your likes and dislikes.
The purpose of today show was to give you an idea of what a balanced Low Carb High Protein Vegan week of breakfasts might look like. To get actionable today, it's got to be to get your chef on right?
Although 'Chef' is a massive stretch for anything recommended by me. So to get actionable today I'd love you to try one of these non chef'y recipes and let me know how you go. Perhaps if you have any fav Vegan resources you could also share them in the comments for todays show notes. There's some stunning stuff around although Vegan Low Carb is a lot less common.
That's it for me today – I'm off to prepare my dinners entree… crispy, salty kale chips with nutritional yeast (I'm obsessed!)
Next week I'll cover Vegan Lunches in: Low Carb High Protein Vegan Meal Plan (Part 2). First though I hope you can join me for Wednesdays show: That Boring, Repetitive Pessimist In Your Head!
If you liked this you'll also like: 5 Ways To Eat Less Dairy Without Sacrificing Protein.
If you're yet to share the Healthification love – just click here to zip over to iTunes and leave an honest rating and review. It'd help me out big time. With gratitude, Kate.