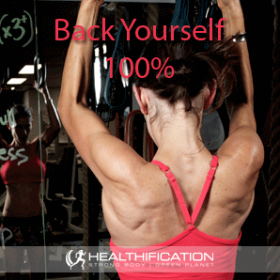 Podcast: Play in new window | Download
Subscribe: RSS
Hey Bodygainers!
In this weeks show I've got round three of the weekly wrap!
I'll chat a little food, a little exercise and a little mindset. I'll share what's been rockin this past week and what's been a tad more struggle street. I'll also do my very best to make this wrap applicable to YOU and your body gain goal.
Let's get rolling…
First up I'd love to chat FOOD.
My food win / recommendation this week is ensuring your home is a temptation free zone. It's absolutely saved this little emotional eater this week. If I'm ever slightly sleep deprived, hungover or just plain moody I'm prone to demolish first and regret later. It took me too many years to learn this however now I maintain home as a temptation free zone and the worst I'll be demolishing are extra zucchini hummus or kale pesto.
Gone are my days of mindlessly munching an entire box of crunchy nut cornflakes.
Or needlessly nibbling away at the crispy edges of a loaf of bread till there are no edges left and nothing but the soft and boring bread inners.
This is likely the perfect time of year for a little discipline in advance – in the form of ditching any tempting trigger foods that may be lurking in your pantry, fridge or freezer – left over from the holiday season.
Some tough food evictions now will 100% save you from succumbing to your food addictions later!
Which bring us to EXERCISE. This week the gym I work out of was closed for a public holiday. I train out of another larger gym as well so I popped up there to get my own lower-body-love-workout in (!) however it meant a couple of my clients needed a workout to do from home.
Designing their program made me appreciate just how many amazing exercises you can do with zero gym equipment.
Here's the routine I would do if I was stuck with zero access to a gym:
It's designed to be performed circuit slide for 3 circuits… however 1 counts and 5 rocks! All you need is a chair or couch to rest your back foot on for the split squat and a chair or table to rest your top foot on for the side plank leg raise.
Repetitions are different for every exercise… just because I like little patterns (!) exercise one will have 6 reps and with each exercise we add a couple of reps so exercise 7 has 18 reps. I'll clarify as we go though.
WALK-OUT 
(6 reps each side… with optional bonus and highly recommended 6 extra push ups on the last rep of each leg)
SPLIT SQUAT PYRAMID with HOLD 
(8 reps each side… with optional bonus and highly recommended 5 second hold at the bottom position for each rep. Here's the killer, I want you to pyramid down from 8 to 1 with the first leg before you swap to the second leg! So say you start with the right leg, that's 8 reps with a 5 second hold on rep #8, then 7 reps with a 5 sec hold on rep 7, then 6 reps with a 5 sec hold on rep 6… and so on. So really it's 8+7+6+5+4+3+2+1 reps = 36 reps each leg (with all those holds) however that would ruin my lil pattern and any of my clients will be laughing because they know I LOVE little patterns in training.
SIDE PLANK with ELBOW TO KNEE TAP, HIP DIP, TOE TAP 
(10 reps each side)
BODY WEIGHT GET UP 
(12 reps)
OBLIQUE V-UP 
(14 reps)
SUMO IN OUT JUMP SQUAT 
(16 reps)
SIDE PLANK LEG RAISE 
(18 reps each side)
So again for this work-out you're looking to do it circuit style. Anywhere from 1-5 circuits.
I do have a video of this workout – if you'd like to see it just let me know in the comments below.
Next up let's cover my fav Podcast this week.
That's easy as one of my old favs made a return after a few months break. It's TAG which stands for Think Act Get with James Schramko and Ezra Firestone. The premise is the way you think determines how you act and in turn what you get.
Each week the guys choose one word – one topic – to focus on and the fun thing is they often approach it form a different perspective.
This months show focuses on: Infrastructure. Some previous fab shows include: Awareness & Ego.
Ego is a great topic. So far as the body gain game you can use your ego to your body gaining advantage or you can be seriously limited by ego.
Using ego to your advantage might look like this: 
=> you hold yourself to high standards so far as the way your keep your body looking and functioning.
=> or perhaps you decide that the time you commit to your exercise must be well spent – super focused and working at a high intensity.
=> or even that the example you set for your kids so far as the meals you prepare for them and the meals you eat are of only the highest quality.
Using ego to your disadvantage might look like this: 
=> you're not willing to try something new that you're not yet skilled at. Like perhaps lifting weights. If that is you, please check out show 039 on 6 Reasons To Not Be Scared Of The Weights Floor. (it's one of my fav old shows)
=> you're not willing to be the odd one out asking for an adjustment to the menu or ordering a vodka-soda-fresh-lime when everyone else is sharing jugs of beer.
=> you're not willing to ask for help when you're not getting the results for your effort that you know you deserve.
The Habit I'd like too focus on this week is really coming into play as a few of my clients struggle to get back into a regular training routine this year. To be fair, most rock! And, I do have pretty high expectations so far as my clients sticking to their exercising commitments.
However from time to time life jumps in the way of their best exercising intentions via a sleep-in, sick child, or brutal hangover. 10 years ago as a new trainer this used to really annoy me.
I've since built my empathy and tolerance muscles. I've worked hard on being less judgmental too. My priorities might not be exactly the same as my clients and that's cool… in fact it's likely part of what keeps me busy and always will!
Here's the habit: I always have work with me to do in the chance of an unexpected cancellation and time to fill not fritter.
It means I can focus on the progress I'm making rather than focus on time wasted.
This can be applicable to you even if you don't work one on one with clients or ever have meetings that start late or get canceled. You can do it on a small scale, by focusing on things like goals, affirmations and gratitudes to say to yourself when you're stuck in traffic or a queue or anyway tedious. Since I've started meditating I've starting focusing on calm, deep breathing when I'm stuck somewhere too.
Whether we're talking work, affirmations or whatever if you can relate to my slight control-freak-ish-nish so far as using your time effectively then this is a really fab little habit to try.
As draw to the close of todays show let's chat Struggle Street!
This week I absolutely struggled with feeling a little worse for wear on Wednesday after a few too many beverages the evening before. It was a public holiday in Aus however I was still disappointed at myself.
If you can from time to time relate then I have a post called: Damage control when you find yourself in an UN-ideal fat burning day! however here's the super-brief-step-by-step which I did take:
It's not an absolute right off!
Quit the self indulgent behaviors that are making the situation worse.
Set a timer to help you make a start.
Learn from the experience.
To get actionable today I'd love to hear from you. So this relates to the ego point I discussed. Asking for help is one way in which I hold myself back… Is there anything I can help YOU with – so far as Body Gain?
Perhaps something you'd like me to cover in an upcoming show? Please let me know via the comments for todays show. I'm going to take action here too and ask for a little help in an area I'm a bit stuck. Let's let go of ego together ok?
That's it for this week in Healthification.
A super huge thanks to you for your support and for sharing this week with me.
If you've enjoyed this show and gotten value out of it I'd super appreciate it if you pop over to iTunes and leave me a review. It helps other people find Healthification and it really does inspire me to power on with the triweekly episodes.
If you liked this you'll also like: Smart Simple Weight Loss: Educate And Accelerate.
If you're yet to share the Healthification love – just click here to zip over to iTunes and leave an honest rating and review. It'd help me out big time. With gratitude, Kate.