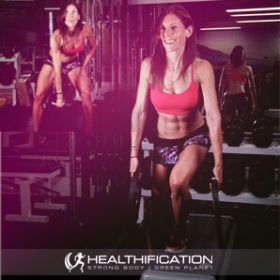 Podcast: Play in new window | Download
Subscribe: RSS
The first gym I joined in Sydney had more than it's fair share of body-builders.
Guys who'd spend several hours a day at the gym. Huge, sweatshirt wearing, tupperware toting big mountains of men that were initially a little intimidating even though I'd been comfortable on the weights floor at my gym in N.Z.
I got the distinct impression the weights floor belonged to 'The Big Boys' and when it became clear I wasn't going to stick to Pump Class or the cardio machines there was a period of equipment hogging initiation.
It really didn't take long at all though for the boys to get used to a chick on their floor, and at times to my disappointment they really were much more interested in checking themselves out than in me or any of the other few and far between chicks.
Which brings me to the topic of todays Thursday Training show: 6 Reasons To NOT Be Scared Of The Weights Floor.
I'm going to make this show fairly light and share a couple of my many embarrassing gym moments however my intention is primary to leave you with zero reasons to avoid the weights floor as it really is the part of the gym that will give you the best body transforming results.
Reason One: There's no need to feel awkward or out of place.   
Most of the people on the weights floor fall in to one of two categories. Either they are so busy checking out themselves they won't even notice you struggling to adjust your bench. Or they are so intent on adjusting their own bench they won't notice you either. Unless of course you encounter the gyms' self proclaimed casanova…and in that scenario I recommend head phones and no eye contact. He'll go focus on the other ladies quicker then you can say plenty-of-fish-in-the-cardio-land-sea…
Reason Two: Not knowing what to do is not valid.
If this was a valid excuse you'd never learn anything new. In fact I think one of the most valuable skills to build is not knowing what to do in every situation but rather knowing who to ask. Knowing how to choose the professional that will fast-track your progress by sharing what works and what to avoid. As my first boss used to say, personal training is very visual. He was right, and I've never forgotten that a trainer is always on show: you can see who's focused on their clients and who isn't… who looks the part and who doesn't… who is always on time, who designs an effective yet fun looking program and also who genuinely cares when the paid session is over or before it begins.
Reason Three: Embarrassing moments pass.
Yes, the weights floor is the perfect arena for any number of fairly embarrassing scenarios. Such as loading the barbell rack up with a twenty kilo plate each side instead of a ten kilo plate each side and getting stuck at the bottom end of your first squat. That was me, and the other trainer who swiftly sprung to my rescue to help get me unstuck was also super efficient at spreading the story. Importantly I lived to squat again and you're going to get through your embarrassing moments too.
Reason Four: Dangerous moments are at least as easy to encounter in cardio land.
While we're talking silly things I do in a gym, my two most scary have both been in cardio land.  The first one, I shared in an earlier show – when I came off the treadmill in my very first week as a trainer… and again the news the 'new girl' had 'come a gutser' spread like wild fire.
My biggest near miss was actually a faulty machine.  Once again I was on the treadie, doing intervals on a massive incline which involve sprinting up the treadmill hill for 20 seconds and then jumping my feet off to either side for 10 seconds rest.  In one 10 sec rest interval the speed jumped from the 12 at a 12% incline (which was quite challenging enough thank you very much!) to 24 at a 12% incline. I noticed only when I'd already jumped back on and felt like I was flying.  Luckily not right off the back this time – I made the quick jump back to the sides of the treadie and didn't venture near it again for quite a while this time.  The message?  Weights may be heavy however they won't literally double in weight part way through a set like my treadie doubled in speed.
Reason Five: Getting too bulky is a myth.
Males like my body building buddies with 10 – 20 times more testosterone than us ladies can spend hours a day lifting weights AND eat painstakingly planned meals every couple of hours to get 'bulky' and these are the 'natural' dudes… I'm yet to see a chick gain excessive muscle bulk who is not working her butt off to very intentionally put on muscle. If I ever feel bulky, it's because I've got some excess fat hanging out on top of my lean muscle. I'm absolutely certain this will be true for you too.
Reason Six: Getting out of your comfort zone is a valuable life skill. 
In the same way that it means so much more when you earn the respect of that particular client who's a tough cookie to crack… there's something hugely satisfying in getting awesome at – or even simply competent and comfortable with – something that was initially scary or uncomfortable.  Growth and success happen outside your comfort zone.  The more you practice stepping outside your limiting and smothering safe old comfort zone the better you'll get at stepping out… and stepping UP.
Ok, how to make today actionable?
What is any area in your life in which hiding within your comfort zone is keeping you stuck.  Perhaps it's doing the same old ineffective 40 minutes moderate intensity exercise on the X-Trainer followed by some sit-ups rather than stepping out onto the weights floor.
Maybe it's something else. Today is the perfect day to bust outta stuck. I'd love to hear how you go. Let me know via the comments below.
That's it for today – tomorrow I'll be back to discuss How To Set An Effective Weight Loss Goal.
If you liked this you'll also like: Overwhelmed by your to do list and not losing weight?
If you're yet to share the Healthification love – just click here to zip over to iTunes and leave an honest rating and review. It'd help me out big time. With gratitude, Kate.