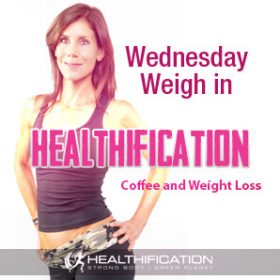 Podcast: Play in new window | Download
Subscribe: RSS
When I started as a personal trainer I didn't drink coffee.  I liked the smell, however the taste did nothing for me.  I was yet to discover the true joy of what I now, lovingly call Liquid Gold.
So, I guess I've already given away where I weigh-in on todays topic: What Do You Think Of Coffee and Weight Loss.  I'm a fan.  A massive raving fan of coffee, however keep listening because I'll also share exactly why I believe coffee can absolutely be your fat blasting friend.
As a new trainer, one of my colleagues said "I give you one month max before you turn to coffee". He was right. Although I've always been ok with early starts, 4.30am is a whole lot earlier than 6.30am AND when you combine early starts with late finishes as all new trainers do… then it's tempting to turn to help.  
Coffee was a help, perhaps a part of it is psychological however if it works don't question it right?
Now I started with soy flat whites which I would never recommend now – due to the estrogen mimicking effect of soy – here are my best case scenario guidelines for coffee consuming:
=> ditch the sugar… if fat loss is your goal I'm not massive of honey either, I think there are more fun ways to get your carbs.
=> steer clear of fake artificial sweeteners too. If you need to sweeten then go with something low-carb and natural, like Natvia.
=> if your body tolerates dairy – without bloating and cramping – then have it in moderation… though recognise that 2 large flat whites a day is going to stack up to 32gm of extra carbs and 26gm of extra fat a day.  For skim milk, sure you'll get minimal fat however the carbs will go up by a couple of grams.  As much as I'm not a fan of calorie or macronutrient counting, I am a fan of knowing enough to make the informed decision and make sure I'm not wasting my carbs and fats unnecessarily.
=> personally I'm a fan of almond over any other milk – some cafes now have it – and most cafes are now getting ok with extra particular orders, such as asking for just 'a dash of' almond milk.
=> most often I'll just have black. If the coffee is great, a long black tastes awesome… oh, and once I did a survey around your choice of coffee and apparently as a long black drinker I am the type of person to ride a tiger to work – that's got to be way cooler than my old 'extra hot soy flat white with an Equal' days right?
Beyond an energy boost there are 3 more reasons I'm down with my clients including some liquid gold love in their daily routine:
1. It's a lesser VICE and we all need vice. Or if vices brings up negative connotations for you it's a cost effective TREAT.
As long as you'll not pumping the large flat whites multiple times a day or having a sneaky muffin with your coffee it's a little something you can enjoy every day, or as I do multiple times every day that isn't going to detrimentally effect your body composition goals.
To stick to any eating plan long term I believe you need to include things you see as vices or treats every single day. It's proactive and saves you from feeling deprived and eventually over-doing it with something that will have a negative effect on your body composition.
2. It's a habit that you can utilise to help lock and load other beneficial habits. So this is a unique benefit however it you're a fan of coffee you'll know how easy the habit was to form. Why not use this habit, that comes easily to piggy-back habits you may still be struggling with?
Perhaps coffee time can also mean,
Time for a glass of water first.
Time to make a phone call you've been avoiding first.
Maybe you only buy coffee before (or after) your training session or only on your alcohol-free days.
Possibly coffee time is also the time you write your goals, affirmations or gratitude's.
3. It can help with fat burning. Caffeine is a staple ingredient in many popular diet pills.  I'm absolutely not a fan of diet pills – that's likely another Wednesday weigh-in show – however the caffeine in coffee can aid your fat burning in 2 ways…
First, that energy boost. As a stimulant caffeine can not only help you work for longer it can also help you work-out harder and/or longer. The higher intensity your work-out (with-in reason) the better the results you will enjoy.
Second, caffeine helps to mobilize fat from the fat tissues, making it available for use as free fatty acids in the bloodstream. So in short, coffee can prompt your body to break down fat stores to be converted into energy.
Of course as with anything addictive you will need to set boundaries.  
I'm not even going to suggest exactly what your limit should be because that's your call, however a good starting point is to ensure that coffee does not cost you so far as the other things that are important to you in your life. For example:
Sleep is important – if you're up to 6 coffees a day and you're having trouble getting to sleep – then it's time to cut back.
Cash-o-la is important – if money is tight and you're spending $12 a day on buying coffee – then it's time to cut back.
Quality food is important – if you're making time for coffee yet too busy to grab a nutritious lunch – then it's time to cut back.
Let's get actionable.
Rather than suggesting you go double your liquid gold intake, I'm going to run with the habit piggy-back angle on this one.  If you're a coffee fan or a tea or green tea fan or whatever hot drink it is that is a non-detrimental and easy habit in your day what is the habit that you've been struggling with that you could piggy-back off that existing habit?
I'd love to know what positive new habit you're creating this week?  Please let me know via the show notes below.
That's it for me today I'll be back tomorrow with Thursday training and a fun show where I share 6 Reasons To Not Be Scared Of The Weights Floor.
If you liked this you'll also like: Addiction And Weight Loss.
If you're yet to share the Healthification love – just click here to zip over to iTunes and leave an honest rating and review. It'd help me out big time. With gratitude, Kate.