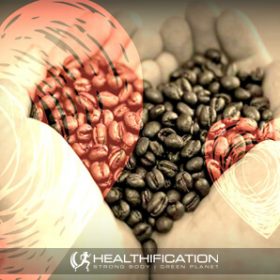 I used to see addiction as something purely negative and controlling. That gorgeously scrumptious daily giant-blue-berry muffin was a perfect representation of my lack of will power, diminishing motivation or tendency to take the easy short term gratification option.
However, in reality although your addictions can absolutely hold you back from achieving your health goal they ALSO can help move you towards the attainment of that goal.
Understanding the mechanics of addiction will leave you better placed to consciously choose the things and feelings that can be resourceful and positive addictions rather than exist at the mercy of un-resourceful addiction.
Although some of us likely have a more addictive personality than others, and Yes, I'll put myself in that group as I'll eagerly bounce out of bed at 5am on my one sleep-in morning to mission out to the bakery regardless of the weather… beyond individual levels, we all to subscribe to addiction at some level.
Let's move beyond the "I must have/do because it makes me feel good' because to use lifting weights as a personal example it does not always make me feel good during the actual session.
Often it does.  Often I'm in a world of hurt.
However, lifting weights satisfies – as any positive or negative addiction will – at least 3/6 of the 6 Core Needs.
(The '6 Core Needs' are a Tony Robbins creation I've covered in this older post on addiction)
To recap, we all have a natural desire to satisfy each of the following needs:
1. CERTAINTY
2. VARIETY
3. SIGNIFICANCE
4. LOVE & CONNECTION
5. GROWTH
6. CONTRIBUTION
Additionally we will each prioritise 2 over everything else.  We can meet these needs in a resourceful way that improves the quality of our life OR in an un-resourceful way that is detrimental to our own (and others) quality of life. 
To play out this example, lifting weights satisfies all 6 of my Core Needs – which explains why I've been consistently addicted for 15 years now.  Why I will prioritise it over almost everything  and why I feel absolutely rubbish when something prevents me from my planned weights training.
As with any positive addiction it's boarder-line between 'healthy' and overly obsessive.
However, it's certainly a billion times better than a downright Unhealthy addiction like gambling.
Both weights and gambling offer CERTAINTY. 
=> after a period of time you have an idea of what to expect.  There is routine and familiarity AND this is comforting.
It's something to turn to and rely on in times of uncertainty.
Both weights and gambling can equally offer VARIETY (otherwise known as uncertainty).
=> you never know exactly how your body will perform on the day or what cards you'll be dealt.  You don't know who else will be around and you can mix up your routine.
It's new and exciting AND something to seek out if life seems a little predictable, mundane or certain.
Both weights and gambling offer SIGNIFICANCE.
=> true only if you're seeing results however, a body that turns heads or a bucketload of winnings does make you feel good about yourself. It's natural to desire to feel important or special HOWEVER we can take this need to the extreme when our natural desire for love and connection are not being adequately met.
Both weights and gambling can equally offer LOVE and CONNECTION.
=> either during or after the activity you develop relationships based around your shared interest with like minded people. This is essential HOWEVER again we can cling desperately to the need for love and connection when our desire to be recognised as special or significant is not being adequately met.
Both weights and gambling offer the chance to CONTRIBUTE.
(it becomes a little more of a stretch for the un-resourceful alternative, however we've already covered 4/6 core needs at this point anyway right?)
=> I absolutely believe my love of and expertise in lifting weights helps me contribute to my personal training clients.  The gambler?  I guess they are throwing money into the economy and providing jobs.
Both weights and gambling can equally offer the chance to GROW.
=> pushing yourself beyond your comfort zone, developing new skills and continually seeking to improve counts as growth in my book.  The gambler?  Let's say the real growth is (hopefully) going to happen at a personal level rather than at a technical skill level… where they learn more about their personal strengths and vulnerabilities.
Of course Weights could be playing Bridge.
and Gambling could be eating Chocolate.
or anything limitless number of examples.
The two important factors are:
ONE: The 6 Core Needs fuelled Addiction is a far more powerful influence than Will Power alone.
It'll out-muscle any lightly set Goal.  And it'll prove more compelling than any mere Wish or Want.
The addiction is a MUST HAVE.
TWO: You CAN CHOOSE your addictions rather than have them choose you.
The choice is yours: to fuel the worst in you AND feel completely weak and out of control or to fuel the best in you AND feel unstoppable and full of joy.
Ok, let's take a look at how to take control of your addictions in 3 steps:
1). Switch your negative addiction for a positive addiction.  
Yes, it will take some thought. A cup of rip-off-bland-old-blueberries means nothing to me when compared with the crispy-yet-soft-and-moist-golden-fresh-baked-blueberry-muffin.  So that's not a good switch.
=> Your switch must satisfy at least as many of the 6 Core Needs as your negative addiction does.
Never simply eradicate an addiction and leave a void as it'll most likely end up being filled by something equally unhelpful.
2). Build the pain associated with your negative addiction and build the pleasure associated with a positive addiction.
Fairly self explanatory, the key is emotional intensity – the more the better.
=> If you don't respond strongly to potential pain (or pleasure) directed at yourself then get even more leverage on yourself by including your family in the pain and pleasure building.  What will continuing with this negative addiction mean to the quality of their life in 12 months?  Or 5 years?  Would you be happy for your child / partner / best friend to pursue your own addictive habits and experience your current results?
3). Seek out accountability for your addiction upgrade AND lock in a reward to celebrate your success.
It's easier to quietly cheat on yourself than to admit to someone you respect / care about that your gave in.
=> Share your intention with someone close to you and lean on their support (and even tough love) to help pull you through the inevitable tough times.  
Recognise the effort involved in an addiction upgrade and cement the change by taking the time to acknowledge your accomplishment by way of a reward.
=> There's always another addiction waiting to be upgraded, however it's important to stop and focus on each success because what you focus on expands.
Ok, who's up for sharing?  Do you agree that addictions are natural and necessary AND can be manipulated to your advantage?  I'd love to hear your thoughts – especially if they differ to mine.