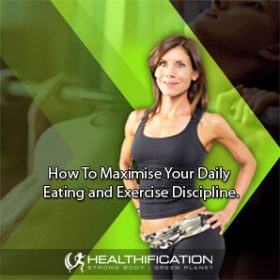 If only I had more discipline.
It's a fairly common wish – right up there with: If only I had more time.
The solution is the same. Both discipline and time are limited so the important thing is how you choose to use them.
Each day your discipline is getting testing non-stop. Some tests are unavoidable – however some are absolutely within your ability to manage.
If you regularly find your daily discipline quota running on empty when it comes to making the best eating and exercising choices here are some tactics to put in place:
1. Acknowledge that you have a daily discipline quota. It's finite. You will not wake up one day with limitless discipline and unrelenting focus. No one ever has. However you CAN manage your discipline to the point where it may seem like you've got a bucketload of it.
2. Become conscious of those supremely discipline testing situations that you find yourself in. From here you have a couple of choices:
A) Where possible don't put yourself in those situations.  
Why expose yourself to temptation more than necessary? This may mean suggesting the better restaurant choice when dining out or taking your lunch rather than hitting the vending machine or takeaway joint close to work or grabbing your coffee from the cafe that does not sell those fabulously delicious looking muffins.
B) Before you're in the midst of the temptation-zone decide what your choice is going to be. 
Whether we're talking one serve rather than 3 at the all you can eat buffet or one scoop of gelato rather than a sundae with all the extras or the protein bar rather than choc top and pop corn at the movies… the key is to set your standards first.
3. Become conscious of those ultra discipline sucking moods that you will find yourself in from time to time. From here you also have several choices:
A) When you can, avoid being dragged into such moods.  
Perhaps you find your discipline lacking during the day that follows a poor nights sleep or after a long days work in which you skipped lunch. Each of these situations and the mood they result in can be avoided… At least some of the time.
B) Have go2indulgences that you can resort to when you just feel the need to demolish food.
Sometimes that's the only solution right? At least if you're an emotional eater like me. It's all very well for me to say go for a walk or have a water – however sometimes this just does not cut it! Some of my go2indulgences include: kale chips, protein pancakes, chia + vegan protein powder dessert.
4. Use your early morning supreme-discipline-time for high value tasks. First thing each morning is most likely a high discipline time. Yes, it may take a bit of effort to initially get yourself out of bed however once your feet are on the ground you're in prime discipline-tank-full time. Do not waste this opportunity with mindless email checking or worse yet, by rolling over for more shut eye. These high value tasks might be those that you regularly find yourself avoiding at the end of each day: Perhaps meal preparation or exercise.
5. Remember a discipline challenge that does not go to plan is never a right off. So you had the muffin and cappuccino for breakfast and skipped your walk to work?  Ok, so that wasn't a 'failure'… merely an experiment to show you that a different approach is required. You can't fail experiments.
Take note of what set you up for that minor loss in the discipline game and out plan it next time.
Your next chance starts NOW. With your very next meal or scheduled work-out.
That's the most important thing. Recognising that there will always be a next time – another discipline challenge to win. So sort your game plan and give yourself every opportunity to win the discipline game
Let's make this implementable in 3 steps;
FUEL: What is the meal/situation that regularly results in a downward discipline spiral?
Perhaps it's the family dinner on a Friday night which always leaves you crazy-over-full-and-lethargic AND leads to a skipped breakie and flagged training session sat and another mammoth meal for lunch before an over indulgent dinner+dessert+drinks sat night. Set your standards prior to this next meal/situation and lock and load them by aligning them with your values: How to Align Your Goal With Your Values.
MOVE: Move your #1 health task to your high discipline time (that's likely first thing in the morning).
How to know what is #1? A good check is to ask yourself: "What is the one thing that I wish I'd been doing consistently for the past 12 months?" Fair chance that is going to be a high return on time invested action.
If it's regular exercise and you don't have a personal trainer or lovely surroundings to walk through each morning – that's fine – I have you covered with these short fat blasting routines:
LIFE: Plan 3 go2indulgences for times that you've previously battled with discipline.  For example:
a) At home (3.30-i-tis procrastination time):
Protein pancakes. Blend oat flour with mashed banana and a scoop of vegan protein powder + a good shake of cinnamon and optional nut butter/grated apple/berries… the options are limitless.
b) At work/in your bag (when lunch is going to be late and you're getting irrationally hungry):
I always have protein powder, frozen berries, nut butter, and almond milk at work for a quick shake. Even just in the plastic shaker (rather than blender) it is still fine. Or perhaps an energy ball.
Here's a good base for energy balls from the team at Young and Raw.com
12 Pitted Medjool Dates
1/2 Cup Cashews
1 Cup Coconut Flakes
2 tbsp. Almond or Coconut Butter
From there simply add 1-2 of your preference:
Scoop of protein powder, 2 tablespoons Chia/Sunflower seeds, 2 tablespoons Goji/dried Cranberries, 2 tablespoons Carob powder, 1 tablespoon Maca powder.  Even Spirulina, Vanilla bean powder…
Step 1. Blend all ingredients in a food processor.
Step 2. Roll into truffle sized balls.
Step 3. IMMEDIATELY give away 80-90% or however many you do not want to demolish today… then pop the rest in the fridge to firm for 30 minutes.
c) On the go/at a convenience store (when you're out for drinks and know dinner will not be till super late):
50 grams of roasted nuts. Even if they are roasted and salted, they are going to be a much better choice than most things you grab on the go. Or maybe a protein bar.
Here's to making the most of your daily discipline quota. To knowing the times when you are more vulnerable and preparing for them in advance.
You'll see from the tactics I share through-out my entire blog that I am in fact someone with fairly poor discipline when it comes to food, HOWEVER, I am pretty good planner. I'm also willing to admit my weakness's. And I'll gladly play sneaky tricks on myself if they get me the results I want. 🙂
I hope you found this post of value.  If so, you'll like this one too: 6 Steps To Build Your Self Control Muscle. (it's one of my favs)