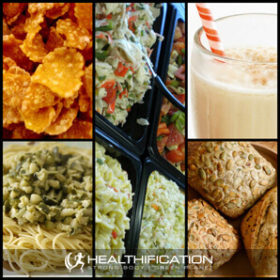 I knew this girl in her early 20's who was super-crazy-strict with what she ate.
Let's say restrictive.  Even obsessive.
She also worked really hard at the gym – often 6 days a week – lifting weights and also suffering through copious amounts of cardio… and although she wasn't 'fat' she definitely had many problems areas.
The cost she was paying in time and effort certainly didn't seem to fairly reflect the results she was seeing however she was anxious that easing off even a little would allow the weight to pile on.
She felt trapped, resentful and frustrated.
Let's take a look at what she ate because it's a super common approach that I see time and time again with people who are not yet seeing the results they deserve:
Breakfast:
Cereal with skim milk and fruit.
This would fly straight through her leaving her with an embarrassingly rumbling stomach in the middle of her first Uni lecture of the day… distracting her from her studies and encouraging her to resume obsessing over the next meal.
You've guessed by now that chick was me right?
Sneaky Health Food #1. CEREAL.
Although it may be 'low fat' and manufactured to have more iron, calcium, even protein – it is of course a processed food.  Cheap and fake and designed for a long shelf life.
The serving sizes are incredibly small, if you can stick to them you'll be starving again as soon as you can say cappuccino-and-banana-bread.  Beyond the serving size is the fact that with minimal protein (even the higher protein kind – with 6 grams (!) per serve) and no good fats you will not say satisfied and the carbs are released into your blood stream fast causing a blood sugar level spike and then drop.
What to eat instead:
Omelette with fibrous veg or my current fav Scrambled eggs with spinach.
I'm after quick and easy in the morning and eggs can honestly be as fast as the carb-fest toast or cereal option.
=> Throw 2 whole eggs and optional 2 extra whites in a bowl with 2-4 cubes of frozen spinach and season / add herbs. If you do this the night before its super easy to spray a pan with coconut oil in the morning and scramble.
Not a fan of eggs?
Porridge made with almond milk, cinnamon and a scoop of your fav protein powder is another good option.
Morning tea:
Banana smoothie with skim milk, low fat frozen yoghurt, honey and malt.
Liquid calories can be really deceptive. It doesn't feel like you're eating but they often pack a high caloric density punch, can be a huge serving size and contain a whole heap of carbs plus of course dairy that can cause bloating and puffiness in many of us.
Sneaky Health Food #2. SMOOTHIES and JUICES.
Both of these can be also awesome and super nutritious.
What to eat instead: (if weight loss is your goal):
Swap milk for almond milk or coconut water.
Minimise the fruit. You're better off eating a piece whole – however some berries or an apple etc is fine. Aim to build your juice around veg and your smoothie with added protein rather than added fructose / sugar.
Maximise your veg.  Kale and spinach are a great start however the possibilities are limitless.
Add protein where possible.  A scoop of protein powder or even a couple of egg whites for extra creaminess.
Include good fat if it's a meal replacement.  Such as nut butter (I love almond) or avocado or seeds.
I go the quick and lazy 50-75 grams of roasted cashews + a protein shake option for morning tea now however when I have a smoothie it looks like this…
=> 200ml of unsweetened almond milk or coconut water, 75 grams of frozen raspberries, 1 tablespoon of almond butter, 3 cubes of frozen spinach, 2 egg whites, 1 heaped scoop of vegan vanilla protein powder, ice
Lunch: 
A salad sandwich.
In my case this was often a couple of multi-grain rolls with avocado and tomato.  No butter and good grainy rolls – not so bad right?  The thing is, once again it is seriously lacking in protein so it's really not going to fill you up, or give your muscles any fuel however it will encourage your next craving for a refined-carb-fix 🙁
Sneaky Health Food #3. ANY LIGHT-WEIGHT SALAD or SALAD SANDWICH.
Make no mistake – the light-weight meal WILL catch up with you!  You may fill like you've 'saved a few calories' at the time however I guarantee later that night or even the next day you'll find yourself mindlessly munching on super more'ish and high caloric density 'little snacks' that far surpass any calorie cutting you just managed.
What to eat instead:
Building your meals around UNLIMITED fibrous and non-starchy veg like: spinach, kale, broccoli, cauliflower, zucchini, mushroom, asparagus and brussels then adding lean protein and finishing with 30-50 grams of good fat like avocado, olive oil, nuts and seeds is the only way to ensure you satisfy both your bodies macro and micro nutrient needs AND your emotional desire to enjoy a 'proper' meal that won't see you diving for that sugar fix.
My preference now is s super substantial and massive salad.  Because I'm vego and generally have eggs for breakfast and fish for dinner I keep the salad veg only (like, at least a dozen veg plus avocado) and then make sure I follow it with a couple of protein pancakes or if I'm out and about a protein shake.  If dairy works ok for you then 100 grams of cottage or ricotta is also a salad topping option.  Protein pancakes:
=> 6 egg whites, 2 scoops of vegan protein powder, 1 sachet of Natvia (natural low carb sweetener), a good sprinkle of cinnamon or nutmeg or even some almond butter.  Fry with coconut oil spray.  Will make 2.
Afternoon tea:
Low fat/diet yoghurt and fruit.
I love thick and creamy (though low-fat!) deli style yoghurt.  I'd buy it in a small (at least 200 grams) tub and have it with home made fruit salad.  This is yet another carb-fest.  Or you could go the fake 'diet' low carb supermarket version and instead ply your body with processed crap-o-la with zero value.
Sneaky Health Food #4. LOW FAT/DIET YOGHURT.
Your food has to be made of something so if it's low fat it'll likely be high carbs.
What to eat instead:
If you want to stick to yoghurt I recommend Greek Style which has half the carbs and twice the protein.
=> Have 100-200 grams of Greek Yoghurt and I'd go so far as to add a scoop of vegan protein powder too and even some berries and nuts if you're really hungry.
Sneaky Health Food #5. SOY MILK/SOY ANYTHING.
Now this deceptive little number could wrangle it's way into any part of my day.  Soy acquired 'the healthy option' reputation as regular milk started to get a bad rap.  Now I'm not a big fan of dairy however soy is definitely not the solution. My soy latte or more recently long black with 'a dash' of hot soy felt indulgent and comforting without registering much on the calorie scale.
However what soy does do is mimic the effects of estrogen in your body.
Estrogen isn't bad, however toxins in our environment and stress also mimic it's effect in your body and when it gets out of whack it leads to extra fat storage in estrogen sensitive areas.
That's the hips and thighs for ladies.  I can 100% testify to this from past flabby-thighs-experience.
What to eat instead:
Actually, it's worth questioning afternoon tea… I don't tend to eat it anymore.  I find having a decent breakfast, good morning tea and fairly massive lunch keeps me going till dinner.  When I find myself seeking out food mid afternoon it's generally not really because I'm hungry.  More often it's some 'I deserve…' fix that I'm seeking.
=> are you really hungry mid afternoon?  Perhaps instead you're thirsty and need some water. Or possibly you're procrastinating and trying to avoid that boring / hard / uncomfortable task that absolutely is not going to do itself while you suss out the fridge… Yes, I'm of course speaking from experience!
Dinner:
Vego pasta or pita bread pizza or stir fry.
Ok, the reason this dinner isn't an awesome lean bod choice is the same as lunch – it's too light on satisfying, muscle fuelling protein.  Even though it's often a big carb-fest it'll leave you craving that sweet fix after dinner.
I'm going to break my pattern and introduce a 'health food' I never got into the habit of eating…
Sneaky Health Food #6. LEAN CUISINE or ANY PACKAGED FROZEN MEAL THAT NEEDS TO TELL YOU IT'S A HEALTHY CHOICE.
I think the main reason I never got tempted by these carb-board meals is the crazy-small serving sizes.  I've always had a good appetite and these things just look like a tease.  Add to that the cost effective (to manufacturer) pumped up carb > protein ratio, lack of green veg and overdose of sodium and this is a really UNhealthy choice.
What to eat instead:
Meals made on mass are my weekly dinner time saviour.  I rarely make a single serve of salad or veg and the same rule can apply to most foods… from frittata to veggie pasta sauce (to serve over Juliette zucchini rather than pasta) to vego / vegan curry.
=> once you have the more time consuming part of your meal ready to go it's quick and easy to add to finishing touches come dinner time.
Sneaky Health Food #7. BOUGHT SALAD with ULTRA CREAMY, SALTY DRESSING and HIDDEN CARBS.
There's a reason those bought salads taste so different to those you make from scratch yourself.  It's called oil and salt – neither are bad, however both can be overdone.  It's also likely your bought salad is heavy on the cheaper starchy veg and grains AND light on your higher value fibrous veg and lean protein friends.
What to eat instead:
This is more about being honest with yourself and choosing the best option rather than running with the 'it's salad so it must be healthy' excuse.
=> I'm also a fan of padding out your bought salad with extra green leaves and cruciferous veg… and of course protein/good fats like nuts and seeds.
I don't believe any of these 7 Sneaky Health Foods are evil… and they won't make you fat in a sitting.
However they will encourage you to eat more of the same.  More addictive processed foods that nudge out your desire for the nutrient rich one ingredient foods your body really needs.
The main thing is to always make an informed decision with your food.
The only thing worse than eating rubbish and not losing weight is believing you're eating healthy and still not losing weight!
You get to suffer the deprivation without enjoying the results.
So. Are you ready for results but still a little overwhelmed at all the options involved?
It's hard to know where to start and to be honest any one positive step you can keep up consistently is a good start. The toughest approach is to try everything at once and maintain none of it. I've been there in many aspects of my life and not only is it ineffective, it'll also eat away at your belief in your ability to ever achieve your goal.
If I had to pick ONE super effective first step for you I'd say eliminate processed carbs Monday to Friday. 
(and because it's no fun to focus on what you're removing DOUBLE your fibrous veg).
Partial to your processed carbs?  Me too, however…
Let's say you eat 5 meals/snacks a day then that's 35 times a week what you eat is deciding how your body looks and performs.
Food. Is. It.
How to stay on track with your food and IMPLEMENT all the guidelines in this post?
Create the MINDSET that makes your best food choices easy and sustainable.
You 100% can be Vego or Vegan and eat primarily one ingredient foods and keep it High Protein Low Carb… Oh, AND also rock around 24/7 in a strong, healthy body you love…