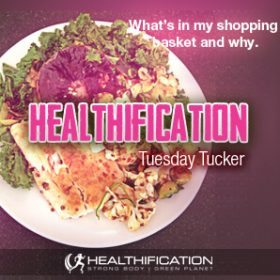 Podcast: Play in new window | Download
Subscribe: RSS
What story does your shopping basket tell? 
In two words my basket could reveal me to be simple and lazy… more clarity on why simple and lazy is ok soon.
Of course it's better than fake and cheap right?
Not infrequently I'll bump into a client at the supermarket who is keen to peer into my shopping basket… as I am with theirs.
There's a fascination in seeing what others choose to let into their homes and into their bellies.
For me there's little distinction between the two – if it gets into my house and it's food I like – then it will get into my belly eventually.
Whether I test my discipline for a couple of hours or a couple of day's before I give in to temptation, it'll 100% happen which is why I'm super deliberate in choosing what goes into my shopping basket.
In todays tucker show I'm sharing what my bi-weekly shop looks like.
=> The vast majority of the food I buy is SIMPLE or put a another way, it's one ingredient whole food.
Let's get specific with One Ingredient Whole Foods. I'll break them into 3 categories:
Category ONE. Carbs. My carbs Monday – Friday are all in the form of starchy and fibrous veg.
Sweet Potato.
Red and Brown Onions.
Red and Green Capsicums.
Tomatoes.
Baby Spinach.
Asparagus.
Broccolini.
Brussel Sprouts.
Zucchini.
Mushrooms.
Spring Onions.
Fresh Coriander.
Cauliflower.
Kale.
Pink Grapefruit.
Limes.
Chili.
Category TWO. Proteins. As an non-meat eater this list is fairly short.
Free Range Eggs.
Fresh Barramundi or Snapper.
Category THREE. Fats. I keep it simple here too.
Avocado.
Cashews.
Olive Oil.
=> The vast majority of the food I buy is also LAZY and by that I mean if there's a Quick-fix that saves me washing, peeling and chopping these aforementioned one ingredient whole foods… then I'm all over it.
In the same way that I've admitted if it's in my house I'll eat it… I've also admitted that if it takes too much work I won't bother. I love the idea of home made pesto, and hummus and almond milk… however, I don't find cooking fun or calming or anything other than a time eat. That's me. It may not be you, however the point is it's important to make sure the food you let into your house ensures making the best food decisions are as easy as possible.
My weekly Quick-fix foods are mostly one ingredients but not all: 
One ingredient quick-fixes.
Pre-washed mixed green leaves.
Asian-style stir-fry/coleslaw mix (it's dressing free).
Mixed frozen veg: like baby corn, carrot, onion, capsicum, green beans, broccoli or peas, sugar snap peas, green beans and broccoli.
Mixed dried herbs.
Other quick-fixes.
Balsamic Vinegar.
Almond milk.
Coconut oil spray.
Natvia natural sweetener.
I've left out 3 big hitters that I also have several times a day:  
COFFEE, SPARKLING MINERAL WATER and RAW VEGAN PROTEIN POWDER.
In an ideal world I'd have a little less of each however they all fill a purpose… which most often is they give me a non-detrimental solution to my desire to eat for some reason other than a need to fuel by body.
I'm absolutely not immune to emotional eating or stress eating or just comfort eating however I've again admitted that and decided that currently the benefits of having a couple of extra coffees and sparkling waters and protein concoctions out-weighs the minimal downside.
Three final Considerations:
1. Those other carbs and proteins that don't form part of my weekly shop?
Bread and cheese are weekend foods for me. I love them both, however I buy them portion controlled on the weekend rather than having them as part of my regular shop. Perhaps it's pasta and chocolate for you. The key point is, if it's something that you would like the have the results for NOT eating everyday then don't buy it as part of your every day shop.
2. Shiraz?
If you know me you know I love it. I keep my food fairly awesome so that I can love as much of it as I want – on the weekend.  Whatever your number one VICE is, work it into your routine.
3. Spend a little more on quality.
Part of the reason why I'm ok with keeping bread, dairy and Shiraz to the weekend only is that I'm willing to spend a little more to include mini treats in every single meal. I'm going to buy my fav veg (like mushrooms and red caspicum) and at times costly good fat (like avocado) and my fav lean protein (like Barramundi) even if it's a little over-priced because it's still a lot better value than being unhappy or unhealthy.
Let's make this actionable.
Are you a planner who makes meals on mass or an impulse buyer seduced by the half-price sweet treats hanging at the end of the aisles?
I'm absolutely a Planner.
So I guess that means I plan simple and lazy… which again has got to be better than being fake and cheap on impulse…
If you had to pick two words to describe: What story does your shopping basket tell? …what are YOUR two words?
And are these words and these foods powering you towards the body you want… or dragging you further from it?
If you've got some improvements to make then pick the words that describe the food you know will serve you body better and commit to more such foods in your basket this week.
If you liked this you'll also like: Fibrous Friends: Quick and Easy Fat Fighting Vegetables.
and: Stop Supermarket Sabotage In 5 Simple Steps.
If you're yet to share the Healthification love – just click here to zip over to iTunes and leave an honest rating and review. It'd help me out big time. With gratitude, Kate.