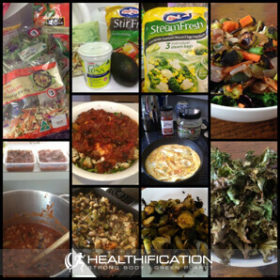 Today's post is devoted to an unassuming… Under The Radar, UNDERRATED fat fighting fuel. 
I've absolutely been guilty of not making time for these fibrous friends.
And over the years I've also noticed a distinct lack of green love in the day to day eating of the vast majority of people who are struggling to achieve their weight loss goal.
Now what you may ask is so important about making green and fibrous veg a regular part of your eating? (and was your grandma really right?)
The benefits of fibrous vegetables are 2-fold:
One) They have a low caloric density which means you can eat a heap of them, actually as much as you you want.  Yes, UNLIMITED is my recommended approach to all things fibrous.  
So to be clear that's any veg that is not starchy… a lot of them are green however, there is a rainbow of colours to embrace.
Two) They are rich in micronutrients and as such are craving fighters and top quality fuel for your body.  
Your, CRAVINGS are not a signal that you 'need' sugar, they are there to let you know you're missing out on some vital micronutrients.
Additionally you crave what you eat so eating refined crap-o-la will make you crave more crap-o-la… whereas eating fresh will make you crave fresh.  You'll also find reducing your sugar will allow you to taste the true sweetness in your fresh veg rather than have your taste-buds numbed to it by the copious flavour enhancers enforced on them in refined foods.
I've split these quick and easy veg ideas into 4 categories based on the common complaints (excuses!) I hear when I suggest my clients eat some more veg:
1. "Preparing a variety of vegetables take too long"
Your Solution: SPEEDY CHEATS. 
=> Steamer bag of veg… boring right?  So take 30 seconds and add a dash of pesto or hummus or a few sun-dried tomatoes.
=> Premixed undressed coleslaw and add your own greek yoghurt instead of mayo… a little light on?  Throw in some cherry tomatoes and avocado.
=> Premixed and pre-washed green leaves… build on this bass with some veg bake on mass (or frozen veg with pesto) a splash of balsamic and a tablespoon of hummus.
2. "Fresh vegetables are expensive" 
Your Solution: CHEAP EATS.
=> Mixed frozen veg… baking them with a spray of coconut oil does wonders. Then stir through a tablespoon of pesto before serving. (my fav is a mix of 'Chinese' stir-fry mix (no sauce) with Broccoli, Carrot, Green Beans, Capsicum, Baby Corn, Onion, however I tend to get what's on special).
=> Buy at the farmers markets where possible and always what is in season.  Recipes can be flexible… to me green is green (!) if a recipe calls for asparagus and it's outrageously priced I'm going to swap it for zucchini or broccoli.  Equally, frozen is often a cheaper option and if you're shopping at the supermarket there's a good chance it was frozen at a far fresher stage than the 'fresh' stuff on offer anyway.
=> If you're buying a salad (perhaps for lunch at work) split it in half so it lasts two days and pump it up with extra premixed and pre-washed green leaves AND extra protein. Bought salads are generally heavy on the cheaper stodgier ingredients or the light-weight lettuce so some extra greens and a can of 4-beans mix from the supermarket or sprinkle over a tablespoon each of pumpkin and hemps seeds plus a few of your fav nuts.
3. "Vegetables are bland and boring"
Your Solution: FLAVOUR TREATS.
=> Quick add ons: avocado, olives, sun-dried tomatoes, marinated artichokes, roasted nuts/seeds.
=> Finishers: Crispy brussels, Kale chips, Chili egg omelette slices (simply eggs and your fav low-carb chilli sauce cooked with coconut oil), hard boiled eggs (make these in bulk).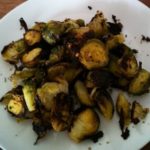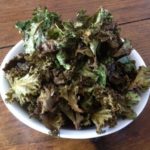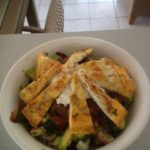 => Sweeteners: a little fruit goes a long way in a salad and can really liven things up.  When you have the time dry-fried fruit such as nectarine is gorgeous. Or there's the fresh and juicy approach like mango which becomes a self contained dressing. Or you can go fresh and crisp like pear/apple.
Simply using a good quality olive oil and sea salt works absolute wonders too.
4. "I get tired of thinking of what vegetable to cook" 
Your Solution: EASY REPEATS.
=> Set aside a couple of hours once or twice a week to make some veg on mass and freeze into portion sizes.
I like a big batch of baked veg.  Or ratouteille.  Or even a veg soup (not starchy based though) is a great idea.
Don't have a couple of hours for batch cooking?
When you're making some great veg at least make extra for tomorrow, it's not going to take much longer. My fav is to throw some extra zucchini/mushroom/capsicum/eggplant on the BBQ.
=> For breakfast or a light lunch bagging up some ready2go smoothie bags is a good option. In snap lock bags throw a couple of portions of veg, one portion of fruit, one portion of good fat. All it needs is a scoop of protein powder and a cup of liquid and it's ready to blend.
(it might look something like this spinach+cucumber+green apple+almond butter+almond milk+protein powder)
=> Making a big batch of a great dressing/dip is an easily repeatable way to turn unexciting into yum without much thought.  I'm not a cook, however I LOVE going home and having my mum's fresh made hummus with caramelised onions or basil pesto to dress up my veg/salad.
A couple of final considerations to help you get the most benefit from our fat fighting fibrous friends.
One) There is as much pleasure to be gained longer term from the HUGE benefits of eating awesome food as there is pleasure to be gained via immediate gratification of that fatty-salty-sugary-crap-o-la-old-addictive food.
Actually I believe there is way more pleasure in loving the way your body looks and performs 24/7 365 days a year than I could ever squeeze out of the few minutes it would take me to demolish even the most delicious hot chips or pizza or whatever…
Two) Boredom is a big block to healthy eating. Thankfully with age our palates change as our 9,000 taste-buds' reactions to stimulants mature. I used to hate asparagus, rocket, fennel, brussels & broccoli now they're all on the LOVE list! It's worth revisiting some veg that you have previously not enjoyed.
Ok, let's make this implementable. 
I'd love for you to take those taste-buds for a run and try:
=> One NEW veg.
(I only discover the joy of kale 12 months ago)
=> One PREVIOUSLY DISLIKED veg.
(brussel were gross until I learnt to make them crispy)
=> One NEW METHOD to prepare a veg.
(zucchini was bland until I tried it grated in salads and omelettes)
Here are a couple more ideas:
Grilled Zucchini/Mushroom Pizza's. Veg can be the perfect base for more veg.  Add some pesto or tomato paste, olives and fresh herbs and you've got a creative side dish.
Grilled Zucchini Ribbons. Texture can do wonders.  Try zucchini and/or yellow squash very thinly sliced lengthwise on a mandoline, threaded onto bamboo skewers, brushed with herbed oil and grilled till slightly charred. Serve with a greek yogurt and cucumber dip.
Do you have a super quick and easy or super yum and creative way with veg?
I'd love to hear it.