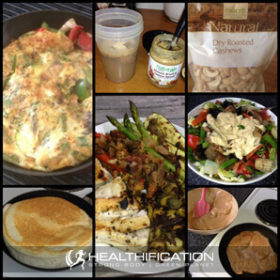 When it comes to my day to day eating I'm a fan of both quantity and quality.
I LOVE food and hate calorie counting.
I often want to eat till I'm full.  Or even just because I feel like eating.
I never want to waste energy thinking "can I get away with this?" or wonder "do I look fat in this?"
I know I'm not the only one who has spent way too many hours obsessing over something that should be simple, easy and natural.
Why do we make eating so hard?
The mere fact that we have an abundance of quality fuel should mean we have nothing to worry about right? 
SO WRONG THOUGH!!!
If you like the sound of an approach to food that ditches measuring, opposes restriction and can be modified to suit whatever eating style you currently favour (gluten-free, vego, vegan, paleo, intermittent fasting, 5:2…) then read on because I've got you covered.
I now spend exactly zero time stressing about the effect my food will have on my body.
No Guilt.  Or Failure.  OR Frustration.
My simple solution is to follow the guidelines of my 'Ideal Fat Burning Day' for the majority of the week.
(so to be specific, Monday to Friday with a little extra 'guideline relaxing' on Saturday)
First things first, this post presupposes you've already read part one: The Glorious Cheat Day.
My goal with part 2, is that I'd love for you to come away with a version of YOUR Ideal Fat Burning Day.
Specifically the STANDARDS that you commit to follow at least 80% of the time.
Before I share my standards, maybe you're thinking you already eat 'healthy'?
That's awesome if you're also already your goal shape – however, if you're not yet there, then we're talking a different type of healthy.
Not low fat.  or low calorie.  Or meal replacement.  OR cleansing.
The simple question to ask yourself in relation to your current approach to eating:
How is it working for you?
If your answer is: Not So Good, then here's how to get it working for you in 3 steps…
FIRST: 5 FAT BURNING STANDARDS that work.
Build your main meals around fibrous veg and lean protein.  
Eliminate processed carbs Monday-Friday and double your fibrous veg.
1/2 your dairy Monday-Friday and get more creative with herbs, spices and dairy alternatives. 
Drink a glass of water before any other drink or meal. 
Consume a protein shake within 30 minutes of every weights session. 
=> Do these standards look like something you could work into your daily routine?
Not sure?
This is what they look like on an ideal fat burning day.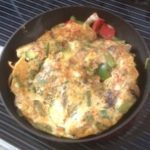 Breakfast: An omelette with 2 whole free range eggs and fibrous veg. I vary mine daily and always add some chill and fresh or dried herbs like coriander or oregano. I cook it with a spray of coconut oil.
This one had capsicum, tomato, mushroom and avocado.
=> if I'm being super lazy I'll just throw some frozen spinach cubes in a bowl, perhaps with some undressed coleslaw mix, add a couple of eggs and dried herbs and I'm good to go in 60 seconds.
(I do this when I'm making lunch or dinner the day before)
You have time for this.  Preparation takes 60 seconds.  I cook one side while I'm in the shower and flip it and it's as quick as toast.  I can do this before leaving home at 5.15am so I guarantee you can too!
The way I see it, even if food preparation were to take a little longer (and once you work out your personal Go2Meals that are quick and easy it doesn't) you are still saving yourself a whole heap of tedious and boring cardio time.  Eating rubbish and slogging away trying to out-train a bad diet is what really takes time…
I also have a coffee, home made with almond milk and natvia.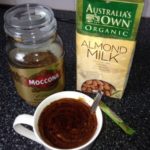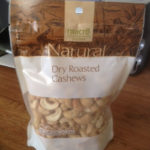 Morning tea: another coffee with almond milk and natvia + 75 grams of roasted unsalted cashews.
=> the goal is 50 grams, however I'll often demolish up to 100 grams.  If I really go overboard I might have less good fat in the rest of my day.  So perhaps a little less avocado at lunch or a less generous amount of olive oil at dinner.  
I call this 'the running tally' approach.  Where you have an idea – not measuring – just an idea of what you're consuming and if you go a little over (or a little under) you make up for it later that day.  It's a much more effective approach then considering your whole day a right off or existing in ignorant bliss so far as what you're consuming.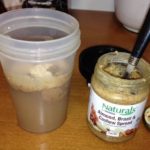 AFTER WEIGHT TRAINING: a protein shake with 2 scoops of low carb protein powder and water.  
=> today it also had a dessert spoon of nut butter.  Not normal, likely a result of the 6 vino's I had last night.  I keep my nut butter at work not home for this very reason.  It's a trigger food.  Better to have one dessert spoon in my protein shake after training than to DEMOLISH half a jar with a fork at home around 3.30-i-tis time!
=> protein after training is an absolute non-negotiable. Your body needs it's 'muscle fuel' after a weights session… and lean muscle mass is the ONLY way to increase your metabolism because muscle is metabolically active tissue that burns fat 24/7 while its just sitting there lookin sexy.  🙂
I used to believe that also consuming high GI carbs with my protein post work-out (to get an insulin spike and enable maximum protein utilisation) was vital.  However, for years now I've skipped the carbs and just focused on protein and it has not made a difference… unless we're athletes most of us do not need more high GI carbs in our day!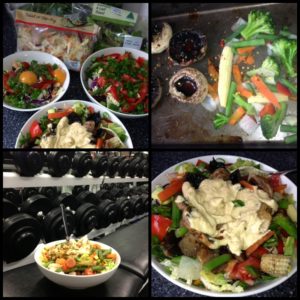 Lunch: a massive salad.  Green leaves with undressed coleslaw plus tomato, avocado, spring onion, capsicum, coriander.  Topped with mixed frozen veg and some fresh baked veg like mushroom and cauliflower. Dressed with balsamic and hommus.
=> because I'm home most lunches I prepare the salad for 2 lunches and the veg mix for the mornings omelette. It's about less time in the kitchen.
=> if I'm at work (the gym!) it's the same without the oven backed veg.
=> I used to have 100-125 gram of ricotta or cottage cheese instead of hommus on my salad. If you tolerate dairy ok that's still a good option, I'm just experimenting with zero dairy Monday to Friday.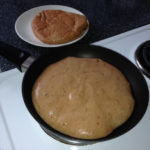 Followed by 2 protein pancakes… and another coffee.
I apply the concept C.A.N.I. to my nutrition (coined by Tony Robbins: Constant And Never-ending Improvement).  It's important to always be willing to question your current beliefs and habits and be open to change if a better option is available.  
I did this 6 months ago when I decided to eat fish again after being vego (no meat no fish) for 20 years.  It was a good decision.
Always looking to upgrade your eating when you're ready also removes the pressure of having to get it perfect from the get go.  As I mentioned in part one, I could never have started off eating like this and loving it. Upgrade at your own pace, as is realistic and sustainable for you.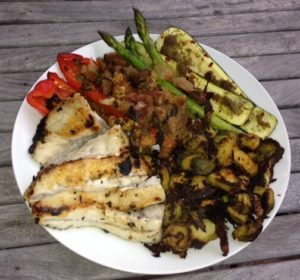 Dinner: fresh barramundi and veg.
Tonight was 160 grams of fresh Barramundi with some asparagus, red capsicum, a zucchini, 250 grams of crispy brussel sprouts and a small cup of my baked on mass veg mix.
=> I would get SUPER bored with only steamed or stir-fry veg.  I need variety in taste and texture.  Since I'm not someone who loves to spend time in the kitchen I'll make it easy on myself by doing a big cook up and freeze in portions once a week.  
My weekly cook up is baked veg: sweet potato, capsicum, zucchini, cauliflower, red and brown onion, eggplant, leek, garlic. I'll cook it with some olive oil and chill flakes and rosemary.
Your cook up could be anything that is easy to make on mass and freeze for either a quick protein component that just needs veg added (like lean meat patties or frittata) or a quick veg component like mine that just needs protein added.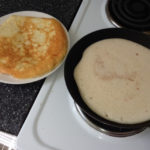 Dessert: 2 more protein pancakes.  
SECOND: Devise your own main meals and snacks that reflect these 5 FAT BURNING STANDARDS.
=> They need to be both manageable and honest.  By honest, I mean do not kid yourself.  Most people I meet know what to eat to lose weight, they just don't do what they know.
Breakfast could be: avocado, black beans, spinach and eggs OR an almond milk smoothie with kale, berries, nut butter and protein powder.
Lunch might be: a raw leafy greens + cooked fibrous veg salad with your fav protein enriched sauce (perhaps a tahini + hemp seed hummus) and a sprinkling of pumpkin seeds OR a zoodle (zucchini noodle) stir-fry with fibrous veg, dulse flakes and cashews.
Dinner may be: cauli-steak with field mushroom and onions, kale chips with nutritional yeast and broccolini OR mixed veg skewers with a rocket, red onion, mango and pine nut salad followed by protein pancakes.
YES, this takes time.  Initially.  It takes a whole lot less time than not getting the results your seeking does.
THIRD: Start at the level you're ready for and commit to Constant And Never-ending Improvement with your approach to eating.
=> tracking your food for a couple of weeks at least is super valuable.  It'll let you see the patterns and give you the feedback you need to out-plan the situations that jump in your way when it comes to giving your body the best fuel.
That's all it really is.
Your Ideal Fat Burning Day comes down to planning not discipline.
Zero discipline is required when there is no crap-o-la-craving-causing-trigger-food at hand.
Time is no longer a valid excuse once you've come up with your own quick-and-yumbo-yet-nutrious-options.