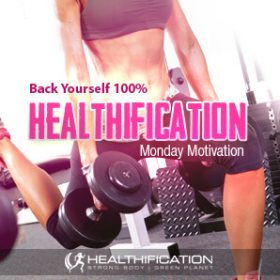 Podcast: Play in new window | Download
Subscribe: RSS
If I had to start my body transformation journey again… in fact if I got the chance to speak to debilitatingly shy teenager Kate or even fake confidence Kate of her early 20's my best advice to me – and to YOU – is to Back Yourself 100%.
I used to believe I was attracted to confidence.  Even arrogance.
Perhaps because those tight-tee-shirt and gold chain, bicep-kissing dudes who spent longer on their hair and used more varieties of moisturiser than me were the opposite of me… and opposites attract right?
However the far superior and more attractive trait to cultivate, is not unsubstanciated confidence, and it's absolutely not arrogance… it's CERTAINTY of self.  
And although I'm still down with tight-tee-shirts… certainty of self comes from a far deeper and I believe more genuine place.  Certainty of self is when you know what you stand for and why.
It's when you'll back yourself to come up with the goods regardless of the hand you're dealt.
In todays Monday Motivation show I'm focusing on the importance of having Certainty of Self and in Backing Yourself 100%.
To have absolute certainty in your ability to achieve whatever you desire so long as your intention is always genuine.
To never be swayed by the opinions of people you do not trust, like, respect or believe to be genuine… in saying this it seems odd that you could allow this to be the case (I absolutely did though).
I spent years believing other peoples certainty in their-self… at times unwarranted certainty and un-proven ability… while I gradually let my own certainty of self get eaten away.
You see certainty is contagious. And the reverse is true. You teach others how to treat you, so if you want others to have faith in YOU, then you must first have faith in you.
To have certainty in your ability to achieve your goal does not mean you know exactly how you will do it. It just means you're backing yourself to stick with it as long as it takes.
Here are 3 hugely compelling reasons to have certainty in YOU and to back yourself 100%:
1. TO BACK YOURSELF 100% is Freedom from Overwhelm.  Why? 
How about if instead of seeking certainty in the circumstances around, you instead choose to have 100% certainty in yourself?
You can never control everything that happens around you… and that could be overwhelming right?!  You can always control your response.  That is Freeing.
2. TO BACK YOURSELF 100% is Control.
When it comes down to it the only person you can control – is you – to seek certainty in other people is to court disappointment.
I'm not meaning to be a kill-joy however, I'm sure even the most reliable, consistent, generous person you know has let you down.  How could they ever get it right all the time – by your definition of right – when we all have unique values, beliefs, experiences and priorities?  It's not possible.
3. TO BACK YOURSELF 100% is a Goal Achieving Success Strategy.  
The thing that everyone I've met who is successful in the body gain game – or anything – does, is they keep going.
The only way you can keep going when it gets hard, frustrating and UNfun is if you back yourself 100%.  Consistently taking action, learning to know what is working, having the discipline to change what isn't working and sticking with it for as long as it takes.
Let's make this actionable.  Certainty of self is not a natural gift you either have or have missed out on.
You can cultivate it.
The strategy is to make it easy on yourself by starting with achievable reference points for success.  Little goals that when achieved one by one will build your faith in you.
What is one daily action that you can start with today that in 30 days from now you'll feel happier and healthier for having backed yourself and committed to?
Start small and achievable, like perhaps including some protein at breakfast each day. Or having a glass of water before each meal.  Perhaps getting up as soon as your alarm goes off each day?
If you liked this you'll also like: Work Smarter NOT Harder… to make weight loss easier on yourself.
If you're yet to share the Healthification love – just click here to zip over to iTunes and leave an honest rating and review. It'd help me out big time. With gratitude, Kate.