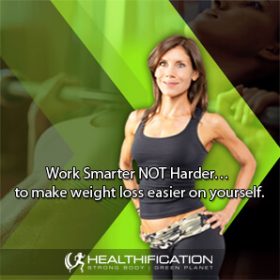 Today I asked a dear client and friend: Do you think the guys and gals who are absolutely-outta-control-excelling in business wonder WHY everyone else is making it so hard on themselves?
You can see where I'm going with this right?
To me weight loss is simple. There are set, reliable actions to be taken and 100%-totally-absolutely-guaranteed IF you take these actions consistently, for long enough, you will get to enjoy awesome results.
I think other areas of life are less simple.
You can take the right actions in business and in relationships and still not win.
(whatever win is for you).
However with weight loss, nature is neutral.  You get the results for the effort you put in.
Do you agree?  Disagree?
Yes, taking those right actions is certainly NOT EASY and that is where mindset comes into play…
I believe the mindset component is as vital in all other aspects of life as it is in weight loss.
The ability to back yourself 100%.
To focus on the positive and nurture the ability to always find the learnings and relentlessly seek out the 'How to' approach while stubbornly ignoring a 'Why me' victim mentality.
To prioritise always taking that one next step forward.
To resist the urge to start making excuses… because then where do you stop?
AND to never ever EVER give up. 
With weight loss once you have the mindset component locked and loaded here are 3 set, reliable actions to guarantee results:
1. You will never out-train a poor diet.
It took me years of punishingly boring and time-consuming cardio to learn this. I proudly gobbled my way through a 'low fat' carb-fest approach to food… held prisoner to the calorie in v. calorie out battle and sacrificing countless hours to the hateful stepper and cross-triaining machines.  I felt restricted because I was avoiding a lot of food and I felt like I was working hard because I was enduring a lot of exercise… however I wasn't seeing awesome results.
Until I saw the light.  Calories are nothing to be scared of.  Real food is your solution.
=> build your meals around One Ingredient Foods.  Start with fibrous veg.  Add lean protein.  Finish with satisfying good fat.  Like grilled snapper with mushrooms, zucchini, crispy brussels and some olive oil.
2. Your body was built to move. No, like move even MORE.
A couple of half hour intense weights sessions are fantastic, however they alone can never account for the hours and hours less movement modern life has made the norm.  Think of your 'moving' time as precious you time – be grateful that you have the time, money and physical capacity to move. 
=> aim to move at least 30-60 minutes a day. 6 days a week, non-negotiable. On top of your weights: walking home from work, a lunch time jog or simply getting up 30 minutes earlier to get that early am movement in are all great solutions.
3. Water is your best bodies underrated secret weapon.
Not because it has zero calories – because it is necessary for bodily function.  It also fills you up, energises you AND stops you reaching for food – or coffee – when really you are just thirsty.
Compare drinking a glass of water to declining your fav cookies or getting yourself to spin glass after work and it's an easy willpower win right?  We just take it for granted.  If fresh water was hard to come by – and you hadn't had any liquid for 24hours, just how good would it taste then?
=> You know the drill… ditch the empty liquid calories and upgrade to at least 8 glasses of water a day.
And 3 keys to remember for long term results:
Quick fix = Zero results.
Too good to be true, is.  The best way to ensure a sound approach delivers zero results is to stop-start-program-hop or try to incorporate the bits you like the look of from multiple approaches.
Instead: Decide on a program endorsed/created by someone who has the results you are seeking AND who leads a lifestyle you could see yourself leading.  Stick to it for the time it suggests… and believe in your ability to achieve your goal.
Starvation isn't sustainable.
If you feel unhappy and restricted it's only a matter of time before that outta-control-binge-fest.  And your body is smart, as you try to starve it of fuel it'll invoke the infamous starvation response and slow your metabolism down.  It'll even sacrifice your metabolically active, sexy, lean muscle mass to try and slow down your fat loss.
Instead: Focus on adding as many one ingredient super fat burning foods to your meals as possible. Make it a priority to discover 'How to' fuel your body the best food you can, even in more challenging situations.  It'll take a little planning however each solution you find is absolutely recycleable so in time the best choice will be no more effort than the crap-o-la choice.
Don't fall victim to the fake food cycle.
It's not about calories it's about quality.  Poor quality food makes you crave more poor quality fuel.  It's addictive.  Really, scientifically proven and systematically engineered ADDICTIVE.  Your body is crying out for the vital micro-nutrients it's missing out on when you feed it 'diet' this, 'lite' that and 'fake' whatever… however it feels like a desperate cry for another Oreo or more butter-pecan-chic-fudge-ripple ice-cream right?
Instead: Resist the urge to start making excuses with your food.  In a surprisingly short time, eating great fuel allows you to escape the addictive fake food cycle and becomes natural, sustainable AND even super enjoyable.
Here's a scary thought…
To lab rats, Americas favourite cookie the Oreo, may even be as addictive as cocaine or morphine.
(as published in the Connecticut College News 15 October 2013)
A professor of neuroscience Prof. Schroeder states: "Our research supports the theory that high-fat, high-sugar foods stimulate the brain in the same way that drugs do. It may explain why some people can't resist these foods despite the fact that they know they are bad for them."
Hmmm, so zero really is a lot easier than that old 'everything in moderation' myth.
Ok, love to hear your thoughts.
Is there an area of your life that comes comparatively easily to you (perhaps it didn't used to and now it does) and do you look at others and wonder why they make it so hard?  Or, (as I do!) ponder "WHY DID I" used to make it so hard?
Or perhaps you just want to know how to be as focused and motivated in weight loss as you are in other areas of your life? Over to YOU.