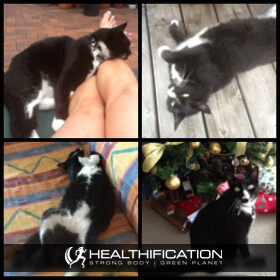 Mad cat woman warning: I will talk about a cat in this post.  Even call him Sir Thomas or my little bro…
Meet Thomas the moggie. Don't tell Thomas he's a moggie because half the time he thinks he's a dog and the other half he thinks he's human.
The thing is there are a few things us humans could learn from Sir Thomas…
My little brother leads a pretty charmed life.  I'm not sure how much of that is because he had the good fortune to be plucked from the SPCA as a kitten by my mum and taken to home to rule house Galli on Noosa sound OR because he just assumes the best and makes the most of any given situation.
This visit I arrived home for Christmas and was secretly slighted to see I was no longer the fittest leanest sibling.  Usually described by the vet as 'fat and happy' my little brother appeared to have been in training… or perhaps a neighbour that had been feeding him had simply moved away?
Anyway, Thomas was looking even better than usual.  The thing is extra half kilo or not he assumes you'll love him the second you meet him anyway.  And he's usually right.  
How many of us waste energy worrying about what others think of us?  Fearing whether we measure up?  
Are pretty enough. Thin enough?  Smart enough?  Successful Enough? ENOUGH??? 
Yes, Thomas does have some pretty cool tricks up his furry sleeve for the 1% of people who don't realise instantly how special he is.  As my dad proudly recounted this trip:
"We had a colleague form New Zealand visiting with his partner.  Now this guy is not a cat person.  He'd heard the obligatory 'Thomas stories' and as Thomas strutted past while the humans enjoyed a drink on the deck overlooking the sound he commented with a little distain "so this is the famous Thomas?"
The humans went back to their conversation with barely a further mention of my little bro and Thomas settled down on the edge of the deck to watch the water.  Intently.  At which point non-cat-loving-human exclaimed "Thomas is watching something" and mum played it down "he's a mad cat – it's all in his imagination."
A few minutes later Thomas leapt though the deck wire, across the sand, into the water and emerged with a live prawn in his mouth. 
"I wouldn't believe it if I hadn't seen it with my own eyes" admitted not-quite-so-non-cat-loving-human."
And those things are translucent uncooked exclaimed my super proud father.
I privately wondered whether I would need to resort to catching seafood in my mouth to elicit that level of paternal pride.
However the real lesson #1, is not how to complete with your little brother who is a cat (!) it's:
To assume rapport with everyone you meet.
Let go of judgement – particularly the judgement you level at yourself.  Be genuine and unique and YOU.
Lesson #2 was replayed for me approximately 3 times daily.  At meal time.  As Thomas would sprawl across the middle of the kitchen floor supervising meal preparation.  He doesn't want the food unless it's snapper or prawns he just feels the need to make sure you're not stuffing it up.  As 3 pairs of feet carefully negotiated each other and the long cat body in the middle of all the action – I realised Thomas is awesome at:
Vulnerability and Trust.
It's said vulnerability is true strength.  And trust is a gift both to the person you give it to and to yourself.  How freeing to believe that everyone wants the best for you and would never intentionally hurt you.
Lesson #3 is shown in the way Thomas gazes lovingly up at you as you scratch his belly, follows you around the house or from deck-side to pool-side to deck-side and also in the rare instant when he does get right under your feet and the unavoidable happens – that squawk as you mistakenly stand on his little paw or crazy long tail. As you are flooded with guilt it's ok because Thomas is also a master of:
Unconditional Love.
I've come to wonder whether the expectations we enforce on love cause us more pain than happiness?
The completely subjective 'this means'… the criteria and conditions and analysing and scrutinising …wouldn't it just be easier to give love unconditionally and accept it unconditionally too?
Humans reason ourselves right out of results when we over-think things and I'm starting to believe we could reason ourselves right out of love too.  
Perhaps there's value in keeping it simple.
Cat style.
To forgiving and accepting and appreciating the little things. Those simple things that it's all too easy to take for granted.  Like great company (human or animal), luscious food and drink, gorgeous weather and stunning views. These are a few of the things I'm feeling supremely grateful for right now.
Ok, over to you, I'd love to know what you're feeling grateful for today?