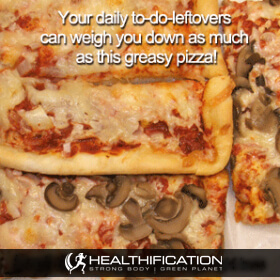 Are your daily leftovers weighing you down?
Your daily to-do-leftovers can weigh you down as much as that greasy pizza congealing in the fridge!
We all have them.  Those daily tasks we always make time for and also the ones that always seem to miss out.  Looking at last months goals I have some repeat offenders.
I'm guessing you have them too? Items that have appeared for weeks and perhaps even months.
An initial qualifier: Is there value in doing it?
It may seem obvious however given you are going to have to give something up to make a new habit stick, is this new habit of greater value?  Best case scenario, if the habit when performed consistently can lead to the result it has delivered for other people then is that going to be a better outcome than what you're currently getting?
Looking at my recent repeat offenders here are some of the reasons that led to my inaction:
1. I don't know when I'll see a result.
equally: I'm certain I won't ever see any result if I don't do it.
=> Can you remember when you stuck with something without a guaranteed finish line and got there?  It was worth the persistence right? For me this was consistent little tweaks to my already pretty good nutrition and training to FINALLY strip off my annoyingly resilient thigh fat!
Keen to know my little tweaks?
I call them My F.A.T. E.L.I.M.I.N.A.T.I.O.N. Standards and they're yours…
Just CLICK >> fat elimination tool << and this Free 4 page PDF is yours instantly, with zero opt-in.
2. I don't know every step.
equally: I'm certain someone else has done it… and I do know the next step.
=> I bet you can also recall a time when you didn't know every step at the outset and still got through just fine.  Personally, this can be any one of about a thousand steps to do with my website/face-book ads/auto-responder/seo… I'm constantly starting things that I have no idea how they'll finish.  If there is value in doing it then you need to back yourself to stick with it until it's complete.
3. I'm expecting some discomfort as I take UNfun actions or acquire a new skill.
equally: I know some of the most rewarding things I've ever achieved required a level of discomfort.
=> Remember when something that used to be uncomfortable became normal or even enjoyable? Super satisfying right? I'll use weights for this example: I used to feel out of place of the weight floor.  The machines were intimidating – as were the territorial, muscle bound men. However now it's home, I love lifting and the confidence that being strong gives me.  If you're not there yet, know that it will only get easier.  Also know that you're NOT out of place in the gym, I have only massive respect for you as you stick with it through the awkward period of acquiring a new skill.
4. I'm exaggerating the time and energy required.
equally: Right now I'm wasting time and energy not getting it done… and it's weighing on me.
=> Even 10 minutes to just make a start is better than nothing.  Starting is the toughest.  Once you've taken that first step odds on you'll continue.  This is perhaps my biggest pain point and biggest motivator as well.  It is lazy thinking to just assume "I don't have time."
What I'm hugely incentivised by right now is the fact that every little thing of value that I keep not doing – and yet not letting go of – is sapping energy for zero result.  So many examples: I do it with tax.  And swapping any sort of phone/internet plan or account… actually anything that I need other peoples help to sort can be something I'll stall over.  It's taken time in the past so I assume it'll take time in the future… and it's tedious.  The thing is, NOT doing something is the biggest time and energy suck – and it's pretty tedious seeing those repeat offenders appear week after week right?
So here's the to implement list for YOUR to-do-leftovers;
=> Decide a set period of time to stick with it at the end of which you can assess the result and decide whether to continue or not.
=> Write down the next step.
=> Commit to a little discomfort… know that each day it'll be less.  And if it helps decide on a reward at the end of your set period of time.
=> Give yourself a daily time limit for each habit/task. Start off with super achievable and lock in a time of day too.  Maybe it's not as rigid as @3pm… it may be straight after the 90 minute focused block of work you do following lunch.  (that could be @4pm or 1.30pm for me so I set 'time of day' guides that make it easier for me to succeed).
BONUS implementation point (!) this week as you may have guessed I'm dealing with some to-do-leftovers.
=> As well as the 4 points above I'm loading them with as much emotion and positive focus as I can.
So, as I've decided an hour a day is a realistic period of time to make available for these left-overs (I have 3 of them – you may have just 1 or more you want to deal with at a time)… I'm calling it my Hour of Power.  I didn't coin that, however it resonates with me.
It's structured like this: 10 minutes of meditation.  20 minutes of client communication.  30 minutes of video.
It's a lot more appealing to think of my hour of power that starts off with a super achievable 10 minutes of 'me time' meditation than to feel anxious at the hours and hours I could commit to any one of these to-do-leftovers.
Ok, over to you.  What is a to-do-leftover that you're ready to deal with this week?