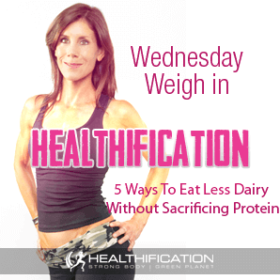 Podcast: Play in new window | Download
Subscribe: RSS
A couple of years ago I drastically reduced my dairy intake. I did it because not knowing every detail in the whole pasture to plate process was starting to freak me out… however, ethics and food quality aside I experienced an unexpected awesome benefit.
Less bloating. Actually, zero bloating.
Like many foods your ability to process dairy and its subsequent effect on you on body will be unique to YOU. Perhaps you don't suffer from the bloating or the puffiness that many people do. Maybe dairy doesn't have an adverse effect on your skin. Or your waistline.
I actually didn't think it did on mine either until I first reduced and then completely ditched dairy.
If you're keen to give less dairy a go – just to test it out and see if you like the results – then todays show is for you:
5 Ways To Eat Less Dairy Without Sacrificing Protein.
One: Smoothies.
I know I'm starting easy with this one. Smoothies and protein shakes really are a simple fix. Back when I first ditched cows milk I'd guzzle 1 litre of soy milk in my whey based protein shakes each day.
I super don't recommend that! I now know Soy IS fine (I write about the smear campaign to label it a non-healthy health food that mimics the effect of estrogen in your body and leads to extra fat storage in estrogen sensitive areas here) yet Whey is not! It's still dairy, it's still made from cows milk created for baby cows.
Now there are so many vegan protein powder options. I like a combination of brown rice, quinoa, pea, hemp… the list goes on. I generally actually just add water as the liquid in my green smoothies however unsweetened coconut water, almond milk, cashew milk, SOY and any number of other options and even combinations like coconut-almond milk are fab.
A couple of considerations: Check for unnecessary sweeteners as some still have cane sugar added. I also prioritise getting almond milk with a decent amount of calcium per serve (general 188 mg per 200ml).
Here's a recipe for a High Protein Dairy Free SmoothieI call: The Green Supreme.
handful of Kale
a large'ish Broccoli Stem
1/4 Cucumber
1/4 Avocado
1/2 Green Apple
200 mils Coconut Water
1 scoop Vegan Vanilla Protein Powder
Optional: 1/2 teaspoon Spirulina and 1 tablespoon Chia Seeds.
I'll cover more dairy free breakfast recipes next week in Part 1 of my: 7 Day High Protein Low Carb Vegan Meal Plan.
Two: Snacks and Dips.
Nuts, seeds and nutritional yeast are great substitutes in many dips that might have used dairy. However store bought versions can contain cheap oils and unnecessary sugar.
I recommend scrutinising the labels or just making your own. My free e-Book: 3 Day Easy Vegan Plan shares my Zucchini Hummus recipe and here's a link to my recipe for: Dairy Free Pesto.
One of the snacks I would have thought I'd never give up is yogurt.
Yogurt to me is now the perfect example that taste is not enough. You can change your love of something by consciously focusing on how you don't love what it does to your body.
I have an extreme and again hugely UN-recommended example for you!
A few years ago I got such an evil case of gastro that I lost 6 kilos in one week. If that sounds tempting please know it was pure hell. I wanted to die. Prior to gastro striking I was my goal weight / shape so I pretty much just lost muscle and was scarily skin and bones within days… eventually I lost 10 kilo's. It really didn't need to go that far though.
I got impatient. I wanted to build my body back up… to stop sacrificing muscle, to nourish (or perhaps demolish!) before my body was ready for anything but water, toast and apple.
I was madly-outta-control-CRAVING yogurt!
Now if you know even the tiniest thing about gastro and upset stomachs it's that they don't like dairy.
I did know that. However I convinced myself my body knew what it wanted and it wanted: YOGURT!
Needless to say it didn't go well. I'm sure I set myself back days.
I actually don't eat any yogurt any more. However if I felt the urge I'd try a clever looking recipe I found on  breakfastcriminals.com for homemade probiotic coconut yoghurt. Check out this recipe with only 2 ingredients:
Canned full-fat coconut milk
Probiotic capsules
…as it takes a little stirring and sitting etc.
Three: Eating Out.
I'm not at the point where I'd check if any butter was used in the cooking of my meal… yet. If you are full credit to you.
If that sounds a little extreme there are some easy ways to eat less dairy without sacrificing protein when eating out.
I'll always scan the menu to see what else is on offer as sides or even in other meals that might be able to be added to my meal if I ask politely enough. When removing something (like dairy) ideally you want to add something in it's place so you don't feel deprived, restricted or just hungry! For example…
=> the easiest swap is your milky coffee to black or almond milk which is getting more accessible.
=> ricotta, feta or other cheese in a big breakie can easily be swapped for avocado, mushies or anything green.
=> choose a chia based breakie bowl rather than yogurt based.
=> cheese is generally super easy to dodge in pre-made salads and sandwiches. If they're not pre-made this is your chance to "hold the cheese please" and ask for a little of something you've spied elsewhere on the menu. Perhaps some nuts over the salad or extra #plantprotein in your sandwich.
=> at more casual places and certainly with food courts and takeout I have zero hesitation in subtly adding some nuts or seeds that are easy to carry with you to an under protein'ed meal.
=> choose sorbet over ice-cream… although know it's full of carbs, so even better skip dessert out and check out my fifth point on Dessert. 🙂
Four: Cheese.
Almost any variety of cheese can be substituted with nut based cheese. They are super easy to make – delicious –and limitless in potential for flavours and textures. The Raw Chef Russell James makes some particularly stunning looking nut cheeses and I'll link to his site in the show notes.
For the less chef'y such as this little NON-cook (!) here is a Basic Cashew Cheese recipe that's great to sprinkle over zucchini pasta or vego nachos:
1 cup raw cashews (soak for 2 hours and drain)
3 tablespoons fresh lemon juice
1/2 teaspoon fine sea salt
1 sachet of Natvia (natural low carb sweetener)
1 tsp chili flakes
1/4-1/3 tablespoon water
To make it's as simple as blitzing everything together in a blender. It'll more resemble a crumbly parmesan texture however I'm sure you could experiment with more liquid to get it smoother.
For the even simpler sprinkle not blend option I'm a huge fan of nutritional yeast. It's different to bakers yeast and conveniently will give you at least 3 grams of protein per flat tablespoon and additionally as I cover extensively in the #347 show High Protein Low Carb Vegetarian – My Day On A Plate (Part 2): a generous tablespoon of nutritional yeast that has been fortified with B12 can contain 100% of the recommended daily B12 intake.
I'll use nutritional yeast to sprinkle over my kale crisps or over my omelet. It's also brilliant in pesto, kale-cauli tabouli and vego chilli.
Five: Dessert.
I'm late to the plate (so to speak!) on this one however: How good are chia seeds?
=> I use them in a little mini dessert after a meal that might have been a little low on protein. Here's my Chia Protein Punch:
1 scoop of raw vegan choc Protein Powder (I use Sun Warrior)
1 tablespoon of chia seeds
100 mils almond or coconut milk
4-6 cubes of ice
I blend it in my nutribullet and that's it… an additional 20 grams of dairy and carb free protein deliciousness.
=> If you're not worried about low carb then banana ice-cream is an awesomely easy option which while carbie can be made from only high quality ingredients. It can be as simple as a couple of frozen bananas blended with a couple of scoops of your fav (Whey free) protein powder or raw cacao.
Or to get a little more creative here's a recipe courtesy of lilsipper who's fab instagram account has plenty more ideas. Dairy Free Mint Icecream:
2 XL very ripe frozen bananas
4 medjool dates
1-2 drops of pure mint oil
A handful of spinach
Like in a smoothly you won't taste the spinach however it'll give you the right colour! Blend all ingredients till thick and creamy. That's it however you can absolutely go to town with garnishing – making your dairy free dessert upgrades appealing to your 'minds eye' is vital. Perhaps a few mixed berries, roasted nuts and shaved coconut.
As with any nutritional upgrades you make the toughest thing is going half in.
Whether we're talking Dairy or Refined Carbs or whatever I genuinely believe your taste buds will crave what you feed them. So if you're still eating manufactured on mass low quality ice-cream, cheese sticks and yoghurt half the time your one ingredient based upgrades will likely taste a tad disappointing.
That's because your taste buds have been dulled to the taste of natural… they expect-Crave-NEED their fake fix.
I hope you'll try some of these dairy free options, In fact that's the action step for today: What's the one dairy free upgrade you're up for giving a whirl?
In my experience it's absolutely worth experimenting with. I genuinely miss dairy about as much as I miss bloating!
That's it for me today. I hope you can join me for the Friday show, after some fab feedback it's: Weekly Wrap #3. 
If you liked this you'll also like: 5 Ways To Eat Less Meat Without Sacrificing Protein.
If you're yet to share the Healthification love – just click here to zip over to iTunes and leave an honest rating and review. It'd help me out big time. With gratitude, Kate.