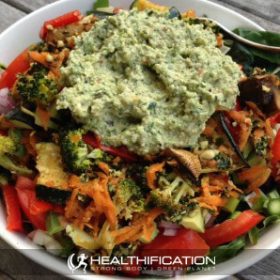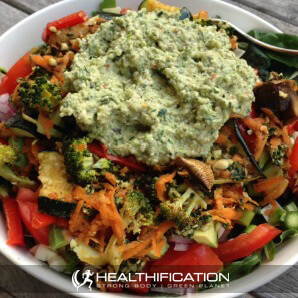 Podcast: Play in new window | Download
Subscribe: RSS
Fellow VEGO's today's show is part 2 of:
My Day On A Plate.
A follow up to show #346: High Protein Low Carb Vegetarian. Today is all about dinner. It's also a chance to see how my normal day stacks up so far as those vital micronutrients us vegos can miss out on.
To recap we covered BREAKFAST and LUNCH in show 346 and as a healthy, active 38 year old female my ideal target for those chosen nutrients each day would look like this:
1,000 milligrams of Calcium. 
18 milligrams of Iron. 
4-7 MICRO-grams of Vitamin B12.
500 – 1000 milligrams of Omega 3.
8 milligrams of Zinc.
If you're yet to listen to Part 1 you may well be asking: But what about PROTEIN??
I'm glad you asked!

Let's do the numbers. On a normal day, a day exactly like this 2-part post details I clock up:
60 grams+ of protein via Raw Vegan Protein Powder. That's 4 scoops.
Yes, that's likely a little excessive and more than most people need however I'm being honest with you. The breakdown is 1 scoop in an after training protein shake. 1.5 scoops twice a day in my protein pancake mix.
7 to 15.4 grams via 50-100 grams roasted unsalted cashews.
5 grams via tahini.
3 grams via a tablespoon of hemp seeds.
3 grams via a tablespoon of nutritional yeast.
14 grams via 2 whole very large eggs.
30 grams via 8 more very large egg whites.
Again, those egg whites are excessive however my body composition goal in quite extreme and I love the pancakes I make them into AND I believe they save my a bunch of emotional eating as I'm never hungry or deprived.
[100% Plant Based Update]
Instead of those eggs via protein pancakes I now follow lunch and dinner with a mini dessert of 1 tablespoon of chia seeds + 100 ml almond milk + a scoop of vegan protein powder… all blended with 3 ice cubes in the nutribullet.
Instead of those eggs via my omelette for dinner I now enjoy a massive vegan curry with kale crisps and plenty of nutritional extras to account for adequate Calcium, Iron, Vitamin B12, Omega 3 and Zinc. I detail a week of vegan dinners here:
So far without even the HUGE amount of veg I consume that's at least 126.5 grams of protein.
It's more than enough so far as the super easy recommendation I made in show 346 of 100 grams a day.
The amusing thing is it's vastly more protein than many of my meat eating friends which in part is because the fuel you give your body is my job – I LOVE IT – I take it super seriously yet also it's because being vegetarian causes you to choose your food with a lot more volition rather than just settle for whatever is most easily on offer.
Let's get back to the meal at hand and it's…
Meal three: DINNER.
For around a year I actually ate fish for dinner with a massive assortment of veg. And when I mean a year, I mean every single day for 12 months I'd eat either Snapper, Barramundi or Salmon.
Strangely (!) I think I overdosed… I started to get grossed out by eating fish. If your a vego that eats it that's cool – you're got your evening protein sorted however I decided to implement my own advice from the 336 show on: 5 Ways To Eat Less Meat Without Sacrificing Protein. Way #5 is eat breakfast twice a day.
That means I'm having a huge omelette for dinner. I'll also have something with a crispy texture like kale crisps or brussel crisps. And of course I'll follow it with my protein pancakes.
Today's omelette was, a big handful of spinach, several mushrooms, 1 cup mixed of cauli and broccoli, 1/4 red capsicum, a few slice of red onion, a couple of asparagus, some coriander, 2 large free range organic eggs and flavoured with chill flakes, smoked paprika, onion and garlic flakes and mixed dried herbs. I cook it in coconut oil. 
I also had 1/2 a bunch of kale made into crisps with a pinch of rock salt, a teaspoon of olive oil and a heaped tablespoon of nutritional yeast.
I then followed it with a couple of protein pancakes just like at lunch. So that's 4 egg whites, a super heaped scoop of protein powder and a sachet of Nativa.
Here's how my omelette + kale crisps + protein pancakes rank on those 3 common vego misconceptions that I mentioned in part 1. To recap the misconceptions were that vego food is:
One: Void of many vital nutrients and a poor source of protein.
Two: Boring and bland.
Three: Tedious and time consuming.
=> With multiple different colourful veg dinner is chocka full of micronutrient. It's also got a heap of protein in the form of whole eggs, egg whites and protein powder.
On the days when I don't have kale crisps I'll often actually sprinkle that nutritional yeast over my omelette as the second side cooks… it's delicious.
Specifically so far as micronutrients:
So far as IRON. A big handful of Raw Spinach will give me around 1.2mg.
(9.1/18 milligrams of Iron)
So far as CALCIUM. 1/2 cup Broccoli contains 47.5 mg. 2 cups (it's at least that!) Raw Kale contains at least 360 mg.
(1,000++/1,000 milligrams of Calcium) 
So far as ZINC. 1/2 cup cooked Broccoli contains 0.4 mg. 2 cups Raw Kale contains at least 1.12 mg.
(6.12/8 milligrams of Zinc)
Let's talk OMEGA 3's. 2 large eggs have around 20% of my daily requirement. I had my omega 3's sorted with hemp seeds however the eggs are a bonus.
(1,000+/500-1000 milligrams of Omega 3)
Finally, let's talk VITAMIN B12. 2 large eggs have around 20% of my daily requirement. A generous tablespoon of nutritional yeast that has been fortified with B12 can contain 100% of the recommended daily B12 intake. So in one meal I've sorted B12.
(4-7+/4-7 MICRO-grams of Vitamin B12.)
=> Regarding boring and bland? Like the smoothie and the salad anything goes in an omelette.
I honestly believe that. Whatever veg you love try it in an omelette. Even more flavourful things like sun-dried tomato, olives or perhaps avocado… I've even had almonds in an omelette (that was at a cafe) and it rocked.
=> Outsmarting tedious and time-consuming? I make omelettes quick by chopping extra veg at lunch and throwing them in a bowl for dinner. Short cuts involve mixed frozen veg however generally I go with fresh and again… I'll get my podcast on (not MY podcast!). Since I mentioned it – and now I'm off track – here are some of my current fav Go2 podcasts to make the most of my food prep time:
TAG or Think Act Get with James Schramko and Ezra Firestone.
The School Of Greatness with Lewis Howes.
The Tim Ferriss Show… and for a change of pace,
So we're on the home straight with my normal eating day however you'll see that although this day on a plate is rockin, so far as PROTEIN, CALCIUM, OMEGA 3's and VITAMIN B12…  (if you're curious to check out the breakdowns to get an idea of how your day might look I've taken the show notes for you – just cruise to strongbodygreenplanet.com and search 347) …the 2 things I look to be lacking in are:
IRON at 9.1/18 milligrams of Iron I'm only at 50%.
ZINC at 6.12/8 milligrams of Zinc. I'm at 75%.
It's funny how your body craves what it needs though… I thought I'd research some high zinc options for both of us and it seems my most fav veg made the top 10 list!
Clocking in at .9 mg per 100 grams MUSHROOMS are a great source of zinc! I have at least 200 grams of mushies a day so that puts me spot on target for zinc.
If you're not a fan, other non seafood vego options are pumpkin seeds and also… cocoa.
So that leaves iron.
Interestingly (and I'll link to the website I'm using in the show notes) in this top 10 list of iron rich foods pumpkin seeds is #1. Before even liver. At 7.5 mg per 50 grams I might need to start sprinkling some pumpkin seed love over my salads!
Or even turn my lunch time avocado into a little guacamole by mixing it with garlic, herbs, seasoning and a generous 1/2  teaspoon of Spirulina to sneak in a dash more iron.
Or maybe not. If you feel like you may also be lacking in iron, it seems dark chocolate and cocoa also make the top 10 list.
Now as much as I don't believe I'm a chocolate fan I do have 4 scoops of Raw Vegan Protein Powder a day… and guess what, it's chocolate flavour and flavoured with raw organic cocoa!
1 square (29gm) of dark chocolate contains 5 mg of iron. I'm not sure how much I'm consuming however, for now, I'm going to roll with close enough is good enough. As today is already-almost getting a little too exacting for me.
I've found it fairly fascinating though. I hope you have too.
To get actionable today, in the Monday show I asked you: What is the ONE food upgrade you're up for implementing this week? If that's happened and if it's going well that's all you need to continue with.
If you're yet to implement OR if perhaps it hasn't worked yet (like I guarantee a full teaspoon of Spirulina in my smoothie would NOT work for me!) then this is the time to choose that next ONE food upgrade. Some will stick. Some won't. It's simply a matter of constant, gradual upgrading.
In closing: vego or vegan or carnivore – your goal is unique, as is your lifestyle, your likes and dislikes, your family situation… and financial… and work… and EVERYTHING! It's about what works for you and YOUR body.
This is just works for me, for now.
If this sounds like a lot of food?
Please know I'm fairly active and I've spent a lot of time and many years building a decent amount of lean muscle mass which makes my metabolism faster.
If this sounds like not much food??
No one ever says that to me however just in case (!) please know that I drink 2 bottles of Shiraz a week and a few vodkas too.
Alcohol is my vice. I love it and I believe if I didn't drink I'd be able to get away with a lot more (or more-so) a fair bit more less clean (!) food. However that is not the least bit appealing to me.
With that a big CHEERS to you and to today in Healthification.
I hope you can join me for the Friday show where I'm covering: Little Habits That Keep You Stuck.
If you liked this you'll also like: My Food Diary: Cheat Day + Ideal Fat Burning Day. (part two)
It's 100% free. It's fun. It's easy.
Here's what to expect each day: 3 abundant plant based meals. An awesome equipment free fat burning workout. And also the mindset tips that make your best eating and exercising choices simple and sustainable.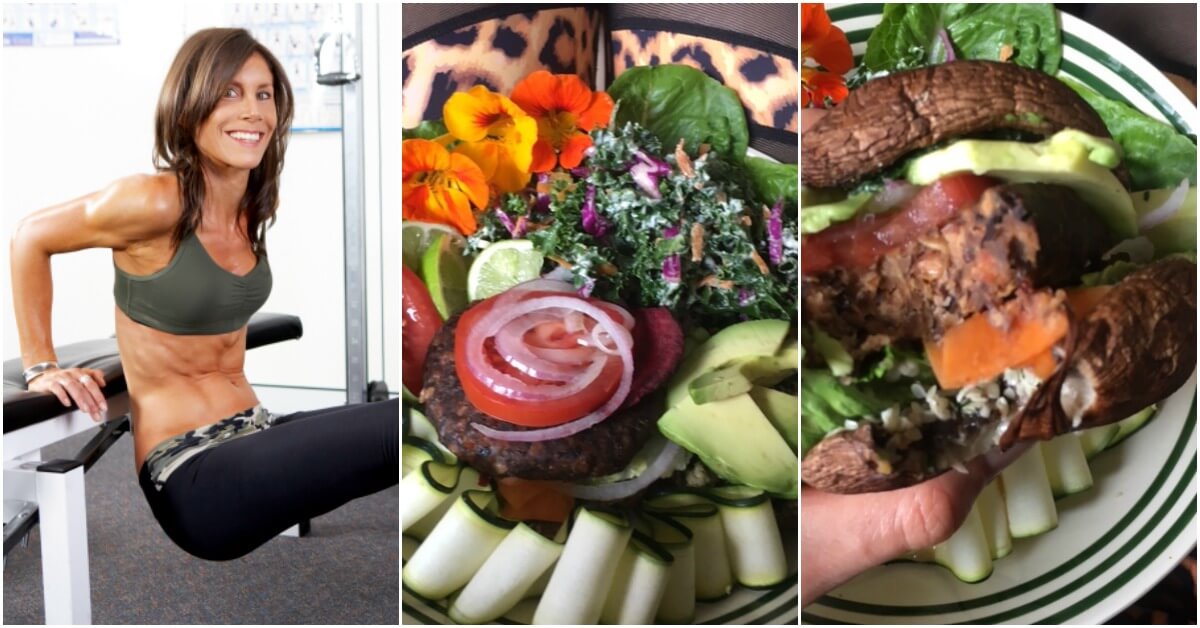 If you're yet to share the Healthification love – just click here to zip over to iTunes and leave an honest rating and review. It'd help me out big time. With gratitude, Kate.