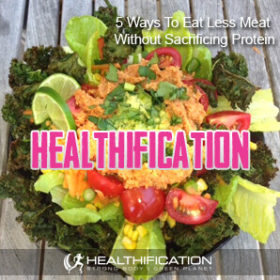 Podcast: Play in new window | Download
Subscribe: RSS
Todays show is for the meat eater who likes the idea of going vego or even just eating a little less meat but thinks it'll be too hard.
Or perhaps the mum or dad worried about their child who is point blank refusing to eat animals. Maybe it's a phase but maybe it's not. I'm sure you'll agree that during any phase YOU went through as a teenager – be it the desire for body piercings or the flirtation with Veganism or perhaps the flirtation with that certain overly pierced, excessively tattooed vegan boy… whatever it was, mum and dads judgement and strict rules were not welcomed and were not effective!
To frame todays show although I'm vegetarian for ethical reasons: I'm also a huge fan of a relatively high protein and very low refined carbs diet.
Now that's a statement that's subjective, however I'll give you the run down as I see it and then if you like the sound of my take on how to build a high value meal you can choose to keep listening.
Here's the short of it,
I see protein as high value because it's satisfying, has a high thermic effect (that's the amount of energy used to metabolise food) AND it's fuel for your muscles. I'll do anything to maintain lean muscle mass because:
A). In my mind muscle is sexy.
B). Muscle = metabolism. So even if you don't think lean muscle is sexy the fact is it'll burn fat 24/7 just siting there and that's a good thing unless of course you think fat is sexy?
I see refined carbs as super low value because they've pretty much had anything good sucked out of them. Then they've likely been enriched with badness knows what to extend their shelf life and also to addict you. If I'm sounding a little extreme – perhaps a tad biased – I'm 100% ok with hating on the foods that have been tied to most common chronic diseases suffered in Western civilisation.
Are you still on board with me? I hope so! Let's power on with:
5 Ways To Eat Less Meat Without Sacrificing Protein.
One: Make Breakfast Meat Free.
Download FREE 3 Day Easy Vegan Plan (PDF)
Breakfast has got to be the easiest meal to make meat free. Whether you eat out or at home you have limitless options.
From green smoothies to omelettes to eggs and delicious vego sides. Even those stunningly creative breakie bowls where anything goes however some of your meat free protein options include: smoked salmon, poached eggs, greek yoghurt, nuts, chia and other seeds. Or even oats enriched with seeds and nuts.
To amp up the protein: Add a scoop of protein powder to your smoothie or oats. My preference is a brown rice based protein powder although I'm also keen to try Hemp protein.
But what about bacon? If you're a huge fan of bacon or any other breakfast meat you can still include it in another meal. Ideally not as the main feature. The idea is to get used to not expecting meat at every meal and to set a few easy to follow guidelines that make it effortless to eat less meat. 
Two: Create A Vegetarian Version Of That Meal You Love Where Meat Doesn't Need To Star.
So if we're talking steak or a roast rack of lamb (two of this little vego's past fav meals) well this would be a tough transformation. I have seen some pretty tasty looking cauliflower steaks however I still don't think it's going to cut it!
What would work really well is curry or nacho's or burgers. ALL of these can be just as delicious without meat. And before you yell "hypocrite!" none of them need to be high in refined carbs either.
Let's deal with the refined carbs before we deal with amping the protein.
If you're a curry fan then it's just as delicious served over cauli-rice.
For those nacho's swap corn chips for a combination of kale crisps and fresh baby cos leaves.
To my fellow burger fans theirs no need for a bun or fries… your burger of choice can be just as delicious served naked with kale crisps or even better with 2 portobello mushie caps as buns.
To amp up the protein: I'm going to go with the curry example however my vego swaps are applicable to any meal you're making over. First choose higher protein veg. For example:
1/2 cup green peas = 4 grams protein.
1/2 cup cooked spinach = 2.7 grams protein.
1/2 cup mushrooms = 2 grams protein.
1/2 cup broccoli = 1.3 grams protein.
1/2 cup brussel sprouts = 2 grams protein.
That's 12 grams of protein. Now if you take that veg curry and add it to a cup or 2 of cauli rice you get another 2-4 grams. Then mix a tablespoon of nutritional yeast (I love the stuff!) into your cauli-rice for another 3 grams of protein. Finally sprinkle your curry with hemp or pumpkin seeds for another 5.3 or 4.5 grams per tablespoon respectively. And I haven't even mentioned nut cheese which would rock a curry… or nacho's… or burger!
Three: Eat Fish Out.
Although I was strictly a no meat no fish vego for 20 years I do now eat fish. It makes eating a protein rich meal out a whole lot easier. So if you're a fan of fish then a simple guideline is to aim for dinners and lunches out to be the time for seafood.
There's no need to amp up the protein here as fish is chocka block full of it!
In my experience though a fish meal can be a little light on. Especially if you're holding the fries – and I hope you are! My recommendation is the ask for any green veg instead of chips and salad (salad isn't bad it's generally just very light weight). If you're still not satisfied an extra side of veg/salad is the way to go.
Four: Create Protein Pimps For Your Salads.
I'm a reformed salad hater! I used to find salads so bland and boring. However now my salads are substantial and delicious. It's just a matter of finding the flavourful protein pimps you love.
First let's start with your salad base. Start with whatever green leaves & fibrous veg you most love. I'll often go with a mix of raw leaves and cooked veg. Fresh baby cos and crispy baked kale go especially well. Or baby spinach & rocket with cooked ratatouille made with eggplant, zucchini, onion, garlic & tomato. Add whatever raw or cooked extra veg you love: like avocado, asparagus, spring onion and fresh herbs like coriander or basil. Dress with balsamic and / or pesto.
To amp up the protein: choose any of the following… my fav zucchini hummus (it's made with tahini and hemp seeds so it's got a decent amount of protein), a couple of tablespoons of seeds especially hemp and pumpkin. 50 grams of your fav nuts. A nut cheese like this simple recipe made with raw cashews, lemon, sea salt, chilli, Natvia and water. A hard boiled or poached egg. Or a chili egg / or egg white omelette. I simply mix a couple of eggs with chili, smoked paprika, fresh herbs & sea salt and then cook it using coconut oil, slice it into wedges and serve it over my salad.
Five: Eat Breakfast Twice A Day.
As I mentioned previously, breakie is such an easy meal to eat meat free why not choose one breakfast option for your first meal of the day & another for either lunch or dinner?
I'm currently a huge fan of a green smoothie for my first breakfast and a crazy big omelette for dinner. I serve it with brussel or kale chips.
To amp up the protein: an omelette doesn't need it however if it's feeling a little light weight a tablespoon of hemp seeds is a great addition. Yes, I love those things! I've also been know to sprinkle my omelette with nutritional yeast as the first side cooks before I flip it. It gives it a cheesy, salty flavour and another 3 grams of protein per tablespoon. (it's different to bakers yeast and you can but it in a health food store).
Your other breakie options are unlimited however how about veggie fritters? Using some of our higher protein friends such as: green peas, cooked spinach, mushrooms and broccoli. If you tolerate diary ok you can incorporate some haloumi or fetta or ricotta cheese however they don't need it. A couple of eggs, a little almond meal or coconut flour, some fresh herbs and seasoning and perhaps even a coating of Za'atar spice mix and sesame seeds before you cook them in a pan with a little coconut oil.
Before we get actionable today, if you're keen to incorporate a little less meat into your week whether it's to accommodate a vego friend or family member or for ethical reasons like me or even because it's generally a much more cost effective way to eat high quality food – cheap meat ONLY doesn't cost much in the short term – well, please know it's only getting easier.
So far as access, there are so many options available today.
So far as mindset, check out a couple of previous shows on: Fat Loss Mindset For Vegetarians (Part 1),
and Fat Loss Mindset For Vegetarians (Part 2).
Back to the time of the actionable. I'm going to assume you're keen to incorporate a little less meat into your week because you're still with me! In that case, your action step is simple to give one of the steps a whirl. To recap we've got:
One: Make Breakfast Meat Free.
Two: Create A Vegetarian Version Of That Meal You Love Where Meat Doesn't Need To Star.
Three: Eat Fish Out.
Four: Create Protein Pimps For Your Salads.
Five: Eat Breakfast Twice A Day.
That's it for another week in Healthification.
Huge appreciation to YOU for spending this time with me this week. You rock.
If you liked this you'll also like: Being Vegetarian And Getting Lean.
It's 100% free. It's fun. It's easy.
Here's what to expect each day: 3 abundant plant based meals. An awesome equipment free fat burning workout. And also the mindset tips that make your best eating and exercising choices simple and sustainable.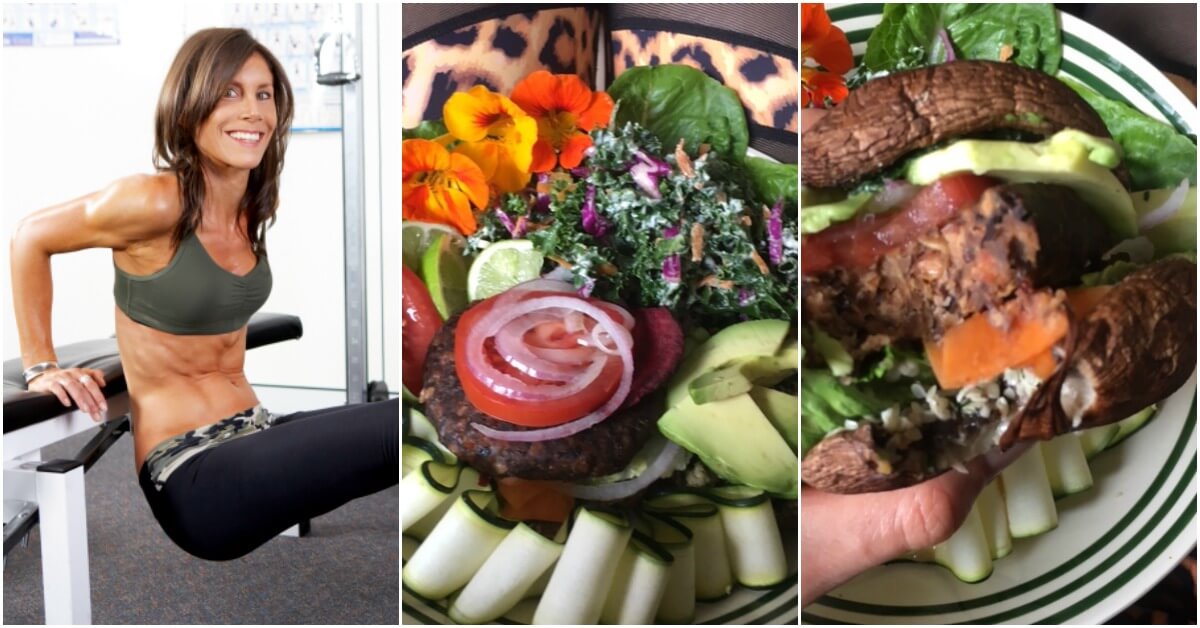 If you're yet to share the Healthification love – just click here to zip over to iTunes and leave an honest rating and review. It'd help me out big time. With gratitude, Kate.