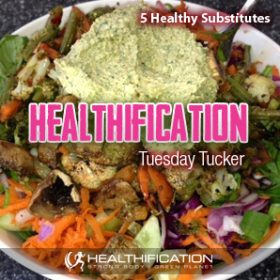 Podcast: Play in new window | Download
Subscribe: RSS
One of the excuses I'm getting a little tired of hearing right now is: "Yeah, but I love food too much!"
This statement is often delivered with a side of: "Unlike you trainers" …which implies I'm some robot like creature focused purely on shovelling in the best quality fuel for the out-put I desire.
WOW, so this could not be further from the truth… perhaps about from the shovelling part, I really could benefit from slowing down and chewing more.
Anyway, the food that gets you the best results, and by best – let's call it the health, the energy, the body YOU would most love… has nothing to do with a lack of passion for food.
It's really isn't so much a matter of discipline either.
It's a matter of EXPERIMENTATION and PLANNING.
With that in mind, in todays show I'm sharing: 5 of my Fav Healthy Substitutes.
Download FREE 3 Day Easy Vegan Plan (PDF)
For each substitute I've got 3 boxes to check, otherwise it won't last:
ONE: Does it TASTE awesome?
TWO: Does it GIVE my body something of value?
THREE: Is it SUSTAINABLE, from a cost, availability and time point of view?
#1. Cauliflower.
Cauli is my go2carb-cutter… however it's so much more than that. Yes, cauliflower saves a bucket-load of carbs as a substitute for potato in omelettes or mash. Or as cauli-rice, cauli-tabouli, cauli-pizza crust. However, to me it's also a super-veg of it's own right… more of that in the value section.
On Taste, cauli is a super adaptable flavour base… it'll jell with whatever you fancy, all crispy with olive oil, chill and rosemary or perhaps creamy and comforting mashed with avocado and rock salt.
On Value, cauliflower is one of the cruciferous family of veg. What's so super about cruciferous you might ask?
Well, stress, toxics and even soy in our day to day life can send your estrogen levels outta whack. There's nothing wrong with estrogen, however when your levels are too high it'll lead to extra fat storage in estrogen sensitive ares. That's the hips and thighs for ladies. So, back to our cruciferous friends – these super-veg are the natural way to get your estrogen levels back in balance.
On Sustainability, cauli gets a thumbs up from me as it's one of the cheaper veg and even when not in season you can still get it cheap frozen. If you're weary of frozen, it's often frozen fresher than than 'fresh' stuff siting on supermarket shelves – or in transit – for weeks.
#2. Nut Cheese.
This is one of my most recent upgrades. I used to love cheese, however recently I've been reading and listening to too much about the whole pasture to plate process. Ethics aside, and keeping it simple (because you know I'm the non-science'y chick) there's just way too much potential for nastiness coming from the milk of animals that are not organic grass-fed… I'm not a 100% dairy free zone, however I am joyfully experimenting with other options.
If this is something you're keen to do too, then nut cheese is worth trying.
On Taste, I would say it's super awesome… and the varieties are limited only by your imagination.
On Value, take your pick of the high value nuts you chose and the one ingredient foods you partner them with:
=> walnuts are the richest in omega-3 fatty acids which fight inflammation and also contain the most antioxidants to help protect your body from the cellular damage that contributes to heart disease, cancer, and premature ageing.
=> almonds have the most calcium and fibre and are also richest in vitamin E.
=> cashews are in iron and zinc and are also a good source of magnesium.
=> macadamias contain the greatest amount of heart-healthy monounsaturated fat: this 'good fat' lowers LDL 'bad' cholesterol levels and blood pressure.
On Sustainability, this non-cook gives this one a 'Hell yeah!" I made my first cashew-cheese on the weekend. It was quick, easy and actually super cost effective because a little goes a long way.
Here's a basic recipe, it's more the consistency of shaved parmesan however I'm sure you could play with more liquid to get it smoother…
1 cup raw cashews (soak for 2 hours and drain)
3 tablespoons fresh lemon juice
1/2 teaspoon fine sea salt
1 sachet of Natvia (natural low carb sweetener)
1 tsp chili flakes
1/4-1/3 tablespoon water
#3. Zucchini.
This humble veg used to be on my most boring list. It's now a weekly staple on my most versatile list. It's a super adaptable base, for flavours and again, if you're willing to experiment the potential is limitless.
On Taste, this really only comes down to how you treat your zuc… boil the life outta it, or chuck it on it's lonesome in the microwave and Yeah, you'll likely be disappointed. Conversely you could:
=> grate it into your omelette as a low carb swap for spud or into salad as a higher value alternative to iceberg lettuce.
=> substitute it for carbie chick-peas in hummus.
=> make it into mini pizza bites.
On Value, our green friend packs a decent punch of fibre, magnesium, potassium and antioxidants such as Vitamin A and Beta Carotene.
On Sustainability, this veg is available all year and certainly in Aus one of the more cost effective veg. It's also quick to cook and requires minimal preparation.
#4. Almond Milk.
For similar reasons to reducing cheese in my life I've long been a fan of almond milk over regular milk… I just wasn't down with not knowing the health of or the conditions the animals producing my milk were living in. This was first important for me from an ethical point of view and then also from my own health point of view when I started to learn more about the culture of hormones, antibiotics and grain-fed. Cutting dairy has absolutely also meant less bloating for me. Bonus right?
On Taste, it's important to choose the no sugar added varieties… andto know that not all milks taste equal, some are definitely more yum! If you're making a smoothie and need a sweet hit just add some Natvia (natural low carb sweetener) or a Medjool date.
On Value, it's also about the NON-value you're notgetting here… if that makes sense! Almond milk is great if you are lactose intolerant, or have a casein or gluten allergy. It's also high in vitamins and minerals such as vitamin E, magnesium, phosphorous, potassium, selenium, iron, fiber, zinc and calcium.
On Sustainability, it's getting easier and cheaper to source dairy alternatives. Many local cafes now have the non-soy and non-dairy option, and as WE continue to ask for almond or coconutoptions they'll only become more available.
#5. Seed Mix.
This is another relatively new substitute for me. I tend to not keep nuts at home – as when roasted they are a trigger food for me that I can devour vast quantities of… however, so far so good with natural seeds!
I'm loving seeds for their texture and crunch – that little flavour hit with some protein and good fat – that is a great substitute for bread crumbs or croutons.
On Taste, pretty awesome… just pick your favs. I'm liking a mix of sunflower, pumpkin and hemp seeds.
On Value, like nuts these little morsels are chocka-block high value with micro-nutrients. In addition, at 5.3 grams per tablespoon, hemp seeds have more protein per gram than beef!
On Sustainability, if you're adding these rather than snacking by the handful then they are passable on the value-for-money scale. Especially if you buy in bulk.Talking quick? A tablespoon of hemp seeds added to any light-weight salad, or dip, or smoothie is as easy as it gets.
So all this food talk is making me hungry, it must be time to get actionable – and then I'll go make a massive veggie salad with plenty of thigh-flab-fighting-cauli, a generous dollop of zucchini hummus, some cashew cheese and a sprinkle of seed mix.
So back to actionable… I'd love to know your #one fav Healthy Substitute?
You can share the substitute love in the comments below.
That's it for today. Thanks so very much for taking the time to join me, I'll be back tomorrow with the Wednesday Weigh-in show where I chat: Body Shaming.
If you liked this you'll also like: 7 Sneaky UNHealthy 'Health Foods' (and what I now eat instead)
If you're yet to share the Healthification love – just click here to zip over to iTunes and leave an honest rating and review. It'd help me out big time. With gratitude, Kate.