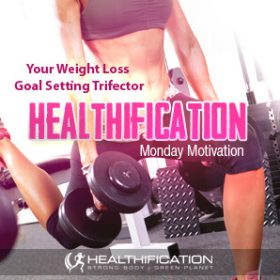 Podcast: Play in new window | Download
Subscribe: RSS
When it comes to effective weight loss – or as I prefer Body Gain goal setting, the Define component gets a fair bit of attention.
That's understandable, to DEFINE exactly what you're looking to achieve and get really clear on exactly how it'll look, feel and how it'll positively affect your life is vital. I covered this first component of the goal setting trifecta back in show #040: How To Set An Effective Weight Loss Goal.
If you've ever started an exercise regime at the insistence of someone else, perhaps a parent, partner or even because of the pressure you feel coming from 'society' at large to fit in and look the part… whatever that is, and you've just started 'exercising more' and 'eating less' you'll likely know that without a clear destination – that defined goal – you're likely going to end up going round in circles, wasting time, money and even eating away at your self belief in your ability to ever achieve that 'mystery undefined goal.'
That is exactly how it was for me the first time I joined a gym. I did it because my father said I should however I really didn't know what I was working towards. Even more importantly I didn't know WHY.
So you know what happen right? Yeah, not so much. If you want to dig a little deeper with the Define component then check out show #040… because today's show is devoted to 2 more key components which complete: Your Goal Setting Trifecta.
Goal setting component #2 is a DeAl breaker… and that's actually a solid clue.
So if De stands for Define, then Al stands for Align.
Perhaps you've been here too?
You know exactly how you want your body to look, feel and perform. You're super-crystal-clear on WHY achieving this goal is going to be insanely awesome and HOW it'll have a huge positive impact on your life… and also on the lives of the people you love.
And yet, maybe that is still NOT ENOUGH?!!!
This is where pesky, limiting beliefs can starting muscling their way into your thinking.
"I must just not want it enough"
"I guess I'm meant to be fat"
"I don't have enough discipline… the right genetics… sufficient time-money-support-information…"
Exactly zero of these excuses are true or relevant.
It's just that has well as defining your goal you need to align your goal.
To align the attainment of your goal with your core values and your identity beliefs means that you will naturally and sustainably be PULLED TOWARDS your goal.
Instead of having to PUSH yourself 24/7 to take the actions you know you need to take.
Pushing is fine when it's smooth sailing… When you're eating well, exercising regularly and seeing the number on the scales drop it's not so tough to push yourself to get out of bed for that early am exercise session. Or to push yourself to take the time to make those meals on mass.
However what about when you've just worked several 12 hour days, you're fighting off a cold, your knee's a little twinge'y and to cap it all off that stupid scale crept UP today – How Dare It?!
This is when you also need something pulling you forward.
Yes, your compelling goal – your WHY – is going to pull you forward to a degree. However, it's really not so powerful when the results start to slow, or even stop, OR even go backwards.
That's where aligning your goal with the things you are naturally drawn to – that's your VALUES,
and also, with the things you believe to be true about yourself – that's your personal IDENTITY BELIEFS, comes into play.
I covered your values in show #095, however they are the emotional states you seek out before all else.
=> things like Freedom, Love and Integrity.
Here's a link to a popular post I wrote on using your identity beliefs to fuel your fat loss… however they start with "I am…" and are the things that you know make you YOU. You will defend them passionately if questioned.
 => things like "I am a person of integrity." or "I am a loyal and loving friend."
They can also be things like "I am not a natural exerciser." or "I am a person who will do whatever it takes to get my ideal body."
So, when talking alignment you want to ensure that you view achieving your goal – and even the actions to take to achieve it as being congruent with your values and identity beliefs.
Rather than in conflict with either.
So for example, even on the day when I've had 5 hours sleep after attending a networking meeting the night before and training my first client at 5.45am… 6 clients later on my first break before an afternoon of writing it's going to be pretty super tempting to skip my planned training session and go demolish some sort of a quick-NON-fix-baked-bit-of-gorgeousness…
However, my #2 Value is Integrity and I have a belief that "I am a person who will do whatever it takes to get my ideal body" and despite those muffins, scones, cape-seed rolls calling to me, I know that even a less intense than usual weights session followed by my normal and still yum lunch is the course of action to choose.
I'm actually drawn to it on auto-pilot now… and that is what I'm hoping for you too.
You do have to lay the ground-work up front, to think of the way to make this alignment and congruency resonate with you however you only have to put it that work up front once rather than struggling with fighting yourself for years which is the way it'll be if you still see the attainment of your goal in some way in conflict with your values and identity beliefs.
So, that goal is defined and now aligned let's move onto goal setting component #3…
To add massive emotional intensity.
First take your big WHY the impact and the experiences you and the people you love will be able to enjoy once you achieve your goal and either build the pleasure or build the pain.
Better yet, do both.
Really picture the life that you will be living when your body and your health is exactly as you would love it to be and now compare that picture to the way it is right now.
Consider the experiences you are missing out on right now.
Better yet, picture 12 months or 5 years down the track when it's a whole lot worse than the way it is right now.
Now, take those Values and Identity Beliefs and imagine how your life would be living without each of them. For me that'd be a life with zero Freedom. A life where I had zero integrity and also zero gratitude… those are pretty UN-fun thoughts…
The thing with emotional intensity is to use it rather than be used by it. What you chose to feel, can be moderated by what you chose to focus on… and you can do that to hold you stuck or as powerful goal getting fuel.
To recap our Goal Setting Trifecta,
Define Your Goal.
Align Your Goal.
Massive Emotional Intensity.
To get actionable today, is there a part of this trifecta that your goal is missing?
Working it in is your action step for today.
I'll finish today with a quote from Thomas Jefferson: "Nothing can stop the man with the right mental attitude from achieving his goal; nothing on earth can help the man with the wrong mental attitude."
That brings us to the end of Healthification #126. I'll be back tomorrow with the Tuesday Tucker show and: 5 Healthy Substitutes.
If you liked this you'll also like: Smart Simple Weight Loss: Define Your Goal.
If you're yet to share the Healthification love – just click here to zip over to iTunes and leave an honest rating and review. It'd help me out big time. With gratitude, Kate.