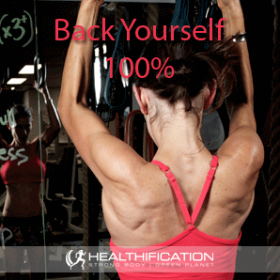 Podcast: Play in new window | Download
Subscribe: RSS
I train a dear lady who recently retired after years as a nurse. She's the caring, generous type you may expect who's always going out of her way to help others. 
Running errands. Cooking meals on mass. Playing cheufer. She actually reminds me of my mum.
Like my mum she's a member of the 'No Grandkids Club' which likely does mean she has a lot less baby sitting duties than many of my clients… however she still manages to get pretty crazy booked out with other duties. To back track, you likely haven't heard of the 'No grandkids club'?
It's a term my mum created & overused to my extreme frustration until I pointed out that harping on about something is not the way to compel someone to start procreating!
Anyway, back to my client and also to today's topic… my client struggles to say NO to anyone except of course herself. 
It's what I call being UN-Selfish to your detriment and it's justification #1 in today's show on:
3 Result Ruining Justifications.
Let's get rolling with the result ruining justifications and of course, what to do instead.
One: Saying YES To Everyone Else and NO To You.
As admirable and lovely as it is to be generous with your time and energy like everything you can have too much of a good thing.
Here are a few signs to look out for:
a) Your weekly exercise is no longer a non-negotiable. It's become more of a: "I'll do it when I can fit it in."
=> Of course I'm biased however exercise really needs to be one of those few things (like sleep, meal prep, and time with your loved ones) that you commit to and fit everything else around.
b) You do things for others and then don't have the energy to do them for you. Like planning and cooking nutritious meals.
=> The solution is simple once you become aware of what you're doing. When you're cooking for someone else double the batch and cook for you too. If that means you need to cook the food that's aligned with your goals (more stir-frys and salads less sweets and savouries then it's probably better for everyone!).
c) You regularly cancel the things you love that you do purely for joy (perhaps bridge or yoga ) because "Such and such was really in a jam and I had to help her out."
=> The fact is you teach others how to treat you. If you teach them you'll always drop everything and be available they'll expect it. However if you let them know – in advance – there a a few non-negotiables in your week, things that you're committed to they'll adjust just fine.
I used to be pretty good at borrowing from tomorrow. My good I mean I'd justify a lack of action today and claim I'd do doable tomorrow to make up for it. "No treadmill intervals today – that's cool I'll sprint for twice as long tomorrow!"
Can you relate?
Or perhaps the food equivalent resonates: "Extra bread, nuts, yogurt today – all good, I'll just skip it tomorrow!"
The problem with Borrowing From Tomorrow is: How often do you come through for you tomorrow?
I'd build up such a stock pile of tomorrows (!) that I owed myself a completely daunting amount of cardio or be restricted to a supremely miserable amount food.
Your alternative?
a) Keep it simple and focus on only what needs to get done today.Todays exercise is due today. Todays meals are on goal today.
b) For some things a weekly quota can work if you're good at sticking to it.This works for both nuts and Shiraz for me.
I know how much of each I want to consume each week. I buy ONLY that much. If I consume extra one day that means there's less to go around the other days.
I was discussing this with a good friend recently who was relieved to hear she's not the only one who a little obsessive about her wine consumption. She likes to know how much she's drinking and not to have extra open bottles on hand.
So when her mostly beer drinking husband feels like a couple of vino's and take them from her quota his "Honey it's fine I'll buy you another bottle!" really isn't helpful.
Three: Hanging With / Comparing Yourself To The Anti-Mentor.
This is the convenient yet detrimental justification that sounds a little something like: "BUT he, she, they are…."
For a start the super-vast-majority of people doing the things that are not aligned with helping you achieve your body gain goal do not have the results you're seeking.
=> They may get to devour dessert / to fluff around on Facebook during (or instead of!) their exercise session / to skip a scheduled alcohol free day… or 30. However in exchange for that short term gratification they also likely get unhealthy and unhappy long term.
Your alternative?
a) Compare your self to your best version of YOU.I think each of us have a good idea of how the very best version of us acts. The attitudes and actions we need to cultivate and prioritize to be the person andget the results we want.
It's easy to veer off track though if you surround yourself with anti-mentors. That's why I also recommend…
b) Seek out the mentors that inspire(rather than intimidate) you in a way that makes you want to do your best every single day.It's easy to find a mentor online however finding the right one might take a little more effort.
=> There's no value in finding the mentor who's results you want yet who's lifestyle / effort / time in the trenches / and potential sacrifices you're not willing to model.
As I plan this show I fell for a bit of anti-mentor modeling the day before yesterday.
I guess it's just proof to never get too complacent so far as believing you've ditched some old result ruining justifications!
It meant that a couple of drinks out turned into a fair few more (very unusual for me these days!) and I dragged myself through a hugely-less-productive day the following day. I'm disappointed in myself however there's not much value in that.
The lesson learned, for me and you is that: if you choose to surround yourself with people who are not doing what you want to be doing you're courting temptation. It's generally easier to just not put yourself in that situation.
To get actionable today, have any of these 3 Result Ruining Justifications rung true for you today?
To recap:
One: Saying YES To Everyone Else and NO To You.
Two: Borrowing From Tomorrow.
Three: Hanging With / Comparing Yourself To The Anti-Mentor.
My to work on is #3. That's it for todays show. Thanks so very much for hanging with me today. I hope you can join me for the Wednesday show where I share: 5 Ways To Eat Less Dairy Without Sacrificing Protein.
If you liked this you'll also like: Weight loss mindset: If I had to start again, this is what I would do.
If you're yet to share the Healthification love – just click here to zip over to iTunes and leave an honest rating and review. It'd help me out big time. With gratitude, Kate.