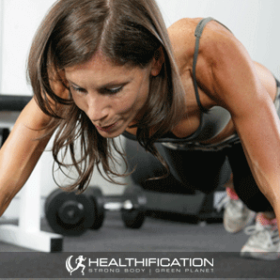 1. Focus on my Mindset before anything else.
I spent years reliant on discipline.  FIGHTING MYSELF!  
Rather than consciously aligning my ideal health with everything that I'm naturally drawn to… the Values I most covet and the personal Identity Beliefs I live by.
2. Seek out Mentors that both inspire and stretch my definitions of success.
People who are achieving through their Bodies, their Business's, their attitude to Life, their Gratitude and Generosity, success that explodes my old comfort zone.
3. Back myself.  100%.
To have absolute certainty in my ability to achieve whatever I desire so long as my intention is always genuine.  To never be swayed by the opinions of people I do not trust, like, respect or believe to be genuine… in writing this it seems odd that I did allow this to be the case (I absolutely did though).
TO BACK YOURSELF 100% is Freedom from Overwhelm.  Why?
How about if instead of seeking certainty in the circumstances around, you instead choose to have 100% certainty in yourself?  I wrote about it here: Certainty in yourself beats weight loss overwhelm.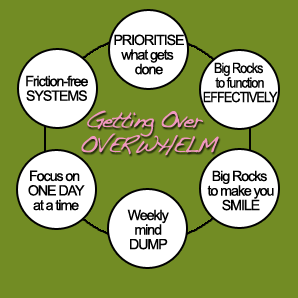 => and onto the more simple though not easy…
4. Eat less Carbs and do less Cardio.
I used to eat bread and/or 'healthy' cereal 4-5 times a day and do an hour 'high intensity' cardio 6 days!
Yes, I LOVE carbs too.
It took me years… however I've decided I LOVE being my goal health even more.
AND the hamster wheel of slog-your-guts-out-with-high-intensity-cardio-then-refuel-your-exhausted-bod-with-convenient-processed-carb-o-la-crap-o-la… is never-ending.
Here I cover why Weights is like a passive income:
5. Eat a greater variety of Veggies and more Good Fats.  At each meal.
I didn't eat fat for a couple of 'skinny fat' years.  Now I eat at least 60gm of fat a day and veggies for breakie, lunch and dinner.
If you're getting all of the micro-nutrients your body needs from a huge variety of filling, fibrous veggies, eaten with satisfying protein and good fats you won't get those crazy-outta-control-must-devour-now-cravings-for-aforementioned-processed-crap-o-la…
Fact.