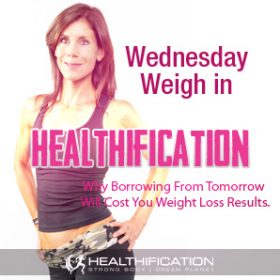 Podcast: Play in new window | Download
Subscribe: RSS
Last night I caught up with some good friends for a few drinks at the local.
Although for years I loved beer o'clock and for years before that I always finished a big night out with either extra-crispy-hot-chips or a felafel kebab eventually I admitted that as much as I promised myself I'd make up for my poor eating and drinking choices tomorrow – or Friday – or just NOT TODAY… I hardly ever did.
Today I'm weighing in on Why Borrowing From Tomorrow Will Cost You Weight Loss Results.
Borrowing from tomorrow is when you talk yourself into actions or inactions today by telling yourself you'll make up for it tomorrow.
Maybe you borrow tomorrows serve or cashews or tomorrows coffee… except you consume those extras today and then still consume them tomorrow as well.
Perhaps you commit to double intervals on Friday instead of any intervals today… and then come Friday, it's touch and go whether you even manage a few minutes of intervals because now double is daunting and WOW, you've just gotten extra good at reasoning yourself out of making a start.  
It's amazing what you can justify to yourself.  It's also way too easy to reason yourself right out of results.
So, this morning although I absolutely woke up a little less fresh than usual it wasn't a super-struggle-street morning because I stuck to red wine and vodka soda fresh lime.  Also because dinner last night was a fish and salad meal similar to what I'd make for myself.
As tempting as it was to give my planned weights session the flick I know that will make me feel rubbish all day and I've learnt I'm unlikely to catch it up later in the week.
The beyond just better results benefits of giving up on Borrowing From Tomorrow:
Firstly, You don't ever have to start the day with the thought of exercise-catch-up or over-eating-make-up.
Often just the thought of what you need to do is more exhausting than actually doing it… why double up with extra energy wasted on how much exercise you now need to do to 'stay on track' or how little you can now eat to keep within your quota.
It's not fun and not effective. 
Secondly, You get to build your belief in you. To see yourself as someone who follows through. The fact is each time you let yourself down you erode a little bit of your self esteem… and you make it a little bit easier to let yourself down again. The more recently you take an action the more likely you are to repeat that action. For better or for worse.
Finally, Results!
When you take the actions you know you need to take – today – they get done.  Simple sounding of course however let's make this actionable with 5 Questions To Eliminate Borrowing From Tomorrow:
1. What did you put off 'til tomorrow' yesterday that you haven't done today?
2. Is this a habit?
3. Is there value in doing it?
4. Will delaying make it easier?
5. Will it just 'do itself' if you ignore it?
I find asking myself these questions is pretty effective at getting me to quit with my borrowing form tomorrow rubbish.
Especially #3. Sometimes we give ourselves grief for not doing something day after day after week after month… and eventually reassess the VALUE in doing it and see that its really not worth the effort – either the effort and energy thinking about it or actually doing it.
Closing caveat: exercising regularly and eating the quality food that supports your best body is always worth the effort.  
If you liked this you'll also like: How you can ensure congruency is propelling your weight loss results.
If you're yet to share the Healthification love – just click here to zip over to iTunes and leave an honest rating and review. It'd help me out big time. With gratitude, Kate.