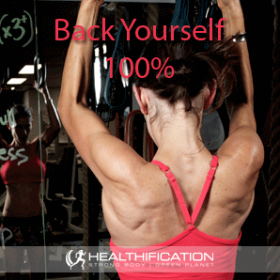 Podcast: Play in new window | Download
Subscribe: RSS
I'm a bit of a routine girl. I ate the same breakfast 7 days a week for years… back then it was 3 olive sour dough rolls. Once I find something that works I tend to stick with it for a long time. Basically until I decide something else is going to work even better… which is what I did when I swapped to omelettes for breakfast.
Although perhaps I take routine to the extreme the reason I do it is to make making the right choices easier on myself.
I actually find it freeing to NOT waste energy deciding what to eat.
There are decisions in my day that are more important than food… and I'm sure that's true for you too. A lot of decisions that are more important than food.
Like your daily discipline quota – your daily decision making power is also limited.
With preserving both your discipline quota and your decision making power in mind todays tucker show covers the 6 staples that always live in my kitchen.
They cover 6 specific purposes… your 6 will likely be different, however it's absolutely worth finding the healthy staples that YOU can count on in your kitchen.
Here we go…
1. Free Range Eggs.
The perfect versatile any meal food. Great for breakfast, lunch, dinner – even snacks, is there anything the egg can't do?
=> are you an egg addict like me – or is there something else – something natural and satisfying and VERSATILE that can be a Go2-Meal-Starter for you?
2. Protein Powder.
The emotional eating solution. It's quick. It's portable. It's long lasting and needs no refrigeration. As well as the essential after training protein shake I'll turn my powder into a smoothie, pancakes, egg white dessert and hot chocolate. And that's for the lazy cook – if you're more creative in the kitchen than me you'll know you can make biscuits or energy balls or almost any sort of sweet treat.
=> do you emotionally eat – or at times just want that QUICK Safe-Sweet-Fix that isn't going to do your body composition goals any harm. If so, I recommend finding the protein powder that you love. I used to go more fake with this one however have recently ditched Whey and swapped to this Raw Vegan Organic product.
3. Mixed Frozen Veg.
The reliable COST EFFECTIVE Fall-Back-Veg. Ok, these aren't super sexy however I got sick of running outta veg. I power through my veg and it doesn't keep fresh so long so I always like to have back up mixed frozen veg on hand. It's also great when some of your favourite fresh cruciferous super veg like broccoli, cauli and brussels are just way over-priced and it's super quick and versatile.
=> what's your favourite mix of frozen veg to have on hand for those nights when you discover your fresh stuff is rotten or those mornings when you can't be bothered washing and chopping anything for your omelette?
4. Mixed Green Leaves.
I just feel wrong when a day goes by without any green leaves like baby spinach, rocket, kale etc. It's also the LAZY Salad-Starter-Solution. I love to eat big, colourful meals that are pleasing to my 'stomachs eye' however I'm not going to spend time every day washing and rinsing and mixing.
=> if you like to eat big quantities then starting with a bed of dark green leaves is a micronutrient rich and low caloric density way to do it. Buy the pre-mixed and pre-washed bags and it's super quick too.
5. Avocado.
The satisfying GOOD FAT I Can-Portion-Control. Fat is essential in your diet however even with good fats like nuts, seeds, olive and coconut oils and avocado there can be too much of a good thing. I just find it too challenging having roasted nuts or nut butter living at home. I'll even turn to the tahini with a fork… however avocado is a fat I'm yet to find myself stalking the fridge for.
=> is there a fat that is a trigger food for you – something that once you start you just can't stop?  Rather than enduring daily temptation I strongly recommend you evict it from your kitchen in favour of a substitute you can commit to portion control with.
6. Pesto.
The EASY Mega-Flavour-Enhancer. This is quick and versatile – and will pump up the flavour in your omelette at breakfast or when stirred through those frozen veg as part of a salad at lunch or when swiped over baked zucchini and field mushrooms at dinner. Like our other green friend the avocado, it needs to be used in moderation however a little goes a long way and you can hunt around to find the brands that have less fat, no dairy and still a whole lot of taste.  Even better make your own. No, I don't do that… yet.
=> if you find quick and healthy somewhat bland and boring it's simple a matter of finding the easy Mega-Flavour-Enhancer to add to your kitchen crew.
Ok let's get actionable.
What are your 6 top kitchen staples? Perhaps they will follow my specific purposes, to recap that was:
The VERSATILE Go2-Meal-Starter. 
The QUICK Safe-Sweet-Fix.
The COST EFFECTIVE Fall-Back-Veg.
The LAZY Salad-Starter-Solution.
The GOOD FAT I Can-Portion-Control.
The EASY Mega-Flavour-Enhancer.
…Or maybe they provide different food solutions for you.
If you liked this you'll also like: My Food Diary: Cheat Day + Ideal Fat Burning Day. (part two)
If you're yet to share the Healthification love – just click here to zip over to iTunes and leave an honest rating and review. It'd help me out big time. With gratitude, Kate.