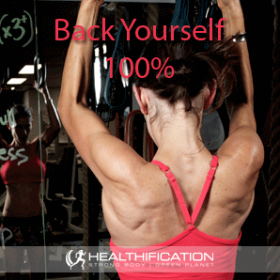 Podcast: Play in new window | Download
Subscribe: RSS
There are a lot of benefits to our fast-paced have everything now society… I love having the worlds knowledge just a few seconds and several taps of my keyboard away… rather than spending hours researching in a library.
I appreciate that I can pick up my mobile and speak to those closest to me on their mobile in an instant rather than waiting for them to get home to their landline… or prior to even that having to actually go to where they are to have a conversation.
However I do wonder at the expectations of immediate gratification all this availability is conditioning in us.
We'll pay to have fat sucked out of us or a band placed around our stomachs rather than learn how to eat and exercise effectively.
Perhaps that's controversial, however anyone who has ever been happy with the results of their liposuction or their gastric banding – long term – has ALSO learnt how to eat and exercise to support, nourish and respect their body.
In today's show I'm talking delayed gratification.
The ability to forgo an immediate benefit for a bigger or better benefit in the future.
Taking the time, giving the energy and making the effort to take the actions that may not be most pleasant right now because your focus is on the results it will allow you to enjoy in the future.
When I was a kid my favourite holidays were to my grandparents farm.
I loved venturing out to the veggie garden with my Papa to see which tomatoes were ripe to have on toast for breakfast… and picking fresh apricots that my Gran would make into the most amazing dried apricot slice.
I found checking the chooks for fresh eggs a little scary – I've always been fearful of birds – however the point is the seeds were sown for all these lovely foods, and then the crops or animals were diligently and patiently cared for and eventually the harvest was delivered.
The dues were paid – in advance – BEFORE the harvest could be enjoyed.
Impatiently digging up seeds to see how they're going is not going to give you a good result… at the farm or in relation to your health.
Whether it's leaving your kale chips in the oven until they go all gorgeous and crispy rather then gobbling them down 1/2 cooked and slightly soggy or saving up to buy the smokin pair of jeans in a few months rather than the budget pair today… the ability to delay gratification is a success habit applicable to every area or your life.
Here are 3 steps to help you build your ability to focus on the long term benefit and take the less fun actions now that deliver the superior result in the future:
1. Get clear on exactly what's in it for you when you get good at delayed gratification. Often the ingrained habit kicks in before you're even aware of the actions you're taking. Stop.
Ask yourself; What do I stand to gain?
I'll open the fridge and eye-off the nut butter – fork in hand – and then I'll STOP and ask myself is a few moments of blissful consuming better than rocking around in a body I love?
Of course I know one nut butter event does not foil every great decision I do make and result in a body blow out, however my first key take away for you is to see each action as leading to a result. 
The 'it's only once' attitude builds on itself and becomes a result destroying habit quicker than you can say half-the-jar-of-cashew-almond-brazil-butter-is-demolished-and-that-caramalised-hummus-is-looking-temtping.
2. Plan some easy win delayed gratification habits. Make them part of your routine.
For example;
=> Do your hardest yet most vital daily task first.
=> Do your toughest work-out on Monday.
=> Save the best part of your meal to last… as I always have with the crispy outsides of mums roast potatoes.
3. Commit to a reliable Instant Gratification Day every week. For me this is cheat day and rest day Sunday.
Firstly; it means that no matter what I always know I'm only a few days away from cheat day and rest day Sunday.
Equally; isn't the anticipation of a pleasurable experience almost as good as the experience itself?  That's why it's great to book your yearly holidays at the beginning of each year, so you've always got one to look forward to.
It's why I get so much more enjoyment from eating bread on the weekend than I did when I ate it everyday… (with the happy primary result being the satisfaction of maintaining my goal body composition long term).
Ok, lets get actionable.
The ability to delay gratification is something you already display in the areas of your life you're most successful.
So, as always this success you currently display in one area of your life can be modelled across and learnt from in any area of your life.
I'm a fan of metaphors to help build the level of emotion that will make it easy for me to create a new positive habit.
One used by an online mentor of mine, James Schramko really resonates with me:
Penfolds Grange is an Australian wine made predominantly from the Shiraz grape… Shiraz, of course (!) not surprising right? 
Quantities of each vintage are limited. Grange is bottle-aged for five years before being released, it is then meant to be cellared for decades before a fortunate few savour it at opportune occasions.
It is widely considered Australia's most collectable wine, with an unapologetic price tag to reflect that.
So Grange is a long game, superior quality, delayed gratification wine v. say raspberry cordial.
Back to the action step, what is your Grange?  Your metaphor for delayed gratification… and also what new habit of delayed gratification are you going to create this week?
I'd love to hear it.  Your can let me know via the comments below.
I'll finish todays show with a quote from – I'm not sure who actually – however it's solid: "Discipline is just choosing between what you want now and what you want most."
If you liked this you'll also like: Setting Yourself Up To Dominate The Fat Loss Discipline Game:
If you're yet to share the Healthification love – just click here to zip over to iTunes and leave an honest rating and review. It'd help me out big time. With gratitude, Kate.