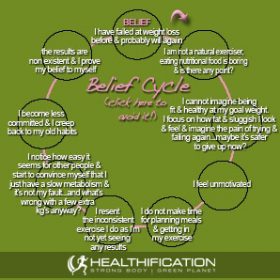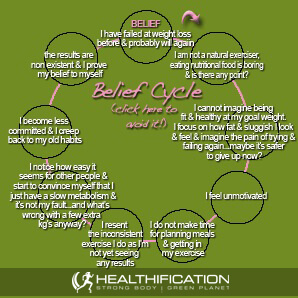 Previously I posted about the importance of the night before in your ideal fat burning day. 
(of course best practice set-up the night before is equally applicable to your ideal effective, efficient working day)
Well, today I'm in damage control… as last night I didn't take my own advice!
Next time you find yourself a little low on sleep. Hung-over. Overfed. Or with an unplanned day that is being wasted on unimportant tasks or frustrating fire-fighting…  here are some ideas to selvedge what you can of your day:
1. It's not an absolute right off!
Whether we're talking food – and you've overindulged or perhaps efficiency – and its been an unproductive morning… right now, is your chance to make a better decision regarding your next meal or your next task.
Never wait until tomorrow when you can take control back TODAY.
=> adjusting your expectations to account for your current 'state' is better than righting the whole day off.  Yep, lower the bar a tad if you have too and just take that next step.
2. Quit the self indulgent behaviours that are making the situation worse.
You don't 'need' hot chips because you're hung over… or tim-tams because you've got a tough proposal to write… just like I don't need 6 coffees because I'm tired.    Let's both grab a glass of water and I'll see you for point 3!
=> some times I simply 'need' a good dose of Jim Rohn's "don't wish it was easier, wish you were better"
3. Set a timer to help you make a start. 
My iphone timer has got to be my most effective time management and productivity tool.  Zero pressure to finish or get it perfect… all I'm asking is you begin a task (exercise?) and stick with it till your timer goes off. (the more daunting the task the shorted period of time I set it for)
=> oh and perfectionism?  It's an excuse to do NOTHING.  Rather than high standards 'perfectionism' = ZERO standards… because zero is exactly what gets done when you're stuck waiting for perfect.  Make a start.  You can always improve on what you've done… and the best feedback as to what needs fine tuning comes once you have something to build on.
4. Learn from the experience.
Looking back on yesterday (yep, I started this post on my UN-ideal day yest and only lasted the 30minutes I set my timer for) …anyway, during and at the end of that UN-ideal day…
I.  felt.  crap.
It's not something I want to repeat.  I feel AWESOME when I'm efficient and productive and that's something I keep at the forefront of my mind when I'm tempted trek off to time-wasting type activities.
Are you more incentivized by the avoidance of pain or the promise of pleasure?
Both are powerful motivators.
They are your tools to use to propel you to take the steps you know you need to take.
=> thinking of skipping your walk before work?
Short term you get to avoid the pain of dragging your tired bod out of bed and into the cold and dark morning… and enjoy the pleasure of rolling over and snuggling back under the covers again – for another 30 minutes anyway.  However then you get to experience the pain of regret and disappointment in yourself – all day.
Perhaps you kid yourself that you'll get that walk in after work tonight – you have that hanging over you all day… and you know, that'll you'll likely just skip the walk again tonight and probably tomorrow too, because now NO-exercise is becoming a habit.
Likely your food isn't quite the great fuel it would have been once you start your day with NO-exercise – and you feel guilty about that too all day.
WOW there's a whole lot of pain as a result of that short 30 minutes of pleasure.  I haven't even touched on the medium and long term pain of not achieving your results and even more critically – losing faith in your ability to stick with it and achieve your goal.
Sacrificing your reputation with yourself.  
5.The absolute best advantage you can give yourself is to back yourself.  100%.
To form and nurture the belief that you can be successful, in weight loss or in whatever it is that is most important to you to succeed in right now… and consistently into the future.
It's such a vital point I designed a belief cycle to illustrate it.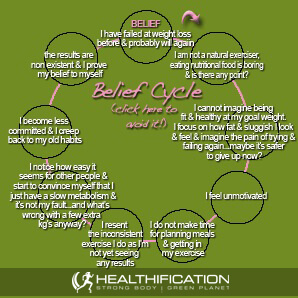 If I was holding tight to 'perfectionism' I wait till I'd redone it and it looked 'all pretty'… however I've got a goal to get this post to you today – so here it is!
The most painful for me to witness really is #6.  I hate to see people stuck in the frustrating stop-start part of exercise… where you always feel heavy and unfit… where the results just simple aren't worth the effort.
Constantly repeating the hardest parts and never being consistent for long enough to enjoy the good bits.
There are no guaranteed time-frames however I will guarantee if you never give up you will get there.  Or put more bluntly –
"If you're sick of starting over, stop giving up".