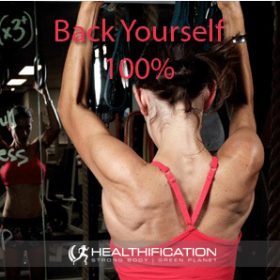 Last week I came to a bit of a realisation.
In my ongoing quest for ever increasing time efficiency, I expect the most of my body without always giving it the ideal set-up it deserves.
Although I certainly walk the talk so far as exercise and nutrition… recently, adequate sleep and even remotely possible daily goals having been my sticking points.
As always it became apparent how transferable my personal learnings are to my clients fat loss success.
An Ideal Fat Burning Day, starts the night before…
PLANNING the day to come is broken into 3 areas for me
1. Work – goals/tasks in order of priority are hand-written before bed.
2. Exercise – my weekly training plan is locked & loaded, however if I've had changes to my schedule I know before bed what I'll be doing tomorrow, rain, shine or sniffle.
=> if previously you've struggled to stick to early am exercise sessions, ensure your morning routine is as friction free as possible: lay-out your training gear and have a wet weather alternative planned.
 3. Food – my snacks and main meals are fairly structured and I always start the way I mean to continue, with a nutrient dense meal.  (this post covers my Food Diary on an Ideal Fat Burning Day:)
=> for morning speed I throw my smoothie ingredients in freezer bags on the weekend so it's just a quick addition of water and #plantstrong protein powder – blitz – eat!
Bed early enough to enjoy 7 hours SLEEP… that's what I need to remain effective all day.
I can totally get by with less, however it means I'll get stuck doing ineffective things.
…then important tasks are bumped to the next day and I have too much to get done without working late the next night And the sorry little cycle continues!
=> easier to just set an alarm to 15mins before ideal bed time and know that I'm setting myself up to dominate tomorrow.
The time directly before sleep is for all things POSITIVE.  Goals.  Affirmations.  Gratitude's.  Visualising the perfect day tomorrow… I'm protective of my unconscious mind and I don't want to leave it to dwell on what's happening on the news, on reality T.V. or even on the day to day running of my business.
=> your unconscious mind Loves questions.  If you ask it a question it will go hunting for evidence and won't stop till it gets it!  So, best to drift off thinking "HOW CAN I be even more focused on living my ideal healthy, grateful, successful day tomorrow?" 
In our instant gratification society it's all too frequently about the Now.  I'm absolutely all for being in the moment – for Focus – however at the same time I'm learning that today we plant the seeds for tomorrow's success.
…and that brings me to my last point, on daily GOAL SETTING.
I've previously fallen into the habit of setting completely unachievable daily goals-tasks-lists of things to do.
It makes for an easy excuse to just do none of it.  To be daunted and overwhelmed.
In my need for control I've planned every 15minutes of each day.  Wow, really not fun when life happens, people happen… and disruptions to My Precious Schedule happen!   The one constant I've found has been – know your most important task and get it done before anything else.   Beyond that will be individual, for me a basic daily structure and exact weekly goals work well.
Yes, following these guidelines has opportunity costs.
It absolutely means I make some sacrifices…  leaving my friends at the pub on a Sunday night to get to bed on time.  Being ignorant of the latest happenings on current crap-o-la (and even decent) T.V.  Declining the 'special occasion' work morning tea/lunch/cake (insert overly-processed-calorie-dense-nutritionally-void 'little extra' here), when it doesn't fit in with my eating plan.
The question is; Is short term gratification more important than the long term achievement of a life changing goal? …because every decision is either taking you either closer to or further from that goal.
Perhaps I'm making it sound overly simple?
In the areas you excel it really does seem simple though doesn't it?
(not easy.  Simple.)
Do I want this more?  OR this more?
(because I know choosing to spend my Time, Energy, Money here means I can't spend it there!).
Although the actions may not be easy.  The decision to take them is simple, when something is Important Enough.
(example? "Of course I get up to my screaming baby multiple times every night")
My question to you: Is your ideal fat burning day tomorrow important enough to warrant the ideal set-up tonight?