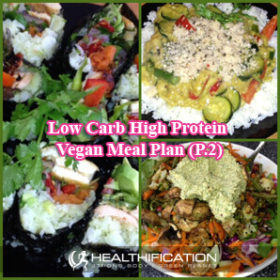 Podcast: Play in new window | Download
Subscribe: RSS
Today's show is Part 2 in the:
Low Carb High Protein Vegan Meal Plan
series. In show 391 I covered '6' Breakfasts and today I'll share the first 1-3 of '6' Lunches.
Your ideal lunch will set you up to win your afternoon. To be focused, effective and efficient. Also to be in control of the choices you make at dinner… rather than for example succumbing to a demolish fest at dinner because you skipped lunch and are now irrationally starving.
My intention is to prove that primarily one ingredient Low Carb High Protein Vegan can be done.
Basically, delicious, nutritious Vegan eating that is sustainable for you and the planet.
As in show 391, before we getting going with the actual meals lets cover a few core principals that will also be applicable to Part 4: Dinners.
One: Finding, Refining and Making on mass each week your fav flavor enhancing vegan sauces / dressings / dips is going to make your day to day meals vastly more enjoyable, time effective and cost effective.
=> My favs are Kale pesto and Zucchini hummus.
Two: A variety of fresh and dried herbs and spices are also essential to banish bland and boring.
=> My pantry always has chili flakes, onion and garlic powder, smoked paprika, mixed dried herbs.
=> As I don't have a garden my fridge will generally have any combo of basil, coriander and rosemary.
Three: Often you'll need to fall back on a quick shake and go protein enhancer.
=> My favs are: Hemp seeds, chia seeds, pumpkins seeds, nutrional yeast, roasted unsalted almonds and spirulina (although spirulina you'll need to stir and disguise more than shake and go!)
Let's get rolling with the first lunch. This is my most common lunch which I eat some variation of 6 or 7 days a week. If that sounds incredibly boring to you, all good, I have you covered with 5 more options however as I covered in the 097 show (on Lean Clean Breakfasts) as a rules eater I actually find it freeing to find what works and to stick to it.
By works I mean to find the few meals that are both delicious and nutritious and allow me to never waste time thinking: "Can I get away with this?" or "Will this make me fat?" Onwards…
Low Carb High Protein Vegan Lunch ONE: 20+ Veg Salad with Kale pesto and Zucchini hummus.
This salad is a base of mixed green leaves and raw veg, topped with some baked veg which are flavored with the pesto and finished with avocado, balsamic and hummus. Here's what the 20+ veg often includes:
Leaves: baby spinach, rocket, English spinach.
Raw veg / herbs: red cabbage, grated carrot and/or beetroot, red onion, spring onion, tomato, red capsicum, asparagus, coriander / or basil, avocado.
Baked veg: brown onion, eggplant, cauliflower, broccoli, zucchini, mushroom.
Kale pesto: kale, basil, avocado oil, cashews, garlic powder, salt (I'll link to the full recipe in the show notes)
Zucchini hummus: zucchini, coriander, avocado oil, tahini, hemp seeds, garlic powder, salt, chili flakes (I'll link to the full recipe in the show notes)
Quantities are as much veg as you want – zero restrictions! – around 1/4 of an avocado, 1-2 tablespoons each of pesto and hummus (I tend to need less of store bought and more of my own) plus balsamic to taste.
Low Carb High Protein Vegan Lunch TWO: Portobello Cap Pizza.
A Portobello cap or two are the perfect base for all your fav pizza toppings.
It's a far easier option than a cauliflower crust the only challenge is protein – however I've got you covered.
Start with your two caps, spread with either your fav tomato paste or my preference a vegan pesto.
At this point I also shake on the first of two light coatings of nutritional yeast (perhaps 1/2 tablespoon per cap). Next add fresh veg such as: finely sliced red onion and capsicum. Your fav greenery – I like peels of zucchini and / or asparagus. For a flavor hit sun dried tomatoes and olives plus herbs such as rosemary and / or thyme.
Bake at around 200 degrees Celsius and when Portobello is nearly done add some slices of avocado, a tablespoon of cashew parmesan per cap and another half tablespoon of nutritional yeast per cap. Finish cooking and serve as is or with a bed of green leaves.
Here's a basic Cashew Cheese recipe:
1 cup raw cashews (soak for 2 hours and drain)
3 tablespoons fresh lemon juice
1/2 teaspoon fine sea salt
1 sachet of Natvia (natural low carb sweetener)
1 tsp chili flakes
1/4-1/3 tablespoon water
Simply blend all ingredients.
Low Carb High Protein Vegan Lunch THREE: Collard Wrap.
The leafy wrap is your simple alternative to the easy yet refined carbie sandwich. The main consideration is choosing non-soggy ingredients.
Spread your large green leaf of choice with a generous covering of mashed avocado or even better a mix of avocado, 1/2-1 teaspoon of spiralina (for extra protein and iron) plus garlic / onion / chili powder to taste (and to disguise the spiralina)
Next layer grated carrot and / or beetroot (I grate then squeeze out excess liquid). Add whole steamed asparagus (or your green of choice). Flavor enhance with caramelized onion (best made on mass for the week)
If you don't have your own here's a link to a basic Caramelized Onion recipe from thehealthychef.com which uses:
4 onions, peeled and finely sliced
2 tablespoons olive oil
a generous pinch sea salt
3 tablespoons aged balsamic vinegar
1 teaspoon coconut sugar
Finish with a generous tablespoon or two of zucchini hummus plus for a tad more protein sprinkle with a tablespoon of hemp seeds.
Roll your wrap.
The key to sustainable Low Carb High Protein Vegan eating is to find the time and flavor hacks that work for you.
My recipes are just a guideline. Additionally these are the recipes I follow in more ideal circumstances where I'm in my normal working routine. When travelling, as I did this week I'll make the necessary hacks and adjustments that might see my 20+ becoming a 6 veg salad for example. The main thing is to have basic framework to stick to as closely as you can so that you're not finding yourself unprepared and resorted to petrol station bought salad sandwiches and the like.
To get actionable today lets go with your fav flavor enhancing vegan sauce / dressing / dip… Do you have one already? If not, today's action step is to either try one of mine or Find, Refine and Make one of your own.
If you come across a winner I'd love to hear it. You can share your recipe in the comments below.
That's it for me today. I hope you'll join me for Wednesday when I share Part 3: Low Carb High Protein Vegan Meal Plan (Part 3).
If you liked this you'll also like: 5 Ways To Eat Less Meat Without Sacrificing Protein.
If you're yet to share the Healthification love – just click here to zip over to iTunes and leave an honest rating and review. It'd help me out big time. With gratitude, Kate.