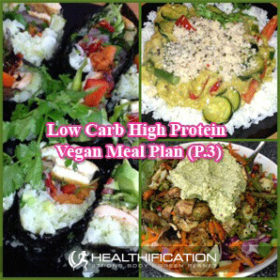 Podcast: Play in new window | Download
Subscribe: RSS
Today's show is Part 3 in the Low Carb High Protein Vegan Meal Plan series. In show 394 I covered the first 1-3 of '6' Lunches and today I'll share the remaining '3' Lunches.
My intention is to prove that primarily one ingredient Low Carb High Protein Vegan can be done. Basically, delicious, nutritious Vegan eating that is sustainable for you and the planet.
Let's get going with those lunches…
Low Carb High Protein Vegan Lunch FOUR: Cauli-Sushi.
This is a good meal made on mass to last you a couple lunches in a row. I'm a huge fan of cauli instead of regular rice to cut the carb content and up the cruciferous veg love. For 2 generous serves you'll need:
4 Nori sheets
1/4 of a cauliflower head
1/4 of a small avocado
1/4 teaspoon himalayan salt
1/4 of a fresh lime
1 tablespoon ofnutritional yeast
Filling 1,
1/3 a sweet potato baked with a sprinkle of cinnamon and mashed with fork (skin removed)
finely diced 1/4 red onion with similar quantity of finely chopped fresh coriander (stalks + leaves) with 6 sun-dried tomato halves finely chopped
1/2-1 zucchinigrated
1 tablespoon hemp seeds
Filling 2,
1/2 a small avocado sliced or even better mashed with a 1/2-1 teaspoon of spirulina
fresh peels of asparagus (3 stalks)
1/4 red capsicum sliced into strips
1/2-1 carrot grated
1 tablespoon of vegan pesto
To make rice either pulse cauli in food processor till rice like or steam/microwave until soft and mash with a potato masher. Add 1/4 avocado, salt, lime, nutritional yeast and mix well.
Place 4 nori sheets (one at a time) on a damp cutting board and spread upper middle of each sheet with 1/4 of rice mix. Add/layer fillings as desired.
Fold over the top of the nori and roll. Use a very sharp knife to slice in rolls.
Low Carb High Protein Vegan Lunch FIVE: Zoodle Salad.
I use spiralised zucchini (or zoodles) instead of regular noodles. Spiralised summer squash or even kelp noodles are also a good option.
To make roast brussels, take 100grams of sprouts and slice each sprout into rounds (3-4 pieces). Bake on baking paper in a little olive or coconut oil
To make avocado coconut cream sauce, finely chop 1 handful of basil in a food processor. Add 1 avocado, 3-4 tablespoons of coconut cream, 1 tablespoon of lime juice and blend till smooth. Season with sea salt to taste.
To make your zoodles simply spiralise 1 large zucchini per serve, (let's make this a double serve and use 2 zucchini) and toss in a colander with a pinch of sea salt – let the excess water drain while you prepare the rest of the ingredients as follows:
1/2 a punnet of sliced cherry tomatoes
1/2 a stem of steamed broccoli 
1/4 a red onion thinly sliced
2 stems of shallot thinly sliced
2 tablespoons hemp seeds
1-2 cloves of garlic and chili flakes to taste sauted in a teaspoon of olive or coconut oil
Transfer zoodles into the garlic's frypan (off heat) and mix the above ingredients through.
Transfer zoodle mix to a large bowl and stir through,
Avocado coconut cream sauce.
Finish with,
50 grams cashews roastedand also an optional yet recommended,
100 grams roasted Brussels.
Low Carb High Protein Vegan Lunch SIX: Smokey Eggplant Curry with Cauli-rice.
This is I think the first curry I ever made – a sort of a mishmash that led me to leave out any carbie-dairy-meatie components and add in some vegan protein. I was delighted with the result. Because a bit of work is involve this recipe is for 2 generous serves.
A great option is a triple batch and you're done for a weeks worth of lunches!
1 red capsicum, chopped roughly
1 medium eggplant
2 brown onions, chopped roughly
2 zucchini, sliced into rounds
1 cup green beans
1 can of coconut milk (around 200 mils – not low fat)
2 generous teaspoons indian curry spice
1 1/2 teaspoons ground coriander seed
1 – 1 1/2 teaspoons himalayan crystal salt (to taste)
a small pinch of cumin
a small pinch of cinnamon
1/2 a cauliflower
1 tablespoon ofnutritional yeast
coconut / olive oil
1 tablespoon of hemp seeds.
Prepare eggplant first by preheating grill and rubbing oil on the outside of eggplant. Now grill eggplant – turning as required – until flesh is soft and skin is blistered. (around 30 minutes). Chop in half, scoop out the flesh and chop it roughly and discard the skin.
In a large pot, combine coconut milk and all spices and whisk until the consistency is even.
Add onions, capsicum, zucchini and slowly bring to a boil. Turn down the heat and let your curry simmer for at least 45 minutes until the veg are soft. Add the eggplant + beans in half way through the simmering process.
Serve over cauli-rice. To make rice either pulse cauli in food processor till rice like or grate.
I then like to quickly stir-fry the rice in a teaspoon of coconut oil and finally stir through a tablespoon of nutritional yeast (optional, but it's a delish hit of protein).
Finish with 1 tablespoon of hemp seeds.
Before we get actionable today I'd love to share a couple of thoughts regarding time and the temptation you may have to declare: "I don't have enough time for food preparation!"
Previously I've shared a Stop, Start time magic'ing process that I first heard about thanks to John McGrath.
Even the most efficient of us still spend countless time each day and each week on things that are – to be brutally honest – hugely less important than planning and preparing the food that keeps you healthy and allows you to look and function how you would love to look and function.
It's simply a matter of priorities.
By deciding on '3' things you can stop doing each week (say for 30 minutes each) you can magic yourself 90 mins for meal prep on the weekend.
=> perhaps you could Stop: checking social media during work hours.
=> perhaps you could Stop: doing cardio and watching TV separately and start combining the two in one of the only effective ways to multitask.
=> perhaps you could Stop: letting workouts / cleaning / washing or whatever drag on for "as long as it takes" and set a time to start and finish so you focus and get better results in less time.
By deciding on '3' things you can start doing each week (say for 30 minutes each) you can magic yourself 90 mins for meal prep mid week.
=> perhaps you could Start: checking email only at 11am and 4pm?
=> perhaps you could Start: batching phone calls and bill paying.
=> perhaps you could Start: home delivery at least for part of your weekly food shop.
To get actionable today let's go with a little time magic'ing. What are 3 things you can Stop and also 3 things you can Start doing this week to make more time for trying one or all of these Low Carb High Protein Vegan Lunches?
Next week I'll cover Vegan Dinners in: Low Carb High Protein Vegan Meal Plan Part 4 (& 5).
First though I hope you can join me for Fridays show: 3 Keys To Maintain Your Best Eating Habits While Traveling (Weekly Wrap 4)
If you liked this you'll also like: Vegetarian IRON BOOSTERS.
If you're yet to share the Healthification love – just click here to zip over to iTunes and leave an honest rating and review. It'd help me out big time. With gratitude, Kate.