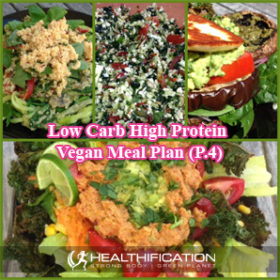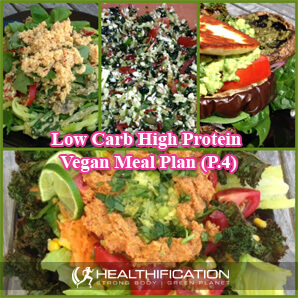 Podcast: Play in new window | Download
Subscribe: RSS
Today's show is Part 4 in the
Low Carb High Protein Vegan Meal Plan
series. In shows 394 and 395 I covered '6' Lunches and today I'll share the first 1-3 of '6' Dinners.
Your ideal dinner will be easy to throw together after a long day. It'll be something you look forward to and enjoy and yet it'll also leave you feeling in control of your nutritional choices and 100% guilt free.
My intention is to prove that primarily one ingredient Low Carb High Protein Vegan can be done.
Basically, delicious, nutritious Vegan eating that is sustainable for you and the planet.
As in parts 1-3, before we getting going with the actual meals lets cover a few core principals that will also be applicable to Part 5.
One: There is always a substitute! Get creative so far as Meat, Fish, Dairy and Egg substitutes.
It's going to take some time to find the alternatives that work best for you however stick with it and always prioritize one ingredient foods over processed crap-o-la.
I'll even go so far as to say, feeling judgment is your choice. The decisions you make in regard to the fuel you feed your body are yours and yours alone.
I have to remind myself of this one. In total transparency, right now I still eat 2 free range organic eggs a day. It'll likely change however it's what works for me currently. I'm moving at my own pace with Vegan'ish and I recommend that for you too. Even one meat free dinner a week counts.
Let's power on with the first '3' Low Carb High Protein Vegan Dinners:
Low Carb High Protein Vegan Dinner ONE: Nachos.
Did you also love nachos as a kid? This vegan version is at least as delicious as the carbie, meatie, fattie, dairy laden version I used to indulge in. The added benefit is you can demolish a massive plate and not feel sick, bloated or guilty after!
For the nacho chips,
Kale crisps are the yummiest way to keep this recipe low carb. If you want to keep it to high quality fuel with higher carbs then you can use sweet potatoes instead. Just slice thinly and prepare like kale from the point where you shake chips with oil in a bag.
1/2 bunch kale (makes 1 generous or 2 smaller serves)
1 teaspoon olive / coconut oil
Celtic sea salt to taste
Optional: 1 heaped tablespoon of nutritional yeast 
Place washed (and patted dry with paper towel) kale into a plastic bag with oil. Shake well to coat. Transfer kale onto a baking sheet in a thin layer (use multiple pans if making lots and cover baking sheets with cooking paper for easy clean-up). Season with salt, or really whatever you like…chili, nutritional yeast, paprika, herbs… Place in an unheated oven. Heat oven with kale in it to 300 degrees.
Watch carefully till it starts to brown and crisp up. The time varies but around 20 minutes.
For the cheese,
1/4 cup sun-dried tomatoes
1 cup raw cashews (soak for 2 hours and drain)
2 tbsp nutritional yeast
1 tbsp garlic powder
1 tbsp onion powder
1 tsp chilli powder
1 tsp sea salt
Throw all ingredients in food processor and blend until smooth.
For the chilli, (makes 4 serves – freeze leftovers)
2-3 cups of veg: such as cubed eggplant and cauliflower(and/or kidney beans if you tolerate them well and are not wanting to keep it low carb.
1 grated carrot
1 red capsicum sliced
1 red onion and 1 brown onion sliced
1 400 gram can of tomatoes (no added sugar) or equivalent of fresh tomatoes and 2 tablespoons of tomato paste.
2 cloves of garlic, minced
2 jalapeño chili sliced (I keep most of seeds)
1/2 teaspoon smoked paprika
1/2 teaspoon ground cinnamon
fresh chopped oregano, rosemary and marjoram to taste
1/2 tablespoon coconut oil
Optional: 1 tablespoon vegan basil pesto and/or 1 tablespoon nutritional yeast.
In a large heavy based pan heat oil and add both onions, garlic and chili. Cook 3-4 minutes until softened. Add cubed eggplant and cauli mix and cook another 5 minutes while stirring. Now add all remaining ingredients except fresh oregano and season, bring to the simmer and then reduce heat to medium low and cook covered for another 20-25 minutes, stirring regularly. At the end of cooking stir through fresh oregano and add pesto and/or nutritional yeast if using. Remove from heat.
For the guacamole,
1 ripe avocado
1/2 teaspoon lemon or lime juice
1/2 teaspoon spirulina
A pinch of paprika, onion powder, cayenne pepper, chili flakes to taste
1/8 tsp ground garlic
Sea salt and freshly ground pepper, to taste
Mash avocado first then stir in remaining ingredients.
To top,
Sliced cherry tomatoes, sliced olives, sliced spring onion, fresh corn, 1 tablespoon of hemp seeds. I also like some crisp, fresh baby cos leaves to balance out the heavier flavours and lighten this dish up.
To serve cover a large plate with an outer ring of crispy kale chips followed by a ring of baby cos lettuce leaves. Add the chilli mix to the centre of the plate, sprinkle over other veg/seeds top with guacamole and finish with cheese.
Low Carb High Protein Vegan Dinner TWO: Felafel Portobello Burger.
I'm a huge mushroom fan however if you're not you can absolutely make a batch of burger patties and have them with salad instead or even with another veg as a burger roll substitute such as perhaps baked rounds of eggplant.
For the burger patties (makes 4-8 dependant on how big you like them),
2 400g canned chickpeas
2 tablespoons psyllium husks
1 carrot, grated
1 onion, diced
1 cup fresh kale finely chopped
6 garlic cloves, crushed 
4 tablespoons chickpea flour, or any other type of flour
1 teaspoon sweet paprika
1/2 teaspoon ground cumin
Sea salt and freshly ground pepper, to taste
2 tablespoons tahini
olive / coconut oil (3-4tablespoons) for frying
Blend chickpeas in the food processor till they have a paste-like consistency. Transfer to a large bowl and mix in all the other ingredients, except the oil.
Heat some oil in a non-stick frying pan. Make the patties 2-3 tablespoons per patty. Fry them 2-3 minutes on each side or till cooked. Drain the falafel patties on a plate covered with a paper towel to absorb excess oil.
Other ingredients per serve by order of assembly,
2 cooked Portobello caps, one spread with vegan basil pesto (recipe in show notes for 394)
2 thick slices of tomato and some thin slices of red onion
1 handful of rocket or baby spinach
Felafel (or your fav) burger pattie
1 thick slice of eggplant
1/4 avocado mashed with a little fresh coriander
Optional: a tablespoon of zucchini hummus (recipe in show notes for 394)
Prepare salad veg (rocket, tomato, onion) and mash coriander into avocado. Brush the eggplant and mushrooms with a little olive oil and season with salt and pepper. BBQ or grill.
Assemble as above. These are great with Brussel or Kale crisps.
Low Carb High Protein Vegan Dinner THREE: Cauli-steaks with Miso dressing, Ratatouille and Brussel crisps.
This meal is actually quicker than you might imagine to throw together if you make the Ratatouille on mass and freeze in portions.
For 4 serves of ratatouille,
1 eggplant
1 red and 1 green capsicum
2 large zucchini
2 large onions (red or brown)
2 cloves of garlic
1 400g can of tomatoes in juice
1-2 tablespoons of vegan basil pesto
fresh herbs to taste
olive oil
chili flakes
mixed dried herbs
Optional: a tablespoon of nutritional yeast per serve.
To make the ratatouille; it is optional but recommended to bake without oil capsicums till skin is charred (at that point remove the skin) and chop the now sweeter capsicum.
As capsicums bake, in a large heavy lidded pot or pan heat 1 tablespoon of olive oil with garlic and onions. When onions are lightly browned and transparent add chopped eggplant and canned tomatoes. As eggplant begins to soften add chopped zucchini. Next add chopped roasted capsicums and optional harder herbs like oregano.
Cooking time is dependent on how you like your ratatouille – 30 min is a good starting point. Near end of cooking add vegan pesto, fresh softer herbs like basil and season to taste.
For 2 serves of cauli-steaks,
1 small cauliflower cut into rounds / steaks
(you'll have left over non steak-like bits to use as rice – mash – in omelets or in my cauli-kale tabouli recipe to come in show #398!)
Sea salt and freshly ground pepper, to taste
olive oil
Preheat oven to around 220 degrees celsius. Slice the cauli into 2.5cm rounds. Brush with oil and season to taste. Lay cauli steaks on an oven proof tray and bake for around 25 minutes – turn cauli at the half way mark to ensure it's all golden and crispy.
For the brussel crisps,
Frozen Brussels are fine to use and a little quicker as they need zero washing… I just defrost, slice into rounds and squeeze the excess water from them before baking in a hot 220 degree celsius oven with some coconut oil and chili flakes until nice and crispy. Around 20-25 minutes.
Brussels are free veg – I use around 100-200gm per serve. 
Optional: a tablespoon of hemp seeds per serve.
For miso dressing,
1 tablespoon white miso
1 tablespoon mirin
1 teaspoon sesame oil
1 teaspoon coconut sugar
2 tablespoons lemon juice 
Optional: a sprinkle of toasted sesame seeds to serve.
Wisk all ingredients together excluding sesame seeds.
To assemble, plate cauli steaks, dress with miso and sprinkle with sesame seeds. Add a serve of ratatouille with one tablespoon of nutritional yeast stirred through. Finish with a side of crispy brussels with one tablespoon of hemp seeds sprinkled over to up your protein anti further.
To get actionable today do you have a fav vegan burger pattie or nachos chilli mix or cauli steak recipe to share? 
The possibilities are limitless… if you're onto a winner please share it in the comments below. That'd rock!
That's it for me today. I hope you'll join me for Wednesday where we'll finish the vegan meal plan with: Low Carb High Protein Vegan Dinner (Part 5)
If you liked this you'll also like: High Protein Low Carb Vegetarian (my day on a plate).
If you're yet to share the Healthification love – just click here to zip over to iTunes and leave an honest rating and review. It'd help me out big time. With gratitude, Kate.