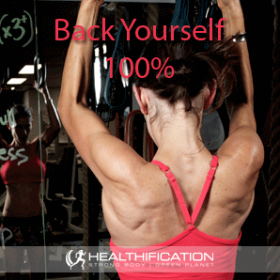 Podcast: Play in new window | Download
Subscribe: RSS
The brutal fact is either the people nearest and dearest to you are helping propel you towards your ideal body – or they are holding you back.
Of course responsibility ultimately lies in your hands and I'll show you how to make that as easy on YOU as possible. In today's show I'm weighing in on: Why Peer Pressure Is A Convenient Excuse.
If you're familiar with the term circle of influence you will know that you will be a some of the five people you spend the most time with.
If you want to experience the health of the 5 people closest to you, then eat and move as they do.
If not, if you're looking for beyond 'ordinary' health then you're going to have to set the standards.
That's ok though right?
It's like the oxygen mask principle – I'm writing this on a plane right now so that's a near to mind analogy – basically to look after the people closest to you first you must look after YOU.
For today's show I'm going to expand the realm of potential peer pressure to your friends, family and colleagues.
=> Let's start close to home and the excuse I've too often heard from ladies I train: my husband and growing boys have to eat carbs at dinner. Perhaps those growing boys do…. However that absolutely does not stop mum from having her veg and protein rich pasta sauce over a bed of julienne zucchini or steamed green veg, such as asparagus, snow peas and green beans.
The type of adjustments that can leave everyone in the household happy and satisfied are really not overly time-consuming once you're into a routine – it's the thinking that takes time – once you create the new habit, continuing it is easy.
=> Moving onto your friends. These people do not value and love you for your pizza demolishing ability. If they do then it's time for new friends. I know I love those closest to me as much for what we do differently as for what we have in common. Actually probably even moreso I love them for what they do differently than me… I don't need more me!
You know how when you care about someone you find their little quirks endearing – rather than painful?
Big, Hi to my close mates listening now and thinking: Yes, Kate however that doesn't mean it's always awesome trapassing from restaurant to restaurant in search of low-carb-yet-hearty-Vego!
I really don't do that anymore which I'll touch on soon.
=> Finally your colleagues. Perhaps at work or maybe the people you network with. These people really do not care how you fuel your body. If you're worried about their judgement the truth is that's you.
I used to think people would perceive me as that fussy chick – and judge me – the reality is, why should anyone else care what I eat? They shouldn't and they don't.
The thing with judgement is, if you're experiencing it, that's because you're subscribing to it yourself.
Now that's likely a whole show on its own, however I can assure you from experience when I judged what others ate I felt judgement reflected back at me.  And it wasn't fun.
Now, I'm like 'yeah this is me, I'm the chick who will order fish and ask for green veg with it instead of chips and salad' …I'll enjoy my meal and enjoy rocking around with a body I love…and the funny thing is I often get 'food envy' comments from people who ordered the straight-off-the-menu-option purely out of habit.
Let's power onto some specific steps to make NOT succumbing to peer pressure as easy as possible:
Step 1: It's important to get those closest to you onboard with your goal AND with why achieving it is so important to you.  So you need to first share your goal.  And secondly ask for their support.  If you need to, negotiate equal terms to also help them achieve their goal.  So perhaps you and your partner each get time allocated for exercise while the other one is home with the kids.
Step 2: Now, earn their support by sticking with your commitment to your goal and teaching them how to treat you.  So if your partner is making the effort to cook gluten free or your friends are trying Japanese instead of pizza then this is not the time to throw in the towel and indulge in your addiction to hot chips the second you get a beverage or few on board.
Step 3: Make it easy for those nearest and dearest to support you. Being a crazy-extreme-little-fuss-pot who gets over-hungry and will insist on trapass'ing from restaurant to restaurant before deciding where to eat is not making it easy on your friends, family or colleagues.  Neither is insisting on Raw-Vegan-Organic.
You're going to have to compromise at times and recognise that in the end it's your goal and your responsibility.
This can mean eating less at the non-ideal restaurant or carrying protein powder in your purse or simply making the best choice from the food options you have available.
However it never means guilt tripping those with different goals to yours for their own choices.
Todays actions step starts with recognising the situation in which you most regularly have previously made the food choice you're later disappointed with?
Is it with family, friends or colleagues?
Now, decide on a more supportive of your goal solution to suggest. It comes back to planning, and to knowing ahead of time what you need to do so you don't get caught up in a familiar habit that is not getting you results.
That first time you make the 'odd one out' choice will be the toughest.  It only gets easier.  And great food choices are only becoming more and more available.
You'll especially find it easier never feeling guilty the next day over rubbish food choices that negate all the effort you put into your exercise.
If you liked this you'll also like: Turning B.A.M. Into Best & Most Effective Fat Loss.
If you're yet to share the Healthification love – just click here to zip over to iTunes and leave an honest rating and review. It'd help me out big time. With gratitude, Kate.