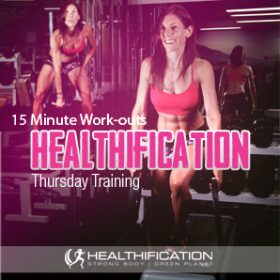 Podcast: Play in new window | Download
Subscribe: RSS
It's a reflection of the lives we lead that I'm getting requests for 15 minute work-outs – even 5 minute work-outs –  more regularly.  I've recently slashed the length of my work-outs from a lovely self indulgent 45-60 minutes to a more doable 30 minutes.
So, in today's training show I'm going to share '3' 5-15 minute equipment free or super low equipment routines to have on hand for your super time poor days.
My intention is that TIME and EQUIPMENT need never be an excuse for you not to exercise.
Because 5 minutes exercise is always manageable. 
5 minutes more sleep is NOT going to help you be happier, healthier and more productive today. That 5 minutes of snooze time makes ZERO difference, however 5 minutes of exercise time can make a massive difference.
You don't believe me?
If a mere 5 minutes of exercise doesn't resonate with you so far as fat blasting then take that 5 minutes and view it as:
One: An endorphin inducing mood enhancer.
Two: A powerful energy enhancing productivity tool.
Three: A reference point for success and chance to build the exercising habit.
Also because 5 minutes makes it easy for you to succeed.
It's supremely doable.  Irrespective of how tired, unfit or just unenthused you are you can last 5 minutes.
Those new habits that don't stick are the ones that are overly idealistic and outta control optimistic.
So for a brief period I'm going to trade in outta-control-optimisitic Kate for reasonable and realistic Kate…
Work-out # ONE:
=> you need zero equipment for this one.  Just a couch or bed to dip off and a table or chair to leg raise off.
1. SUMO IN OUT JUMP SQUAT (or sumo leg raise)
2. WALK-OUT (push up component can be from your knees)
3. PLANK LEG RAISE (start at a height that is doable)
4. DIP (start with your knees at 90 degrees and straighten them as you get stronger)
5. SIDE PLANK WITH HIP DIP AND TOE TAP (or a bicycle)
6. 1.5 REPETITION WALKING LUNGE (or an alternating stationary reverse lunge)
7a. MOUNTAIN CLIMBER (6 reps) plus 7b. PUSH UP (2 reps) times 6.
*perform 1-6 once circuit style then do 6 laps of 7a and 7b.
That is 1 round which rocks on the day you thought you didn't have time or energy for exercise.
If you've still got some fuel in the tank hit this complete circuit another 1-4 times.
Work-out # TWO:
=> This one is for time so have your phone handy and just a couch or bed to dip off.
1. SUMO IN OUT JUMP SQUAT
2. PUSH UP
3. SIDE PLANK WITH HIP DIP AND TOE TAP
4. SWITCH LUNGE
5. DIP (or pull up/chin up if you have a bar)
*perform 6 rounds of each exercise for 20 seconds on and 10 seconds off before moving on to the next exercise.
(with the side plank you'll alternate sides for each 20 second round).
That means you'll spend 3 minutes on each of the 5 exercises, so you've just powered through a 15 minute routine.
Work-out # THREE:
=> You can get through this with 1 pair of dumbbells only.  They are worth the investment.
At a starter level buy '2' 5kilo dumbbells.  Intermediate would be 7-8kilo's each.  10-12.5kilo's is a working sort of a weight if you've been training a while.
1. SPLIT SQUAT.
2. 1 ARM DB ROW.
3. GLUTE BRIDGE WITH CHEST PRESS.
4. RENEGADE ROW.
5. SNATCH TO ECCENTRIC SHOULDER PRESS.
*decide on the amount of time you have from 5 to 30 minutes and cycle through the 5 exercises circuit style for as many rounds as you can.  Repetitions will be dependant of how heavy your dumbbells are for you how 12 is a good number to aim for. (that'll be toughest with the snatch)
Let's make this actionable.  I'm going to get myself moving in todays action step.  It's been a light start to my exercise week – so – how about if you pick work-out ONE, TWO or THREE and see how many rounds you can complete in 15 minutes.
I'll do the same – for all 3.
I'll post my numbers in the show notes, later this week… and I'd love to see yours too.
Tomorrow I'll be back to discuss the 4 biggest problems you'll have sticking to most diet and exercise programs.
If you liked this you'll also like: 'Cardio-day' is my shortest work-out of the week.
If you're yet to share the Healthification love – just click here to zip over to iTunes and leave an honest rating and review. It'd help me out big time. With gratitude, Kate.