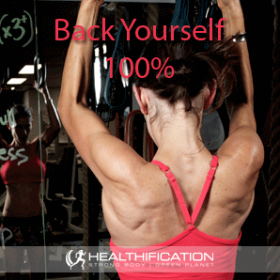 Podcast: Play in new window | Download
Subscribe: RSS
Last weekend I headed up to stunning Noosa for mothers day.
I was only away for 2 nights so it was fairly easy to stay on track with my regular eating and also a perfect opportunity to dig in with the topic of today's show: What To Eat While Traveling.
Here are 3 keys to avoid excess baggage when traveling…
1. As with anything food, planning is key.
It can often be a bit of a scramble getting away right? That's absolutely not an excuse for any meal skipping… As I know I've mentioned before the meal you skip will always come back to bite you – and you don't want that to be after you've checked in and are irrationally hungry as you paruse the airport food court.
=> on a short trip I'll usually work the morning and get a flight around lunch time…. The simplest food solution for me is to make a double omelette for breakfast and have half left for an early lunch before I leave for the airport.  Whatever your meal of choice is, if you're short on time, making double takes no longer and saves you from the over-priced crap-o-la on offer at the airport.
=> it's also worth having some on hand snacks. The super portable kind, in case you're held up or just tempted by some little extra in transit. I take protein powder with water and dry roasted cashews.
2. Where possible stick to variations of your normal eating routine.
Most main meals have the potential to be great fuel, similar to what you might eat at home.  If you're eating out it's 100% within your control what you order and whether you ask for any adjustments to the menu.  If you're being served a home cooked meal, although it may be less ideal the fact still remains: to dessert or not to dessert AND how much and of what you eat is still largely your call.
When there are meals that aren't within your control it simply means the meals that ARE within your control need to be that little bit more awesome again.
It's those unnecessary little extras that can see you come unstuck.  The freshly baked Anzac and choc-hazelnut bickies (yes, they were on offer at house Galli)… the trio of ice cream after lunch out (would you ever eat ice cream after lunch at home?)… the extra nibbles before dinner and so on. These are the more'ish high caloric density extras that are well worth avoiding.
Ok, this isn't eating related however…
3. Grab any opportunity for physical activity.
My first morning in Noosa mum and I walked to and from the markets…that's an hour ten all up.  Good start.
We declined the choc croissants on offer – even better start.
Then mum suggested paddled-boarding.  Now I'm absolutely not a water baby however, as mum had sneakily deduced, on mothers day I'd agree to just about anything.  And actually it was a blast.  And, no I didn't fall off!
Traveling is the perfect opportunity to try a new physical activity.
Next up I took mum and dad out for lunch which again included a walk to and from the restaurant…so another 30 minutes exercise.
The following morning was a gorgeous run through the national park – and then another paddle board with mum. Now if I was a water baby I'd likely be swimming instead of running, my point is grab any opportunity you can to get moving.
Granted this is likely easier in Noosa than in some places.
My first night in Noosa I received an email from a dear lady I trained several years ago. She's on holiday in Kenya, and her email was titled 'Exercise SOS'!
She writes: "Exercise is at a premium because there's no swimming available where I am and only one walk that's really safe on my own. I'm desperate for things I can do in the compound (20 acres of woodland and garden but no gym equipment!"
I sent her this equipment free routine:
a) SUMO IN-OUT LOW JUMP SQUAT (12 reps)
b) SWITCH LUNGE (12 reps)
c) WALK-OUT (optional with extra push ups on the 6th rep for each side) (6 + 6-12 reps)
d) SIDE PLANK LEG RAISE (20 reps each side)
e) BENCH + BENCH TRICEP DIP (12 reps)
f) OBLIQUE V-UP (12 reps)
g) SIDE PLANK OBLIQUE CRUNCH w HIP DIP and TOE TAP (12 reps each side)
…however the most important factor is actually going to be her commitment to point 2: Where possible stick to variations of your normal eating routine.
Mindless nibbling will undo the body-fat banishing benefits of mind-numbing treadmill trudging (or woodland wandering!) quicker than you can say fresh baked olive bread and caramelised onion hummus…
I guess that brings us to the most important factor in what to eat while traveling: To be mindful and intentional of what you choose to eat and why.
At Christmas time I make a conscious decision to just ease up a bit. It's all relative, as I certainly don't want to undo the years commitment to great food in one jean over-flowing week… however I do relax my own guidelines.
It's never because I'm being lazy, or doing what everyone else is doing it's because I've decided I'm going to relax my eating habits for a week so that I feel ready to rock right back into the eating that gets me the results I want as soon as that relatively relaxed week is up.
Just how much you relax your guidelines will be different to me as your goal is likely different to mine.
Time for todays actions step: Let's make this one a little more creative. What are 3 new activities, or perhaps activities you used to enjoy and haven't made time for recently that you'd love to include at some point in your future travels?
If you take the time to think of them now it's much more likely you'll make them happen when the opportunity presents in the future.  Perhaps horse-riding, rock-climbing or even paddle-boarding… which I absolutely wouldn't have done in lazy holiday mode and which in the event I throughly enjoyed.
If you liked this you'll also like: Top Traveling Tactics To Fight the Fat
If you're yet to share the Healthification love – just click here to zip over to iTunes and leave an honest rating and review. It'd help me out big time. With gratitude, Kate.