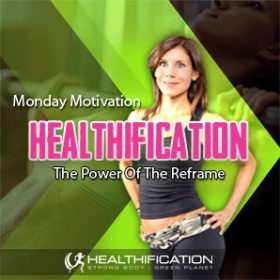 Podcast: Play in new window | Download
Subscribe: RSS
When I was a little girl I used to get sad whenever I heard an ambulance… until my mum told me that for every ambulance there was someone supremely grateful to hear that welcome siren and the life-saving help it promised. As she was when I choked on my own vomit and nearly died as a baby.
This instantly reframed sirens for me.
In today's show I'm focusing on one of the most simple yet effective tools in using your thoughts to help you lose weight: The Reframe.
I Absolutely Love The REFRAME.
It helps me feel in control because it gives me the ability to choose my mood.
I also have my mum to thank for reframing lying awake at night. I must have been uptight little kid… I'd get all worked up and anxious if I couldn't get to sleep at night. I'd stress that I'd be too tired the next day. Until mama Galli told me that lying peacefully was almost as relaxing and restful for your body as sleep. The thing is with a reframe, it doesn't need to be based on fact – it just needs to help you take the better action. Lying unstressed generally lead me to fall asleep anyway.
Digging a little deeper, there are two types of reframes:
One. The Content Reframe.
The content of a situation is determined by what you choose to focus on. The questions to ask in this case are:
What else could this mean? or In what way, could this be positive?
When I focus on how my body is still at rest while I lie awake in bed or that someone is super happy to hear the ambulance the meaning is reframed to the positive.
Two. The Context Reframe.
Almost all behaviours can be positive or useful in some context.  The question to ask in this case:
In what situation could this have value or be useful?
A frustrating knee injury can be the chance to focus on the core work and stretching you've been neglecting or the pedantic shopper causing a fuss in the line before you could be an opportunity to build your tolerance muscle.
Here are 3 reasons to embrace the reframe: 
1. You cannot control what happens to you, you can only control how you respond.
Finding the most positive empowering way to view any given situation will help you respond positively and proactively rather than being sucked into a self-perpetuating negative spiral.
2. Although hunting down a positive reframe for a rubbish situation is initially going to feel a little manufactured it will only get easier.  In fact in most day to day situations it'll even become natural… and that's a whole lot more fun.
3. The reframe gives you options. Options are everything. If you cultivate the ability to hunt down the best in any situation you will always have options.
Here are some common reframe opportunities you may encounter in relation to your health:
1. HIGH INTENSITY CARDIO.
How likely will you be to commit to high intensity cardio if you view it as hard and daunting?
If you're anything like me, not very!
The reframe solution is instead to:
=> Love that with each session you're starting to feel fitter.
=> Love that with each session you're keeping your commitment to yourself.
=> Love that high intensity cardio is by nature short and time effective.
2. SALADS.
How likely will you be to make or order the salad if you view it as boring and unsatisfying?
I didn't eat salads for years.
The reframe solution is instead to:
=> Love that you can eat a massive serving of salad.
=> Love that you feel light and nourished after your salad.
=> Love that you know your salads are helping you get and stay energised and lean.
3. FAILURE.
How likely will you ever be to give your weight loss goal your very best shot if you see failure as final, personal and humiliating? The fear of failure can literally be paralysing. It can keep you stuck – focusing on the hope and the dream – yet never risking making that hope or that dream a reality.
The reframe solution is instead to:
=> Appreciate that not succeeding in an attempt is valuable feedback to be learnt from and used next time.
=> It's also the chance to prove just how important this goal is to you.
=> Finally it's the opportunity to join the minority willing to take a risk – to leave the ranks of ordinary and to risk being and living EXTRA-ordinary.
One of the most powerful habits you could ever create for yourself is the ability to see the best in ANY given situation.
That's my goal for you, and for myself too… and it's also todays action step: What is the one thing – yes, I know there are many – however the one most prominent thing on your mind that is eating away at your happiness and your ability to take the actions that will see you get great results? AND, how can you reframe either the content or the context of this situation to help you focus on the positive or the potential value?
As Viktor Frankl said "Between stimulus and response man has the freedom to choose, and in these choices lie our growth and our happiness"
If you liked this you'll also like: Will Power: 6 Steps to Build Your Self Control Muscle. (part 1.)
If you're yet to share the Healthification love – just click here to zip over to iTunes and leave an honest rating and review. It'd help me out big time. With gratitude, Kate.