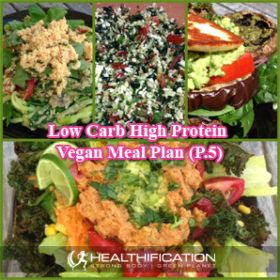 Podcast: Play in new window | Download
Subscribe: RSS
Today's show is Part 5 (the final!) in the
Low Carb High Protein Vegan Meal Plan
series. In show 397 I covered the first 1-3 of '6' Dinners and today I'll share the remaining '3' Dinners.
My intention is to prove that primarily one ingredient Low Carb High Protein Vegan can be done. Basically, delicious, nutritious Vegan eating that is sustainable for you and the planet.
Let's get going with those Dinners…
Low Carb High Protein Vegan Dinner FOUR: Kale-Cauli Tabouli with Stuffed Capsicums.
As always this meal is fab to make on mass. The tabouli mix to follow makes a huge bowl which will keep you going most of the week. So far as veggie stuffing anything goes, however mushies, eggplant and zucchini have featured quite heavily in this meal plan so I'm going with capsicum!
For the tabouli,
1/2 medium head cauliflower, chopped (or 1/2 cauli and 1/2 brussels)
1/2 bunch kale, ripped into pieces
1/4 cup basil and oregano, chopped
2 garlic cloves, minced
1/3 cup pumpkin seeds
1 red capsicum, finely sliced
1-2 spring onions, finely sliced
8 sun-dried tomato halves, finely sliced
sea salt to taste
2 tbsp nutritional yeast
1 tablespoon hemp seeds
Optional to serve: roasted pecans, a splash of extra virgin olive oil.
Place Cauli in food processor and pulse until it resembles rice (rather than mush!). Transfer cauli to a large bowl and next process the kale until finely chopped. As kale is nearly done add pumpkin seeds and pulse a couple of times.
Add kale, pumpkin seeds plus all remaining ingredients to the cauli and mix well.
For 3 serves of stuffed capsicums,
3 medium red capsicum 
1 cup cooked quinoa
1 cup cauli-rice (made from blended / grated raw cauli with 1 tablespoon of nutritional yeast stirred through) 
1 1/2 tablespoonolive oil 
1 red onion, diced
1/2 cup whole cashews
2 large cloves of garlic, minced
1 teaspoon dried basil
1 tablespoon minced fresh thyme
4 sun-dried tomatoes, rehydrated if needed and chopped
1 large handful of chopped kale
2 tbsp water(use the water you used to rehydrate sun-dried tomatoes)
sea salt to taste
Preheat oven to 200 degrees Celsius. Cut the capsicum in half and remove the seeds and white membrane. Place the capsicum cut side up on a baking sheet, drizzle with 1/2 tablespoon of olive oil and bake for 20-25 minutes, until just tender.
While capsicums are cooking, heat the remaining tablespoon of oil in a large frying pan over medium heat. Add the onion and cashews and cook, stirring, for approx. 5 minutes, or until the cashews are beginning to brown and the onion is translucent. Add the garlic, herbs and sun-dried tomatoes and cook for a further minute. Add the kale, cauli-rice and water (if needed) and cook for another 2 minutes. Finally, stir through the cooked quinoa and season to taste.
Divide the filling mixture into the capsicum halves and cook for a further 10 minutes.
To serve, plate 2 capsicum half's and 1/2 cup – 1 cup of tabouli per person. Sprinkle tabouli with crushed roasted pecans and if desired a splash of extra virgin olive oil.
Low Carb High Protein Vegan Dinner FIVE: Pasta.
Pasta is one of my previous personal fav meals, however how many of us would chow down a huge bowl of pasta on it's own? The pasta is just a cheap base for all the goodness and flavour you add… which means that base really does not have to be a massive carb fest. This recipe is for 2 serves.
For the sauce,
1/2 cup macadamia nuts
1/2 avocado
1 jar of artichoke hearts halved (my hearts were marinated and in olive oil, which I drained)
1 tablespoon of vegan basil pesto
1teaspoons garlic powder
1/2 teaspoononion powder
juice of 1 lemon (around 1/4 cup)
1/2 teaspoonsea salt and some cracked black pepper
For the pasta and the veg,
3-4 cups of sliced mushrooms, peels of asparagus, sliced red capsicum
Generous handful of baby rocket
3-4 medium zucchini, julienned
To top,
Fresh basil and cashew cheese (see nacho's recipe in show 397)
Julienne your zucchini and toss with a good pinch of sea salt. Sit in a colander for 20 minutes to drain.
Blend sauce ingredients in food processor to desired consistency. Gently heat sauce in one saucepan. Steam/stir-fry mushies and red capsicum in another pan – when done transfer to saucepan with sauce mix.
Heat a teaspoon of coconut / olive oil and cook zucchini for a couple of minutes. At this point add asparagus peels to sauce mix and then also stir through rocket.
Plate zucchini pasta, top with veg sauce and finish with basil and 1-2 tablespoons of cashew cheese.
For a change I also really like ratatouille (see recipe also in show 397) as a pasta sauce. If you're not a huge fan of zucchini another easy pasta substitute for your fav sauce is a bed of steamed greens such as: asparagus, snow peas and green beans.
Low Carb High Protein Vegan Dinner SIX: The Green Machine Soup.
I was never the biggest fan of soup… too same so far as texture for me. However it is a great meal to make on mass and freeze in batches. This soup is a tasty way to get your green fix and it's made more interesting for the fuss pots (such as myself) with some tasty toppings. This recipe is for 3-4 serves.
8 cups vegetable stock (the best quality you can find / make)
1 large head of broccoli
12 green beans
12 asparagus spears
2medium roughly chopped zucchini
1 medium chopped leek (white part only)
1 medium chopped brown onion
1/4 cup chopped celery 
1/4 cup raw macadamia nuts soaked 
4-5 cloves freshly chopped garlic
1-2 tablespoons olive oil
1/2 teaspoon Celtic sea salt
Optional tasty toppings per serve: a tablespoon of nutritional yeast per serve and a tablespoon protein-packed booster (recipe to follow), 6 roasted pecans. 
Saute the onion, leek and garlic in the oil for a couple of minutes until soft and translucent.
Add the celery and zucchini and saute for a few more minutes. Add in the green beans, asparagus, broccoli and vegetable broth and bring to the boil. Simmer for around 20 minutes. Add the macadamia nuts and puree in batches.
To serve stir in a tablespoon of nutritional yeast, top with a tablespoon of the team from youngandraw.com's protein-packed booster and finish with half a dozen roasted pecans.
Team Young and Raw's protein-packed booster,
1 cup hemp hearts
1/4 cup chia seeds
1/4 cup pumpkin seeds
2 tablespoonsspirulina
1-1 1/2 tsp pink Himalayan salt (to taste)
Mix together well and store in a mason jar. It will keep indefinitely in the fridge.
To get actionable today do you have a fav vegan stuffed veg or pasta or soup recipe to share? 
As with the 397 show if you're onto a winner please share it in the comments below. That'd be fab!
I hope you can join me for Fridays show: 3 Keys To Make A Challenging Habit Stick (Weekly Wrap #6)
If you liked this you'll also like: High Protein Low Carb Vegetarian (Part 2).
If you're yet to share the Healthification love – just click here to zip over to iTunes and leave an honest rating and review. It'd help me out big time. With gratitude, Kate.