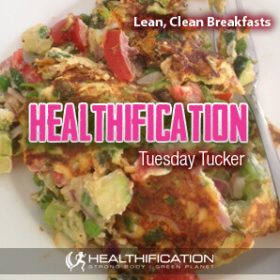 Podcast: Play in new window | Download
Subscribe: RSS
How you start your day can set the tone for the day to come.
I'm a huge advocate of starting as you mean to continue – with a reference point for success – proof to yourself that looking after your body is a high priority.
With that in mind, todays Tuesday Tucker show covers: Lean, Clean Breakfasts.
Before we power onwards with 5 Lean, Clean Breakfasts I'd love you to get clear on on your eating personality:
Are you the RULES Eater?
That's the person that likes to have a plan to stick to. You actually find it FREEING to not have to worry about what to eat when. 
You just want to know it's going to work. You don't want to ever waste energy thinking "Is this ok?" or "Can I get away with this?"
I'm a rules eater.
I feel calmer knowing I have a routine to follow. I like that I spend as little energy as possible thinking about what and when and how and how much with my food – it's on auto-pilot, fairly systemised, following my rules.
Perhaps you're freaking out just hearing about the mere existence of my rules?
Maybe, in contrast you're the GUIDELINES Eater?
That's the person that hates the exact plan to stick to. You'd see it as RESTRICTIVE and BORING and you like to eat what you happen to feel like eating on the day, at that time… and you certainly don't know what that'll be in advance!
Either can work.
I'm going to tackle 5 Lean, Clean Breakfasts from both the RULES and the GUIDELINES angle and you can go with whichever approach resonates with you.
First up the GUIDELINES Eater and 3 simple guidelines to apply to your best lean, clean breakfast:
1. Start with a serving of lean protein.
This maybe a couple of whole free range eggs (if you eat them), 100 grams of dairy free yoghurt or cheese, 1-2 scoops of plant based protein powder… or any combination of the above.
2. Add a serving or 2 of filling fibrous veg or micronutrient rich fruit.
This may be 1-2 cups of any combination of spinach, kale, mushroom, capsicum, cauliflower, zucchini, tomato etc or 50 – 100 grams of berries, apple or any fresh (not canned or dried) fruit of your choice.
3. Finish with a satisfying good fat.
That's the 2 egg yolks, or 50 grams of avocado, or perhaps 1/2 a tablespoon of nut butter or seeds.
So in practice, as the guidelines eater rolls out of bed and thinks: "Hmmm, I fancy a smoothie today."
=> One solution is to start with 50 grams of greek yoghurt and a scoop of protein powder. To then add a cup of spinach and 100gm of berries. To finish with 1/2 a tablespoon of almond butter… and Yes, you're going to want to add 150 mils or so of water or almond milk to that too.
Equally, as our guidelines eater wakes up late… races to the office and is staaaaarving at her first break the order to place at the cafe downstairs is NOT the jumbo-cappuccino-and-banana-bread on auto-pilot!
=> Instead one solution is to start with 2 poached eggs. To then add a side of spinach, mushrooms and tomato. To finish with a side of avocado… and Yes, absolutely with a jumbo long black or almond milk cup of liquid gold too.
Next let's move on to the RULES Eater and 5 lean, clean breakfasts:
1. Omega Mega Yum Omelette.
2 Free Range Organic Omega-3 enriched eggs
1 cup of cruciferous veggies (Cauliflower, Broccoli, Cabbage)
2 button mushrooms
2 cherry tomatoes
Pinch of mixed dried herbs (or fresh even better like coriander or thyme)
Pinch of smoked paprika.
Chop all veggies and then mix all ingredients together.
=> this can be done the night before for speed in the morning.
Heat 1/2 teaspoon of Coconut oil in a frypan & then lightly wipe off again with paper towel. Cook omelette with lid on pan till first side golden – turn – repeat on second side with lid removed.
2. Sweet Smoothie Magic.
1 cup Unsweetened Vanilla Almond Milk
1 serve low carb Vegan Protein Powder
1/2 tbsp ground flaxseed 
75gm frozen unsweetened raspberries or strawberries
1/2 cup raw frozen spinach (you won't taste it!)
1/2 tbsp natural almond butter
3 ice cubes.
Easy – dump all ingredients in the blender and blend!
3. Power Breakfast Bowl.
50-100 grams Dairy Free Yoghurt mixed with 1 scoop of protein powder.
50 grams fresh blueberries
1/2 an apple grated
1-2 tbsp mixed seeds or nuts. (Hemp, Sunflower, Pumpkin, Pecans, Walnuts, Almonds, Brazil Nuts)
Mix yoghurt and protein powder. Top with fruit. Sprinkle over nuts and seeds and optional: finish with dried coconut flakes (unsweetened).
4. Super Scramble.
2 free range organic eggs
2 extra egg whites
1 large handful of fresh spinach 
some finely sliced red onion and red capsicum
1/2 a grated zucchini 
1/6 of an avocado sliced.
chilli, fresh herbs (like parsley or coriander), pepper and sea salt.
Mix all ingredients in a bowl well. Spray pan with coconut oil and scramble.
5. Green Energy Juice.
1 handful of spinach
1 handful kale
Juice of 1/2 a lime squeezed
1 serve low carb of Vegan Protein Powder.
1/2 cup frozen chopped mango
1/2 a frozen banana 
1 cup coconut water (or Unsweetened Almond Milk)
Optional: Stevia to sweeten to taste.
Blend all ingredients until smooth.
Now these recipes are fairly exact however you can of course take the guidelines mentality to them and swap out an UN-yum to you veg here with your most fav veg there… and the same with the lean protein or good fat equivalents.
My goal was simple to give you a few ideas to play with. That's what'll come down to RULES or GUIDELINES eater it's about finding, adapting or creating the lean, clean breakies that work for you and prioritising that first awesome meal you give your body each day.
Today's action step is to decide on at least one lean, clean Go2Breakie that you can start with this week.
That's it for today… in tomorrows Wednesday Weigh-in show I'm covering: Reckless Weekend Eating.
If you liked this you'll also like: How To Use Cheat Meals (thrive regardless of The Temptation Zone!).
You 100% can be Vego or Vegan and eat primarily one ingredient foods and keep it High Protein Low Carb… Oh, AND also rock around 24/7 in a strong, healthy body you love…